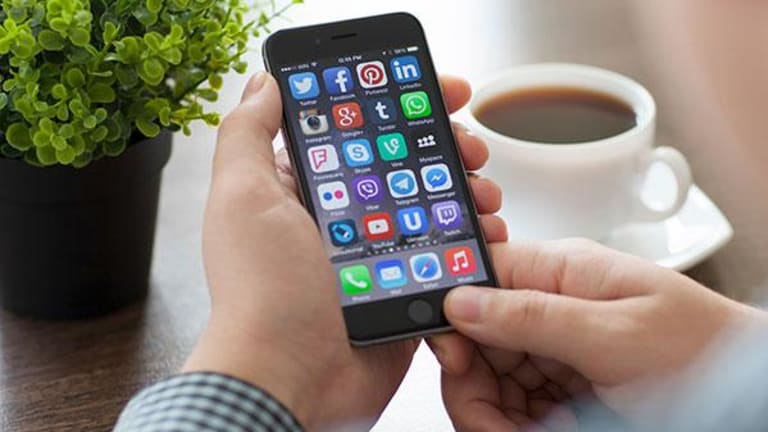 Here's Why the Apple iPhone and Watch May Move to a New Display
The company's quest for lower cost, higher-resolution displays for smartphones and its watches could occur over the next two iPhone and Apple Watch generations, affecting suppliers.
For the past generations of its iPhone, Apple (AAPL) - Get Free Report  has used liquid crystal display technology, which is also commonly used in laptops including Macs, personal computer monitors, tablets and televisions. 
Apple has made dramatic improvement in its display screens since introducing the iPhone in 2007. It has increased the screen size and clarity of image to provide a better experience for the consumer.
Apple is a holding in Jim Cramer's Action Alerts PLUS Charitable Trust Portfolio. See how Cramer rates the stock here. Want to be alerted before Cramer buys or sells AAPL? Learn more now.
But there is a bigger change afoot that could have a profound impact on companies that serve the smartphone market. 
Apple could move to using OLED displays on its iPhone 8, which it will introduce next year, and some say that it may even move to MicroLED displays soon after. Samsung Electronics, Apple's largest competitor, has been using OLED displays in its smartphones. 
A decision by Apple to change its display would affect many of its suppliers.
This issue of Apple's supply chain was in focus several months ago when equipment supplier Applied Materials said that it had achieved record orders for encapsulation equipment for OLEDs. If Apple moves to MicroLEDs, it would create a serious dent in Applied Materials' revenue.
Other smartphone suppliers use OLEDs, and that implementation is growing. However, if MicroLED technology becomes available to Apple because of its advantages over OLED, other smartphone vendors could follow.
There are two key factors behind Apple's expected move to OLEDs: thinness and the ability to make a curved display.
Because they are made on plastic substrates, OLED displays can be bent and folded so that the smartphone display doesn't need to be flat, and the flexible display is bonded to the curved glass for rigidity. Samsung Electronics' Galaxy S7 edge and Note 7 have curved front and back glass panels.
It is entirely possible that the iPhone 8 will have a curved screen next year.
OLED displays use fewer layers than LCD ones, allowing them to be made thinner, at least half the thickness.
The thinness is also important for smart watches. Several companies offer OLED displays on their smart watches, including Asus, Huawei Technologies, LG Electronics, Razer and Samsung Electronics.
OLED prices have dropped significantly and are comparably priced to LCDs. In addition, Samsung Display, the dominant manufacturer of OLEDs, not only uses its displays in its own Galaxy smartphones, it also supplies OLED displays to Chinese smartphone suppliers Coolpad, Gionee, Huawei Technologies, Lenovo, Meizu, Oppo Digital, TCL, Vivo, Xiaomi and ZTE.
International Data Corp. recently forecast that smartphone sales growth will be just 3.8% to 1,480 million units this year, compared with 10.3% growth in 2015.
Apple iPhone shipments are expected to drop to 227 million this year from 232 million in 2015, followed by possible growth in 2017.
Last year, Chinese vendors sold 621 million smartphones, up from 539 million in 2014, Trendforce reported. 
The company also noted that Samsung Electronics shipments totaled 320 million units.
Meanwhile, IHS Markit reported that, "In 2015, OLED accounted for 10% of the shipments by the 10 leading Chinese smartphone makers, Huawei, Xiaomi, ZTE, OPPO, Vivo, TCL, Lenovo, Coolpad, Meizu and Gionee. In 2016, OLED will account for 15% of Chinese smartphone brands' shipments. Chinese smartphone brands purchased approximately 50 million OLED smartphone displays in 2015. This is expected to grow to more than 85 million in 2016."
Japan Display, LG Display, Samsung Electronics and Sharp have been the major LCD suppliers for the iPhone. For the iPhone 6, Japan Display, LC Display, and Sharp were the manufacturers, and LG Display was the exclusive supplier of the Apple Watch.
With the expected change to OLED displays, Apple will move from these suppliers to Samsung Electronics, which signed an agreement with Apple. The impact will be a blow to LCD suppliers.
For example, Japan Display, asked the Japanese government for a bailout to remedy deteriorating revenue from anticipated weaker iPhone 7 sales and loss of the iPhone 8 market. Nearly half of Japan Display's revenue comes from Apple.
Samsung Electronics will supply OLEDs for iPhones. The company is investing $9 billion to increase production capacity of OLED panels for smartphones, gearing up to meet Apple's expected demand.
"Samsung, which dominates the small OLED market for smartphones with nearly 97% share, aims to more than triple its production capacity by next year," according to an article in The Korea Herald.
"Currently, the firm produces a monthly 40,000 mother glasses, enough for 9 million 5-inch (12.7 centimeters) phones. The figure could surge to a monthly 120,000 mother glasses for 30 million smartphones," according to the publication.
Clearly, Samsung Electronics will be affected if Apple moves to MicroLED displays for the iPhone 9 and Apple Watch.
Of course, Samsung Electronics uses OLEDs in its own phones and supplies panels to other smartphone manufacturers. Samsung could also convert excess capacity to TVs, but there are several companies that make OLEDs that are investing heavily in the market.
These include: AU Optronics, BOE, Japan Display, LG Display, Tianma Microelectronics and Truly International Holdings.
Because Apple has used more than one LCD display supplier, it is reasonable to assume that the company will do the same with OLEDs. An agreement signed in April reportedly is for Samsung Display to supply about 100 million displays to Apple.
Apple has sold significantly more iPhones than that.
The company sold 143.4 iPhone 5 models, 163.7 million iPhone 5s models and 222.4 million iPhone6 models, according to Statista. 
MicroLED has significant advantages over OLEDs, including greater longevity, higher brightness, lower cost and power consumption, and a thinner display.
If Apple does use MicroLEDs in its iPhones, other smartphone suppliers will follow, affecting LED and OLED display manufacturers.
Apple was awarded a patent on June 28 based on the work done at LuxVue, a company that it acquired in 2014.
Other companies are developing MicroLED displays including PlayNitride and Sony.
In addition to its impact on display suppliers, Apple's move to MicroLEDs could impact the supply chain. The manufacture of OLEDs requires sophisticated equipment, and the topic reached epic proportions when Applied Materials said during its second-quarter conference call that orders for the display equipment segment was $700 million, 5.8 times the $120 million a year earlier.
Meanwhile, Canon sells equipment for all parts of the production process, while Applied Materials only sells the encapsulation equipment used to prevent air from damaging the device. Both companies will be affected if Apple moves to MicroLED for its iPhones.
There are others in the OLED encapsulation market. For example, Applied Materials and Canon compete against other thin film deposition companies such as Aixtron, Beneq, Encapsulix, Meyer Burger Technology and Veeco.
Kateeva, Meyer Burger Technology and Ulvac sell inkjet printing systems, competing technologies to thin film deposition for encapsulation.
Another competing technology to thin films is the use of polymer films, much like plastic wrap for food. Competitors include 3M, Terra Barrier Films and Toray Industries.
The switch to MicroLEDs will eliminate the need for thin film encapsulation. Instead, traditional thin film epitaxy deposition techniques used in LED manufacturing apply.
Major suppliers are Aixtron and Veeco.
This article is commentary by an independent contributor. At the time of publication, the author held no positions in the stocks mentioned.