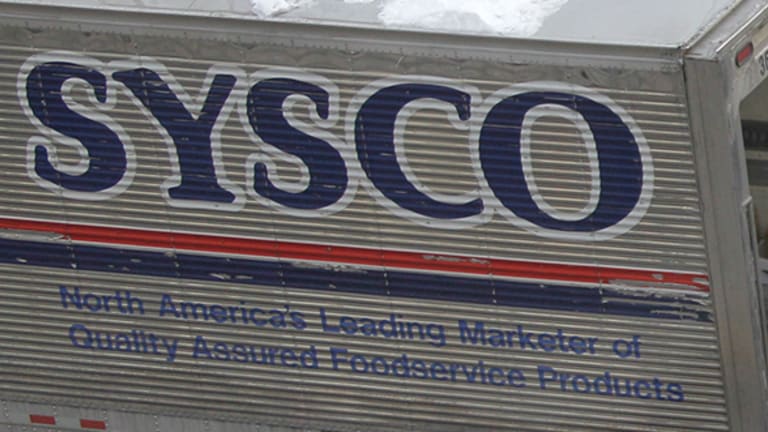 Publish date:
Here's Why Sysco Will Deliver More Profits to the Table
Sysco has outperformed the market this year, and based on its projected earnings growth, even at a P/E of 35, it still has room to dish out some healthy gains.
Sysco has outperformed the market this year, and based on its projected earnings growth, even at a P/E of 35, it still has room to dish out some healthy gains.
Sysco Corporation (SYY) - Get Report , one the world's largest food distributors, will report first quarter fiscal 2016 earnings results before the opening bell Monday, and investors who are looking for a market leader with enormous earnings growth potential and solid dividend might want to serve themselves a helping of its stock.
For the quarter that ended in September, the average analyst earnings estimate calls for 52 cents a share on revenue of $12.59 billion, translating to flat earnings growth and a 1% increase in revenue. For the fiscal year ending in June 2016, earnings are projected to climb 6.5% to $1.96 a share, while revenue of $50.89 billion would mark an increase of 4.5%.
Sysco, headquartered in Houston, has thrived despite having to abandon its planned $8.2 billion merger with rival US Foods this summer in the face of antitrust issues. Its stock is up more than 4% on the year, and has climbed some 10% and 13% over the past six months and twelve months, respectively. Not only did its performance best both the Dow Jones Industrial Average (DJI) and S&P 500 (SPX) index during those periods, it also crushed the broader Dow Jones Transportation Average( DJT) , which is down more than 11% in 2015.
Looking ahead, Sysco shows no signs that it's slowing down. The company projects it will grow earnings at an annual rate of roughly 11% over the next five years. That compares favorably to other transportation stocks likes FedEx (FDX) - Get Report and UPS (UPS) - Get Report , which are projected to grow at five-year annual rates of 13% and 11%, respectively.
In that vein, when compared to FedEx, which trades at a P/E of 40, -- almost twice the average P/E of the S&P 500 index -- there's more implied value in Sysco, which trades at a P/E of 35. Not to mention, Sysco, which recently announced an accelerated share buyback program of $1.5 billion, pays a 30 cent quarterly dividend that yields 3.00% annually -- one percentage point higher than the S&P 500. By contrast, FedEx's 25 cent quarterly dividend yields less than 1% annually.
Need another reason to buy Sysco? Based on fiscal 2017 consensus earnings estimates of $2.14 a share, SYY stock is projected to grow earnings by 9% from projected fiscal 2016 estimates of $1.96 a share. Not only would that drop Sysco's P/E to 18, it also implies growth acceleration in the years ahead for Sysco to achieve its projected 5-year annual earnings growth rate of 11%.
Further, that projected 11% earnings growth rate is likely an underestimate, given the company's aggressive share buyback program, which should boost fiscal 2016 earnings per share growth by 3 cents to 4 cents, while reducing Sysco's outstanding share count by about 5%.
In short, regardless of what Monday's quarterly results reveal, investors can do well owning Sysco stock for the long term.
This article is commentary by an independent contributor. At the time of publication, the author held no positions in the stocks mentioned.