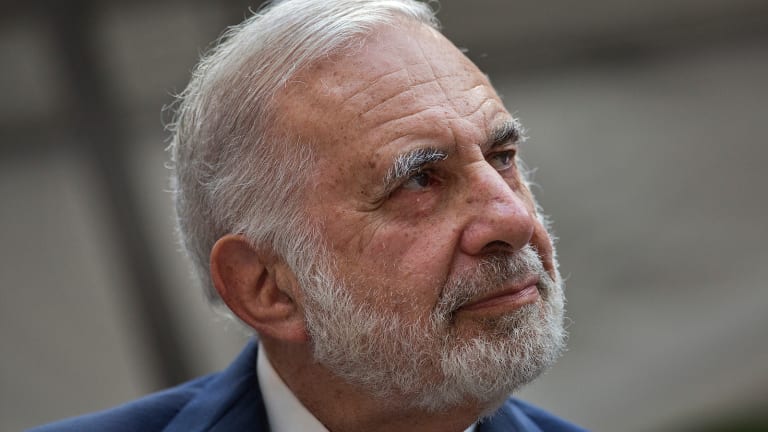 Publish date:
Here's Why Shares of Carl Icahn's Company Are About to Stage a Huge Rally
Detailed technical analysis shows that Icahn Enterprises (IEP) stock is about to make a bottom and then embark on a huge rally.
Detailed technical analysis shows that Icahn Enterprises (IEP) stock is about to make a bottom and then embark on a huge rally.
It's been a tough two years since shares of Icahn Enterprises (IEP) - Get Icahn Enterprises L.P. Report peaked near $130, in December 2013. Icahn Enterprises shares are 50% below their 2013 extremes, and the monthly chart below shows that the worst is not quite over. The stock will stage a huge rally before too long, however.
Click here to see the following chart in a new window
Because Icahn Enterprises is a diversified holding company, it is impossible to successfully analyze its financials and those of its various holdings to determine what problems are responsible for halving the stock's valuation in two years. Otherwise, Carl Icahn and his team already would have done so and earned the salaries shareholders have been paying them. There is an objective way of measuring how well the company has been doing, and when things are likely to improve. 
The decision support engine looks only at the technical conditions of a company's actual price chart, and compares them to millions of other charts, going back several hundred years (U.K. stocks are used before to the 1900s), looking for highly correlated "if/then" scenarios. In other words, if this pattern appears, then what is the highest-probability pattern that comes next? Some patterns are far more predictive than others. So when these appear, confidence of a predictable outcome rises substantially. The last few months is one of these if/then scenarios. 
In the case of Icahn Enterprises, the rise off the August low is a clear up/down/up, corrective pattern. When these patterns follow a sharp decline, such as the one from August 2014 to this past August, the corrective bounce is highly correlated with a temporary interruption of the previous decline. Once these corrective bounces mature, as this one likely did at the Nov. 2 peak, the previous decline resumes until it, too, matures. The green oval at the right has now become the best target zone for the maturity of the decline from at least that August 2014 peak near $105, if not the all-time high, near $130.  
Not only will the green oval provide intrapattern symmetry from 2014's August-October decline at $58, but also $50 provides intrapattern symmetry of one degree larger in trend, where the declines labeled (A) and (C) will be equal, a historically common occurrence. Therefore, the zone between the red lines, which includes most of the green oval, is the sweet spot for Icahn Enterprises to stop declining and begin what could be a multiyear rally that generally follows the blue arrow up toward the top, right-hand corner of the yellow box. This $130 area would allow the rally from the $50s to approximate the rally's percentage rise following the green oval's low at the lower left area of the price chart, the 2008 low near $15. As noted, that rally followed similar conditions, which will form once the current declines lands in the green oval just ahead, which gave rise to a 156% thrust in the following 12 months.  
The decision support engine is telling us that selling actions should be used between $68 and $77, in the coming days (using protective buy stops, if you're short, at $81), with a downside target of $56 +/-$2. Once the stock hits that target zone, you should cease selling actions and start buying the stock. This zone is where strong support from the lower three-standard-deviation band (containing 99.7% of normality) should be the worst level seen. Also, the weekly stochastics should join the daily and monthly measures at oversold extremes, where all three degrees of trend are expected to reinforce each other in upward behavior. Additionally, any close above $81 would trigger other decision support engine buy signals. So the current sell signal must be reversed to buying, either on a close above $81 or into the green oval, as this is only a finishing move lower. The next move of significance should be upward, at least challenging $95 +/-$5, with more bullish potential thereafter.  
For more of this kind of analysis, try our many DSE-based services with a free week of full-access to our highest level membership. Special pricing is available for TheStreet.com readers who subscribe AFTER a no-obligation, complimentary trial week.
This article is commentary by an independent contributor. At the time of publication, the author held no positions in the stocks mentioned.