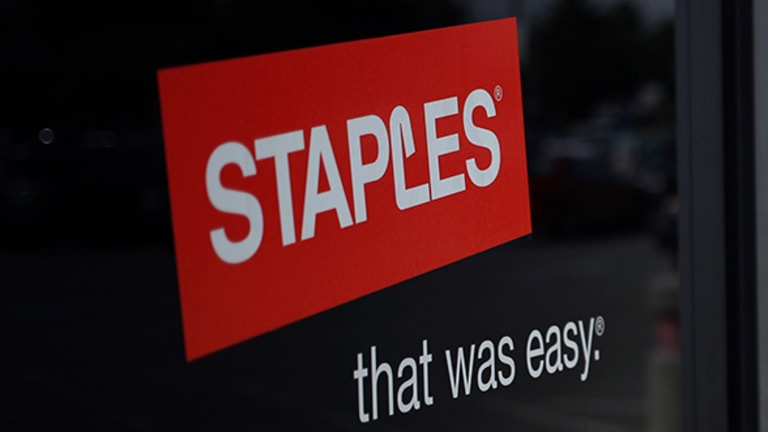 Publish date:
Here's Why Same-Day Delivery Won't Help Staples
Following a blocked merger with Office Depot, this operator of chain retail stores faces trouble on all fronts.
Following a blocked merger with Office Depot, this operator of chain retail stores faces trouble on all fronts.
Staples Inc. (SPLS) is the latest retailer to jump into the same-day delivery game.
On Tuesday, the office supply chain launched its Staples Rush service, which will deliver orders by 7 p.m., if customers place them through Staples' website before 3 p.m. that same day.
Staples Rush is up and running in parts of Boston, Chicago, Dallas and Manhattan, with Houston, Los Angeles, San Francisco and Seattle joining the list soon. The company will use its own delivery fleet to make the drops.
But Staples faces a number of challenges that make it a stock to avoid.
One comes from Walmart. 
On June 3, news broke that the retail giant would soon begin testing office supply delivery through its Sam's Club warehouse chain, which already counts many small businesses as members. So far, Walmart has been mum on specifics, including details such as whether it, too, will offer a same-day option.
But Walmart is already experimenting with same-day delivery elsewhere in its business, recently teaming up with Lyft and Uber to bring groceries to customers' homes. If that is successful, it isn't hard to imagine the chain expanding this low-cost strategy to customers who buy office supplies.
Then there is Amazon.com. 
In April 2015, the online retailer launched its Amazon Business online store, which offers everything from 3D printers to break-room supplies.
Since then, Amazon Business has increased sales at a rate of 20% a month, hitting the $1 billion at the end of its first year of operation, according to the company.
Amazon Business only offers two-day shipping, but it is free on orders $49 or more. That is cheaper than Staples Rush, which charges $14.99 per order, and if the total comes to $49 or less, the company will add on its regular $9.95 online ordering fee.
Meanwhile, the office supply market remains an area with little investment appeal, as more people view documents on laptops and tablets instead of on the printed page. That was on display in Staples' first-quarter results, where sales of ink and toner fell at its North American stores and via its web operation, as well as its North American commercial segment, which sells directly to businesses.
The commercial business was the only one of Staples' three divisions to see a sales increase during the period, with a 0.3% year-over-year rise. This division has posted higher sales going back several quarters, but its high market share prompted a federal judge to block Staples' $6.3 billion merger with Office Depot in May, out of concern that the tie-up would result in higher prices for businesses that buy in bulk.
Overall sales dipped 3.1% to $5.1 billion, just beating the consensus forecast of $5.08 billion.
Adjusted earnings were flat, at 17 cents a share, beating the forecast by a penny, but that mainly reflected Staples' continuing store closures. The company plans to shutter 50 outlets in 2016, after it closed 242 in the past two years.
The stock is cheap, with a forward price-earnings ratio of 9.3, and the 12-cent-a-share quarterly dividend yields a high 5.6% on an annualized basis. However, both figures stem from a 48% drop in the share price in the past year.
With the office supply business facing long-term decline and competitors closing in on all sides, there is little reason to think that same-day delivery will make much of a difference for Staples.
---
Those who would rather avoid stocks altogether amid market turbulence should try this simple strategy, which provides a guaranteed $67,548 a yearand takes just nine minutes a week. Click here to get the full story.
This article is commentary by an independent contributor. At the time of publication, the author held no positions in the stocks mentioned.