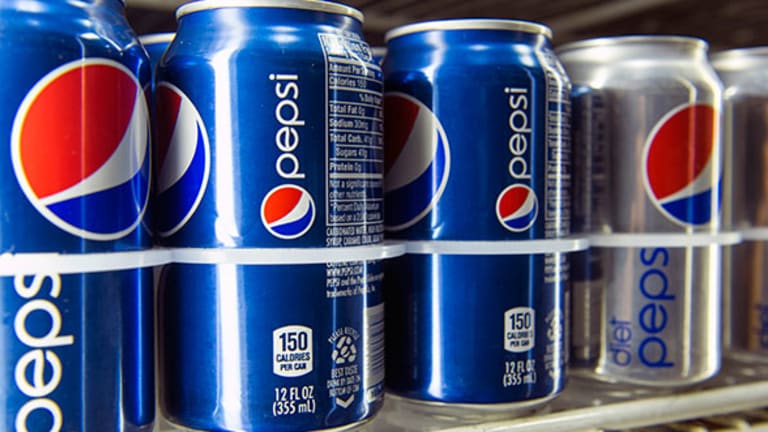 Here's Why PepsiCo Hasn't Made a Huge Acquisition Recently
The snack and beverage giant certainly has the resources and the interest, but hasn't found the right targets yet, said chairman and CEO Indra Nooyi.
PepsiCo (PEP) - Get PepsiCo, Inc. Report certainly has the financial firepower to do a big deal, but finding the right company is proving elusive.
"We have yet to find that gem of a company -- there is nothing out there at the moment," said PepsiCo chairman and CEO Indra Nooyi on Thursday at the Consumer Analyst Group of New York conference (CAGNY).
Nooyi added that "we don't shy away from investments that could grow this company." The long-time PepsiCo executive explained the company is having trouble either finding the right strategic fit, or is unwilling to pay high multiples for up-and-coming beverage or snack brands.
Recently, PepsiCo was rumored to have been rebuffed by Greek yogurt maker Chobani to take a stake in the company. PepsiCo vice chairman and CEO Hugh Johnston declined to comment on the speculation in a Feb. 11 interview with TheStreet. He reiterated that PepsiCo averages less that $500 million in smaller "tuck-in" acquisitions each year, and "expects this policy to continue moving forward."
But the company has the balance sheet to do something large.
PepsiCo generated a massive $8.1 billion in free cash flow in 2015, created in part by billions of dollars in cost savings measures since 2010 and steady top line growth. It finished 2015 with about $11.9 billion in cash and short-term investments.
For 2016, the company estimates it will have more than $7.1 billion in free cash flow. PepsiCo also has strong credit ratings from S&P and Moody's, which would allow it to borrow rather cheaply to fund a significant purchase if needed.
PepsiCo's history is filled with big transactions, the most prominent being its combination with snack maker Frito Lay in 1965.
In 1998, PepsiCo purchased Tropicana for about $3.3 billion. Then in 2000, the company plunked down a colossal $13.4 billion to buy Quaker Oats, which also gave it access to the coveted Gatorade brand. The company's purchase of Izze for an undisclosed sum in 2006 gave it access to the hot-selling sparkling water category, while in the same year it gobbled up juice brand Naked for an undisclosed amount.
The company's last huge brand acquisition was Russian dairy products and fruit-juice maker Wimm-Bill-Dann for about $5.4 billion in 2010.