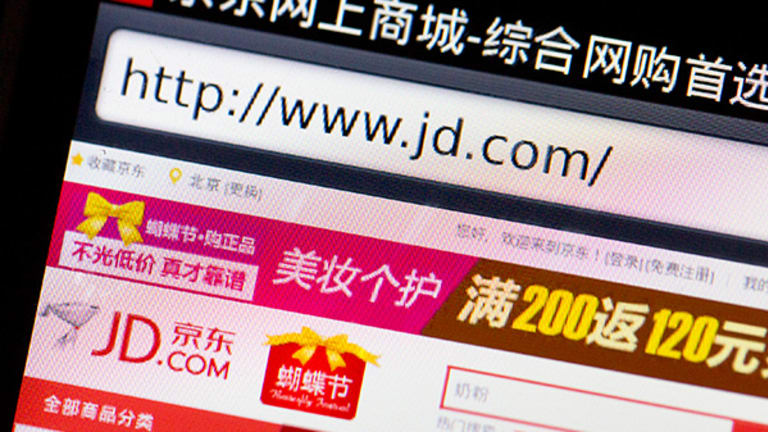 Here's Why JD.com Is on the Verge of Becoming the Next Netflix
Don't get spooked by events in China. This fast-growing online retailer based there is on track to post market-beating growth reminiscent of a younger Netflix.
Editors' Pick: Originally published March 23.
Ever since its $1.8 billion IPO in 2014, fast-growing Chinese online retailer JD.com Inc.  (JD) - Get JD.com Inc. Report has often been compared to its direct competitor Alibaba.
So far, the going couldn't have been any better for JD.com, whose gross merchandise value has grown by 14 times in just four years. Annual active customer accounts (from core business) are up five-fold in two years and Chinese New Year revenues have nearly trebled in two years.
That's why comparisons to Netflix are more apt, thanks to JD.com's superlative growth metrics.
Investors right now are seeking growth opportunities with enough momentum to weather the storms we'll inevitably encounter in 2016. JD.com is one of them.
Put aside all of the handwringing over slowing growth in China and focus instead on JD.com. The company's business has been strong. For full year 2015, JD.com reported a 58% rise in net revenues. This was driven by increases in core gross merchandise value. Net revenues from online direct sales rose 55%. The company's rapidly expanding online marketplace, advertising services and third-party logistics services helped bring fast results.
The company is investing heavily in tech and warehousing abilities (as Amazon.com did several years back). For the first quarter of 2016, JD has guided a 45%-to-50% jump in net revenues.
In fact, growth has been so spectacular that JD.com is challenging Alibaba, the big daddy of e-commerce in China. 
While it's China's second largest e-commerce site, JD's 57% dollar denominated revenue growth in the fourth quarter dwarves Alibaba's 32% rise. Gross merchandise value uptick at 69% is also much faster than Alibaba's 23%. 
JD.com is also quite popular with younger buyers, clearly supported by the massive spurt in active accounts. With JD.com constantly diversifying away from electronics (historically low margins) to apparel, it's sure to post market-beating growth in the months to come.
Remember that Alibaba is the leader of e-commerce apparel in that part of the world. JD's strategy of selling own merchandise directly compared to third party sales by others helps build a stronger brand connect. It means higher costs, but then you need to push the envelope if you're challenging entrenched rivals.
With fast growth, often profits seem distant. But JD.com is expected to turn the corner soon. Analysts expect JD to log 27 cents in earnings-per-share (EPS) for the year ended Dec. 2016 and then bump it up to $2.65 in the next year.
At a projected 90.90% EPS growth run-rate for the next five years, JD.com is a great opportunity. Amazon and Alibaba are expected to deliver between 30%-to-40% during the same period.
At anywhere near the $2.50 EPS by 2017, JD.com today is trading at around 10-times, which is a fit case for massive re-rating. If JD.com manages to turn profitable and generate free cash flows, a 20-times forward price-to-earnings (P/E) ratio is possible.
Mind you, the fulfillment costs and marketing spends must be maintained within reasonable limits. JD.com shohuld further improve its margins (5.5% in 2011 to 12.9% on a trailing 12-month basis) and generating more profits soon.
The stock has received solid reviews and big investors are sitting up and taking notice. For instance, Singapore's state owned investment fund Temasek recently pared its holdings in Alibaba Group, while dipping its toes further in JD.com.
JD.com's initiatives towards bringing Chinese talent to a global audience and giving global brands a China focused shop on JD are strategic moves geared to fortify its brand positioning.
Analysts see JD.com out-performing the market. It's already delivered alpha in 2015 and the correction in stock price in 2016 provides you with an opportunity jump aboard a tech bandwagon that's akin to the Netflix experience.
Online retail and China's growing appetite for merchandise-expansion is undoubtedly one of the biggest themes of this decade. In this context, JD.com could grow into a fabulous moneymaker.
We've just explained why JD.com is a great buy now. We've found another "tech disrupter" that could be poised for even bigger gains. There's a battle raging in the fast-moving world of Silicon Valley. Just as VHS tapes snuffed out Betamax and CDs killed cassettes, the winner of a new "gold standard" for data is about to be crowned. We've found a small company that figured out a way to corner this new $10 billion market, no matter who comes out the winner. To learn more about this small-cap rocket stock, click here.
This article is commentary by an independent contributor. At the time of publication, the author held no positions in the stocks mentioned.