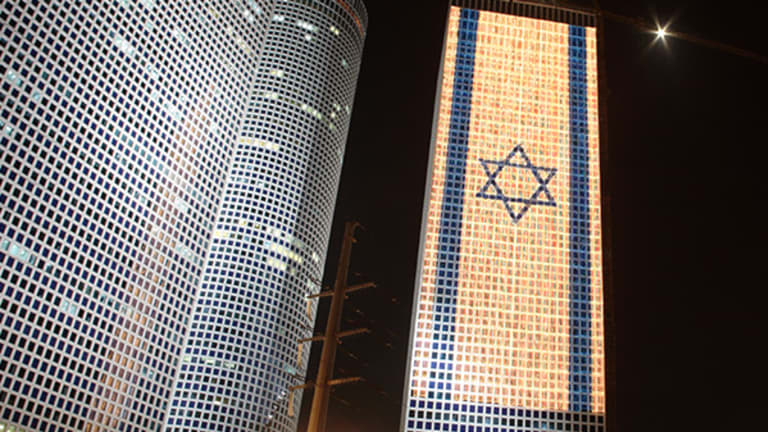 Here's Why Israel's Economy Has a Bright Outlook in 2016
Israel's technology sector is among the world's leaders, and the country shows strength in other important parts of its economy.
Editors' Pick: Originally Published Friday, Dec. 18

Despite the brutal conflict raging less than a hundred miles away in Syria, and the violence in Israel itself, Tel Aviv is thriving. 
Moreover, for investors, economic activity throughout this country of eight million people continues to grow. After a year with slightly weaker performance than in 2014, Israel's economy is expected to be one of the fastest growing among developed countries.
When it comes to investing in Israel, here's what to watch out for in the coming year: 
The direction of the U.S. and key global developed equity markets as they react to this week's shift in U.S. monetary policy
The direction of the Israeli shekel against the currencies of its major trade partners
Local macroeconomic factors, pace of global trade growth in 2016, and regulatory uncertainty in the banking and oil and gas sectors
The continued innovation of Israel's technology sector, which is a world-leader in a range of established and disruptive new tech areas
Whether Israel's real estate market will stabilize or even strengthen after hitting a soft patch in late 2015
 Here are some of BlueStar's specific views:
Monetary Policy, Currency Strength and Global Economic Growth
Appreciation of the shekel against the euro has been a major headwind for Israeli exporters in 2015.
The shekel also has appreciated slightly against the dollar in 2015 despite the rise in U.S. interest rates. This strength in the shekel is due to improving Israeli fiscal balances, optimism on the development of Israel's large offshore natural gas fields and a continued strong economy.
While Israel has many catalysts that are not related to global trade patterns, the country still relies heavily on exports and international trade for a substantial part of its GDP growth. If global economic growth begins to accelerate in 2016, and the shekel is either stable or perhaps even slightly weaker against the U.S. dollar and the euro, it would likely lead to another year where Israeli Global Equities outperform other developed market equities, as they have done over the long-term.
A higher pace of global trade with a shekel that is weakening slightly against the dollar, combined with an already strong domestic Israeli economy would lead to a year of Israeli global equities outpacing other developed market equity markets after underperforming in 2015.
Capital Markets
As the Tel Aviv Stock Exchange (TASE) looks to increase the number of companies listed, companies that are already listed on the TASE and included in the TA-25 and TA-100 indexes may consider increasing the percentage of shares that are floated in 2016. This would be in order to maintain their weights in those indexes. BlueStar believes this will be a highly-positive catalyst in the Israeli stock market, and could unleash a 'virtuous cycle' of deeper and more robust capital markets.
Furthermore, the TASE is also striving to become a more global exchange, which could increase international investor focus on Israeli companies, both public and private. The TASE and the Israeli government are continuing to create incentives for non-Public Israeli companies to grow organically rather than seeking or being subject to acquisition by a foreign company.
Next year is likely to show progress on this front. That should position Israeli equities for higher allocation in global investors' portfolios, especially those that view the entire Israeli equity universe (TASE-listed plus U.S. and London-listed Israeli companies) as their opportunity set.
North American-based investors should consider exposure to the full spectrum of Israeli equities by using a benchmark like BlueStar's "BIGI" - BlueStar Israel Global Index, which includes Israeli companies listed in Tel Aviv, London, New York and Singapore. BIGI is tracked by the Market Vectors Israel ETF (NYSE: ISRA)
Energy
A potential recovery in commodity prices is likely to lead to a pickup in global inflation toward what are considered more normal levels. That is generally positive for equity markets.
Israel's nascent oil and gas industry could have the most meaningful macroeconomic impact on the country's economy. Recent moves by the government of Prime Minister Benjamin Netanyahu will clarify terms for major investment by Israel's Delek Energy and Noble Energy of the U.S. in Israel's massive new discoveries in the Mediterranean Sea. The development of this industry, and allowing for exports, will result in capital investment for both the extraction/storage/transport of gas and for converting energy sources from oil and coal-based to natural gas-based.
Israeli Innovation and Israeli Tech Companies
Israel is home to scores of innovative companies bringing cutting-edge technologies to the global marketplace. This includes Mobilye (MBLY), which is the leader in autonomous vehicle technology, advanced CyberSecurity companies, like CyberArk, Checkpoint and Radware, and a range of other companies in medical technology, info tech and defense Tech that protects airliners from terrorist missiles
BlueStar's "TA-BIGITech" includes 65 companies that are leaders in all major fields of technology. The Nasdaq-listed ITEQ tracks the TA-BigITech and fills a key gap in technology investors' portfolios, providing exposure to Israeli companies listed worldwide but not part of most tech benchmarks and ETFs. 
Real Estate
Israel's historically strong residential real estate market is showing signs of slowing price appreciation. Supply and demand balances are likely to be supportive of Israel's real estate markets for many years. The net cost or benefit of this will depend on the magnitude and velocity of the slow down. The stabilization or rebound in Israel's real estate market after a late 2015 soft patch would be positive for Israel's economy, and its markets. Yet Israel's commercial real estate is likely to continue on a successful path, in no small part because of the country's technology boom. 
Telecommunications Sector
Israeli telecom companies had a strong year in 2015, led by Bezeq. While consolidation is unlikely due to the regulatory environment, stabilization could be a net positive for Israeli equities.
Pharmaceuticals
Investors should expect some volatility in Israeli pharmaceutical and bio-tech companies whose primary target markets are in the U.S. The industry could be impacted by next year's Presidential elections. U.S. government price-controls in the pharmaceuticals industry, as suggested by at least one presidential candidate, could have an adverse impact on companies.
Steven Schoenfeld is the founder and chief investment officer of BlueStar Indexes®, a subsidiary of BlueStar Global Investors LLC, a research-focused financial firm that specializes in the Israeli capital markets. Schoenfeld is the editor of the preeminent book on index investing, Active Index Investing and co-author of The Pacific-Rim Futures and Options Markets. The author held no positions in the stocks mentioned.