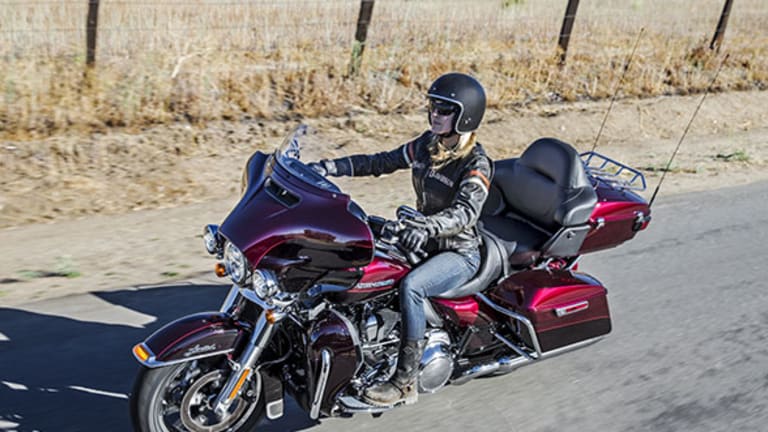 Here's Why Harley Davidson Stock Will Soon Plunge
This storied manufacturer of motorcycles is an ingrained part of American culture, but that won't stop its stock from crashing this year.
Many American "old-line" manufacturers are enjoying a rebirth, as they bring the latest technology to their assembly lines and eliminate inefficiencies. These U.S.-based companies are combining innovation with roll-up-your-sleeves manufacturing to give foreign competitors a run for their money.
But in this uplifting red-white-and-blue story, don't include Harley-Davidson (HOG) . This motorcycle manufacturer may be an American icon, but its stock is a dog.
Harley-Davidson is scheduled to release first quarter fiscal 2016 earnings before the opening bell on Tuesday, April 19. As will be made clear below, Harley-Davidson is a toxic stock to avoid right now. We'll also debunk the notion among some analysts that the stock is a good value play that faces a brighter 2016. The stock has nowhere to go but down.
Founded in 1903 by William Harley and Arthur Davidson, Harley-Davidson is the largest manufacturer of heavyweight motorcycles in the world. It's also one of the most familiar and beloved brands in the United States, made famous in countless motorcycle movies that romanticize the biker's life on the road.
So why, during an economic rebound that has generated more disposable income for consumers, has Harley-Davidson under-performed U.S. automakers such as General Motors and Ford, as well as the broader markets? Over the past two years, Harley Davidson has declined 20.21% and 28.42% each year, respectively, compared to a decline of only 1.05% and a gain of 9.81% over the same periods for the S&P 500 (SPY) .
Harley-Davidson's litany of woes includes poor customer satisfaction, high manufacturing costs, and brutal competition from overseas companies that are making stylish bikes that cost a lot less. The strong U.S. dollar also is hurting the company, by making its products more expensive overseas. 
Further, Harley-Davidson is saddled with a heavily unionized workforce in factories in York, Pennsylvania; Milwaukee (where the company is based); and Kansas City, Mo. To be sure, Harley-Davidson's bikes also are assembled at facilities with lower cost workers in emerging nations such Brazil and India, but the company overall is stuck with stubbornly high overhead compared to foreign competitors.
Harley also consistently rates among the least reliable in consumer surveys, behind motorcycles made by competitors Honda, Yamaha and BMW.
No wonder, then, that Harley Davidson's operating results have been on a downward trajectory.
For the fourth quarter of fiscal 2015, Harley-Davidson posted earnings-per-share (EPS) of 22 cents, down from the 35 cents that it reported in the same quarter a year ago. The company reported revenue of $1.18 billion in the fourth quarter, down from the $1.20 billion in revenue in the same year-ago quarter.
Full-year 2015, EPS fell 4.9% to $3.69 compared to EPS of $3.88 in 2014. Revenue in 2015 came in at $5.66 billion, down from $6.23 billion in 2014.
When Harley-Davidson reports earnings on April 19, the consensus EPS forecast for the quarter is $1.29, roughly flat compared to EPS reported in the same year-ago quarter.
Harley-Davidson's operating results seem especially shaky in the context of rising consumer spending and confidence. If the company can't prosper during the continuing boom in vehicle buying, it would badly falter if the economy slowed down. On most stock-picking metrics, the company gets a failing grade and ranks as one of the worst places for your money.
Notably, Harley-Davidson's debt-to-equity of 374% is extremely high compared to 117.6% for its industry of recreational vehicle manufacturing. The company's EPS growth rate for the past six months (-84.72%) doesn't exceed that of the S&P 500 (-4.23%).
Ignore the overly optimistic arguments that this stock is worth holding. If you own Harley Davidson, dump it now, ahead of its next earnings report.
As you can see, Harley-Davidson looks like a stock to avoid. However, if you want to see a list of the absolute worst stocks you can own right now, I urge you to take a look at this report called 29 Dangerous Stocks: Sell Now! Inside, you'll see a full list of the market's most overvalued stocks, and learn the process you can use to keep avoiding them in the future. Click here for a copy.
John Persinos is editorial manager and investment analyst at Investing Daily. At the time of publication, the author held no positions in the stocks mentioned.