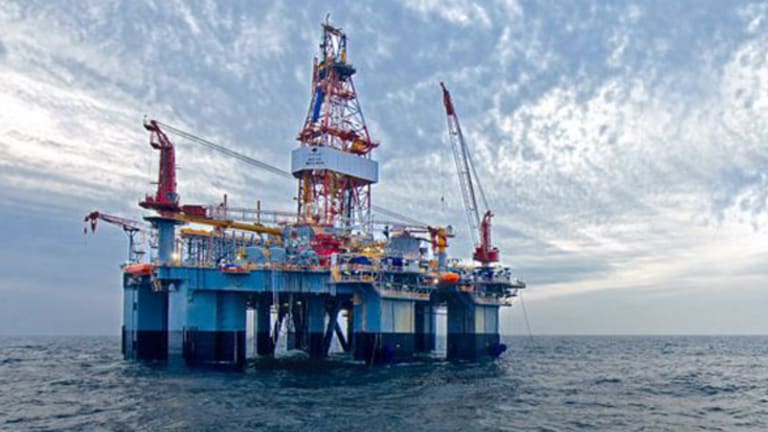 Here's Why Diamond Offshore Drilling Is an Awful Stock Right Now
Offshore drilling stocks are witnessing their worst nightmares come to life. Diamond Offshore Drilling is no exception. Here is why it is a stock to avoid.
After a huge drop in oil prices for many months, investors had hoped that a bottom had been reached
Very low oil prices had already made oil exploring companies cut down on new efforts, affecting the offshore drilling business.
Diamond Offshore Drilling (DO) - Get Report and its peers such as Atwood Oceanics, Ensco, Nabors Industries, Rowan and Transocean breathed a sigh of relief as oil stabilized, but now the bottom is starting to look like a mirage. As a result, Diamond Offshore Drilling is a stock to avoid.
Crude has again dropped, this time hitting three-month lows. Some say that a bear market for oil is pretty near.
Diamond Offshore Drilling's second-quarter earnings report, scheduled for release Monday isn't going to be pretty, with revenue likely to drop by a big margin.
Offshore drillers get a fee for their service. That service fee is declining at an incredible rate.
There is no turnaround in deep-water activity as well. It all adds up to one conclusion: There are better places to invest than in oilfield services stocks.
With oil-producing companies such as U.S.-based firms Chevron,ConocoPhillips and Hess preferring investment in shale, offshore drilling is destined for to take a backseat.
There is, without doubt, a protracted oversupply of rigs in offshore markets. And the earnings report from Diamond Offshore Drilling, which is 53% owned by Loews, is expected to reflect the operating pressure and increasing challenges.
Analysts expect second-quarter sales to drop by more than 40% to $375.22 million from $634 million a year earlier. Earnings are projected at just 4 cents a share, a huge 93.9% drop from 66 cents a year earlier.
Two analysts lowered their second-quarter earnings estimates in 30 days, while third-quarter estimates have been cut six times.
Diamond Offshore Drilling's fleet status update will be crucial.
If it is anything like Atwood Oceanics, it will be a bloodbath. The contract for the Atwood Osprey rig has been extended but at a deeply discounted rate.
In addition, no contracts were announced by Atwood for two uncontracted, new-build drill ships. Transocean's update showed it stacked an additional six rigs, taking its total stacked rig count to 28.
Day rates for others have been reduced, yet again. This is more reason why analysts have scant confidence in the supply and demand outlook for floating rigs next year into 2018.
With crude oil plunging, the fundamentals continue to weaken for Diamond Offshore Drilling. It also remains unclear when day rates and utilization may bottom.
We definitely don't buy the Gulf Mexico oil production story.
Besides, bolt failures have already marred earnings to an extent. For instance, Diamond Offshore Drilling informed investors that it had four unplanned stack pulls in the second quarter.
Higher crude prices, even from a few days ago, didn't exactly trigger any improved demand for offshore rigs, but they did support sentiment.
This investor hope could take Diamond Offshore Drilling through 2018 before any material demand potentially arises. Even though offshore drillers such as Diamond Offshore Drilling with superior fleet quality and good balance sheets are preferred over others, these stocks are by no means cheap.
At a forward price-earnings ratio of 23.6, Diamond Offshore Drilling is expensive compared with Ensco (20.9 times). Offshore drilling won't like recover until 2020, as oil supply exceeds demand until then.
Avoid offshore drillers for now, especially Diamond Offshore Drilling.
---
There may be a crisis looming on the horizon that has the potential to make 2008-2009 look like child's play. The window for investors to protect themselves is rapidly closing. Click here to find out more.
This article is commentary by an independent contributor. At the time of publication, the author held no positions in the stocks mentioned.