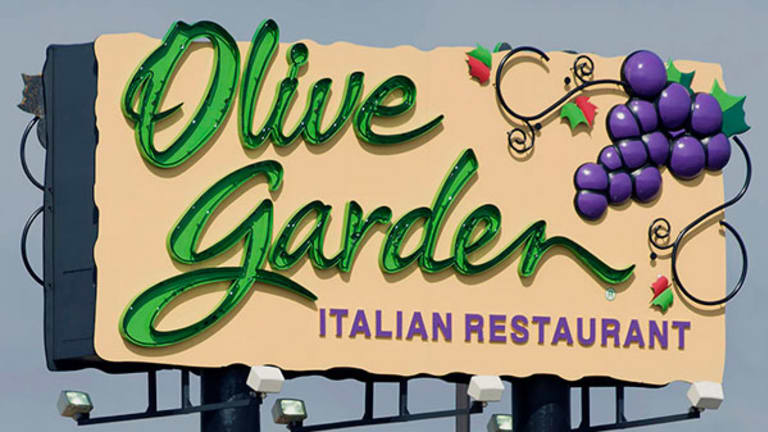 Publish date:
Here's Why Darden Restaurants Stock Belongs in Your Investment Portfolio
The parent company of fast casual chains Olive Garden and LongHorn Steakhouse looks poised for strong earnings and to see more growth in its stock price.
The parent company of fast casual chains Olive Garden and LongHorn Steakhouse looks poised for strong earnings and to see more growth in its stock price.
With rising employment, lower fuel prices and more disposable income in their pockets, Americans have rediscovered their love of restaurants. Below, we pinpoint a restaurant stock that's in the "sweet spot" of growth, as once highflying stocks such as Chipotle Mexican Grill (CMG) - Get Chipotle Mexican Grill, Inc. Report lose ground.
Last month the National Restaurant Association reported that restaurant sales in 2015 grew to $745.6 billion, marking a sixth consecutive year of growth. The trade group projects sales to grow 5% this year, to $782.7 billion.
In this environment, Darden Restaurants (DRI) - Get Darden Restaurants, Inc. Report  is poised to do well. We think this undervalued restaurant chain will be among the growth stock winners of 2016.
Darden Restaurants, based in Orlando, Fla., owns and operates about 1,500 restaurants in the U.S. and Canada. The company's well-known brand names include Olive Garden, LongHorn Steakhouse, Bahama Breeze, Seasons 52, The Capital Grille, Eddie V's and Yard House.
Darden is scheduled to report fiscal 2016 third-quarter operating results on Tuesday, April 5. The Wall Street consensus for adjusted earnings per share is $1.19. In the same quarter last year, Darden reported adjusted EPS of 99 cents.
Management this month preannounced adjusted EPS expectations of $1.18-$1.21 for the quarter. Same-restaurant sales in the quarter are expected to increase 6% year over year.
One major reason that Darden is a good buy is that the company's restaurants occupy their own, singular niche. They're full-service but not expensive, putting them a notch higher than "fast casual." The company also has been co-opting the trend toward healthier eating by taking steps to remove trans-fats and other unhealthy ingredients from its menus.
A sure way to make money over the long haul is to find companies with services that are distinctive and plugged into accelerating trends. With a market cap of $8.5 billion, low costs and trusted brands that are pervasive from coast to coast, Darden fits the description. The company had solid revenue growth of 7.6% in the last full fiscal year, which concluded at the end of May 2015. 
Driving customer traffic to Darden restaurants has been a lasting change in eating habits following the recession of 2008-2009. Despite the economic recovery, consumers still traumatized by the downturn are forsaking fancy restaurants for somewhat less-expensive "casual dining" sit-down restaurants like the ones that Darden owns.
Cheaper "fast-casual" chains such as Chipotle have taken advantage of this change in consumer preferences, but as consumers feel wealthier, they're splurging for more than just cheap burritos.
What's more, with Chipotle still reeling from the scandals over its tainted food, other restaurant companies such as Darden are benefitting. During the last month, as Chipotle's legal and governmental hassles have mounted, the company's stock has declined more than 9%, compared with a one-month gain of more than 4% for Darden.
During the same period, Darden's major peers haven't weathered the market's volatility as well as Darden. DineEquity (Applebee's and International House of Pancakes) is down 1.5% over the past month, while Brinker International (Chili's Grill & Bar, Maggiano's Little Italy) has fallen more than 10%.
In an act of marketing desperation, to counter the horrendous press over food-borne illnesses among its customers, Chipotle has even resorted to giving away food (with mixed results).
Darden has lower costs and less debt than its major competitors, allowing for a greater growth trajectory. Management's prudent expansion has resulted in a debt-to-equity ratio of only 0.60, compared with 1.24 for the restaurant industry.
With a trailing 12-month price-to-earnings ratio of 23.6, Darden is cheaper than the industry, which has a trailing P/E of 24.6. The stock also is cheaper based on its TTM price-to-sales ratio (1.24 vs. 1.72 for the industry). The stock now trades at $65.88. The median 12-month price target of analysts who cover Darden is $70, suggesting the stock can still gain 6.2%. The highest price target is $81, which suggests the stock can gain 23%.
Ignore the analysts who keep touting a "comeback" for Chipotle; that embattled Mexican food chain is likely to remain in the wilderness well into the foreseeable future. Put Darden on your investment menu, ahead of its next earnings report.
Don't Buy Apple; Buy This Tech Stock Instead: There's a battle raging in the fast-moving world of Silicon Valley. Just as VHS tapes snuffed out Betamax and CDs killed cassettes, the winner of a new "gold standard" for data is about to be crowned. I've discovered a tiny company that figured out a way to corner this new $10 billion market, no matter who comes out the winner. Click here to learn more.
John Persinos is editorial manager and investment analyst at Investing Daily. At the time of publication, the author held no positions in the stocks mentioned.