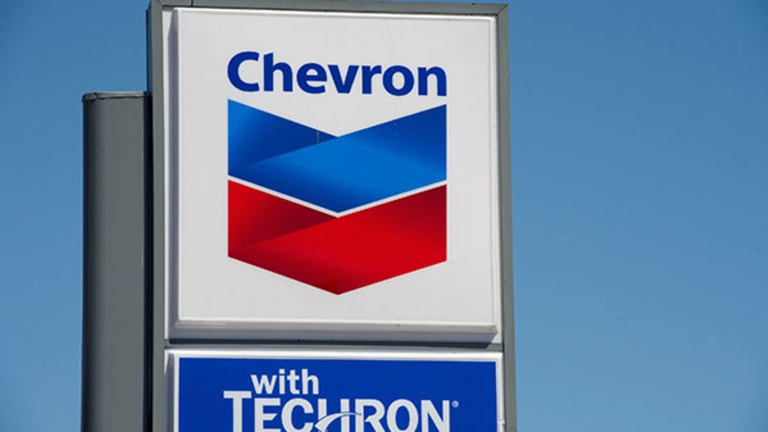 Here's Why Chevron Stock Should Be Avoided Right Now
The stock is cheap but you'll get what you pay for so look elsewhere. Chevron reports earnings early Friday.
There's value, and then there is that Dog of the Dow known as Chevron (CVX) - Get Free Report , which reports before the Friday open.
You'd think from the 14% year-to-date decline in the Energy Select Sector SPDR Fund (XLE) - Get Free Report  that there is tons of value in an energy sector hurt amid a global oil glut that pressures the industry's revenue and margins.
But you would be wrong to even think about investing in Chevron right now.

For the quarter that ended September, the average analyst earning-per-share estimate is 75 cents a share on revenue of $29.86 billion, compared to the year-ago quarter when the company earned $2.95 a share on revenue of $54.68 billion. For the full year earnings are projected to plunge some 70% year over year to $3.16 a share, while revenue of $132.40 billion would mark a year-over-year decline of 37%.
Its shares, at around $89.60, are down 20% in 2015 and over 23% in the past 12 months. Chevron has been one of the hardest-hit energy companies that can no longer operate on the assumption of $100-per-barrel oil prices, which are currently around $50-per-barrel.
Despite aggressive cost-cutting efforts to reconfigure its business, cash flow continues to trend lower, plunging 42% in the second quarter to $9.5 billion, from $16.3 billion in the year-ago quarter. The recent one-month rally in oil prices have made investors more optimistic about a potential recovery in Chevron's business. But don't hold your breath.
Chevron, like larger competitor Exxon Mobil (XOM) - Get Free Report , is projected to deliver earnings that are expected to decline in the next five years. For Chevron, decline is projected to be by an average annual rate of almost 8% -- three percentage points worse than Exxon and twice the projected annual rate of decline BP (BP) - Get Free Report .
In other words, among the large oil majors, Chevron's recovery prospects trail its peers. Its worsening exploration and production, or upstream, business swung to a net loss of $2.22 billion in the second quarter. 
Chevron stock has a hold rating. It may look attractive today but the shares are not likely to climb anytime soon. If you must invest, wait until the company issues its business outlook for the rest of the year and beyond.
This article is commentary by an independent contributor. At the time of publication, the author held no positions in the stocks mentioned.