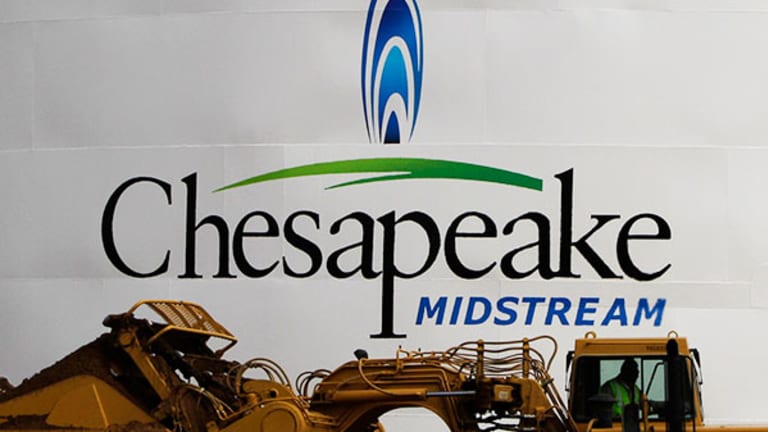 Publish date:
Here's Why Chesapeake Energy Isn't Coming Back
Ignore the analysts who argue that this once high-flying MLP is a value play. As we explain, CHK is a loser that stands almost no chance of revival.
Ignore the analysts who argue that this once high-flying MLP is a value play. As we explain, CHK is a loser that stands almost no chance of revival.
This is the kind of story that doesn't seem to have a happy ending in sight
If you've managed to weather Chesapeake Energy Corp.'s (CHK) - Get Report82% stock price drop, you may now believe that the worst is over.
Unfortunately, though, the reality of the situation is far different. Right now, the situation continues to look rather bleak, with scant possibility of a recover. Here's why Chesapeake belongs to a group of stocks that are destined to collapse and severely punish investors this year.
data by
Chesapeake has had the worst possible headlines over the past few months.
The company suspended dividend payments on preferred shares, in a move to manage its cash reservoirs and contain the debt scenario. The company's debt securities are already trading at a significant discount. A series of quarterly losses have shaken Chesapeake's strongest supporters. The stock recently hit levels that were at their lowest since April 2000.
To understand Chesapeake's slump. we need to go back in time. In 1989, legendary wildcatter Aubrey McClendon co-founded this Oklahoma-based giant, fuelled by billions of dollars of debt sales. At the time, few could have guessed what was in store -- the protracted decline in oil prices. Chesapeake, once the largest producer of gas in the U.S., used that massive debt pool to purchase hard assets.
Not paying dividends on preferred shares may save the company millions (on the surface a smart move), but the blemish on its reputation and standing in the market as a result of the same, is without a doubt, staggeringly huge.
Obviously Chesapeake is keeping its cards pretty close to its chest. The company is buying time -- $4 billion dollars' worth of it, with the newly amended credit facility. The question is, is this enough to restore the balance? 
Bear in mind, a clutch of analysts suggest that a credit issue for the company could blow up before 2018.
While some investors (with an appetite for risk) may believe that they could "catch a falling knife" and ride a possible turnaround, we on the other hand suggest quite the opposite. Chesapeake is one of several dangerous stocks that won't survive this year's expected market downturn. Bottom fishing is a true art in any market environment, but the trouble with Chesapeake is, nobody can call the bottom on this quagmire of a company.
The worst performer for the S&P 500 should take a significant amount of time to shed its leverage. And until then what can you expect? In all probability, continued earnings losses and further cash flow problems.
Additionally, when investors are shunning junk energy bonds, there is little merit in picking up junk energy stocks (like Chesapeake), especially if you are not a trader.
Analysts estimate that the company should post a loss of 22 cents a share for the December 2015 year, accompanied by a 45.50% drop in revenues. And that's not where the bloodletting will stop. Next year, (ending December 2016), losses could stack up as high as 65 cents a share even as revenues continue to move downwards. Over the next five years, Chesapeake is expected to see more losses.
Big energy players like ConocoPhillips, BG Group plc and Anadarko Petroleum Corp. are at this time risky bets but they're still safer than Chesapeake, if you're looking at this sector. That said, we can hardly ascertain any comfort in the energy space given the rout in oil prices. While there are some in which a portion of value could be located, Chesapeake is definitely not one of those.
Its dividend yield at 4.99% is frankly a mirage, since we expect the dividend on common stock to permanently vanish (it's already scrapped it).
Unless there is a marked improvement in the natural gas and oil price environment, Chesapeake is a cheerless proposition. How else would you fathom the alarming figures -- a company with a $2.33 billion market cap and $11.60 billion debt?
Stay away from this one.
As we've just explained, Chesapeake Energy is a terrible investment right now. If you want to see an entire group of similarly doomed stocks, click here. Using a little-known financial "health test," the stocks on this list are a failure in every category! Click here now for our free report, to make sure you don't make the mistake of owning one.
This article is commentary by an independent contributor. At the time of publication, the author held no positions in the stocks mentioned.