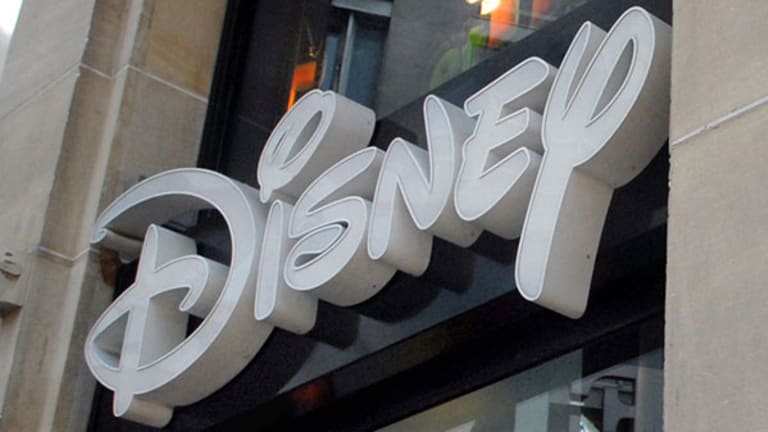 Here's Why Beaten-Down Shares of Disney Are a Dumbo-Sized Bargain
Watch its stock fly, after Walt Disney reports fiscal third-quarter earnings on Tuesday.
Snap quiz: When the conventional wisdom on Wall Street is terribly off base and drives down the price of an inherently strong stock, it presents you with ...Anyone? Anyone? Bueller?
Correct. A buying opportunity.
Which brings us to one of the most compelling bargains to be found in this overpriced market: Walt Disney (DIS) - Get Report .
Disney is down more than 8% year to date, compared with a gain of 6.20% for the S&P 500. This punishment is ridiculous and exemplifies the herd mentality at its worst.
The entertainment and media company is scheduled to report fiscal third-quarter results after the close.
The average analyst estimate is for earnings of $1.61 a share, a healthy increase of more than 11% from $1.45 a share a year earlier.
Full fiscal year earnings are pegged at $5.81 a share, compared with $5.15 in 2015. For fiscal 2017, earnings are expected to rise to $6.16 a share.
Those numbers represent nice earnings momentum.
So what is Wall Street's beef with Disney? It all boils down to ESPN, the boogeyman for analysts.
In the fiscal second quarter, Disney reported earnings of $1.36 a share on revenue of $12.97 billion, for a healthy year-over-year increase of about 4%. However, the consensus analyst expectation was for earnings of $1.40 a share on revenue of $13.19 billion.
The earnings miss was mostly due to a flat year-over-year revenue gain of $5.8 billion at media networks, Disney's largest operating division. This in turn stemmed from growing cancellations among cable subscribers, especially at ESPN, the company's flagship sports network.
The phenomenon is called cord cutting, and it is especially pronounced among younger viewers who watch more and more content via alternative and cheaper media platforms on their mobile devices. Attention spans are getting shorter, and loyalty to conventional cable channels is deteriorating, which makes costly cable operations such as ESPN an albatross.
But this dynamic, while very real, is more than offset by Disney's tremendous assets, which include beloved classic movies and brand-name characters that will be household names forever.
What's more, a new entry in Disney's Star Wars franchise is due to hit the multiplexes this fiscal year, and if the past is any guide, it will be a blockbuster. That is when we will see Disney's marketing juggernaut come to the fore, as it aggressively cross-promotes the movie.
The company's theme parks also provide steady revenue, and they are positioned to benefit from a rising middle class in emerging markets.
Disney last month opened the gates to Shanghai Disney Resort, the company's massive new theme park in China. After five years of construction and expenditures of $5.5 billion, the park is already is a hit.
The company is a deeply discounted growth play in an overbought market. Its shares trade at about $96.16 apiece, while the average analyst one-year price target is $111.15, which would represent a gain of about 16%.
Disney shares trade at a trailing 12-month price-earnings ratio of just 17.72, a low valuation compared with 23.48 for 21st Century Fox and 18.60 for the industry.
To be sure, Viacom's stock trades at a P/E ratio of 8.86, but in this case, the stock is getting punished for good reason. Viacom's assets are less valuable than Disney's, and its growth prospects pale by comparison.
The highly publicized infighting among top management isn't doing Viacom any favors, either.
Pick up Disney shares ahead of its next earnings report, before the investment lemmings realize that they have been marching off a cliff.
---
Here are seven companies to own, no matter what the economy is doing. Each of these powerful yet overlooked companies barely notices when the market tumbles, and they will likely skyrocket when it rebounds. Pick up all seven for pennies on the dollar. To get the names of these seven survivor stocks, click here.
John Persinos is an editorial manager and an investment analyst at Investing Daily. At the time of publication, Persinos held stock in Walt Disney.