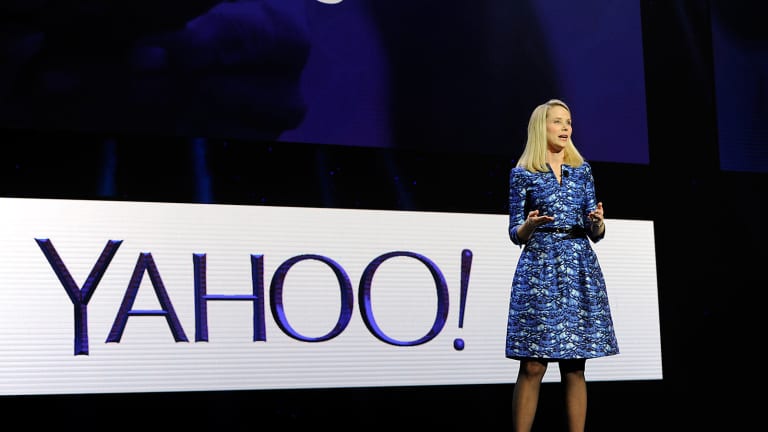 Here's Why AT&T and Verizon Are So Interested in Buying Yahoo!
The wireless rivals have some unique reasons for wanting Yahoo!, as well as the wherewithal to pay up for it. Jim Cramer thinks Verizon is the one to beat, however.
On Wednesday, Bloomberg reported that AT&T (T) - Get AT&T Inc. Report had made a bid as part of the second round of bidding in the current auction for Yahoo! (YHOO) . This makes a lot of sense, even though several outlets had previously reported AT&T was not interested in buying Yahoo.
At the moment, AT&T and Verizon (VZ) - Get Verizon Communications Inc. Report make the most sense as bidders for Yahoo and can presumably pay the highest price to Yahoo shareholders.
The other known bidders in the running for Yahoo's assets are Dan Gilbert of Quicken Loans with the financial support of Warren Buffett, and several private equity firms.
Many people familiar with different bids and the auction process have told me that it is generally acknowledged that strategic buyers such as Verizon and AT&T can afford to pay the most for Yahoo's core business compared to PE bidders. Dan Gilbert's bid is somewhere in the middle of those two, but closer to a private equity bid in the sense that he doesn't have other in-house assets over which to spread the cost of acquiring Yahoo.
Jim Cramer, TheStreet's founder, still thinks that Verizon will ultimately prevail in the auction.
"AT&T's doing incredibly well; they have the money to do it," said Cramer, the manager of the Action Alerts PLUS portfolio. "But Verizon's the one that really wants the assets. I think Verizon gets what they want."
Here are the top reasons why both AT&T and Verizon are so highly interested in Yahoo's web assets:
Video. The more either of these wireless carriers can drive their users to increased video usage on their mobile phones, the bigger and bigger data plans they'll drive. That's why Verizon has put so big a push on its nascent Go90 service and why they bought AOL. Yet AOL's video supply is limited. Yahoo! would be a huge increase, and AT&T is starting with even less web video assets than Verizon.
Ad tech. As both Verizon and AT&T launch new services such as Go90 and future over-the-top (OTT) services, they need better ad technology to more efficiently run targeted ads in front of their audiences. AOL and Yahoo! have both spent billions in acquisitions on ad tech which both Verizon and AT&T will eventually need.
Patents. A few years ago, Alphabet's Google (GOOGL) - Get Alphabet Inc. Class A Report  spent billions on Motorola just to build up its war chest of patents. That was the peak value for various patent portfolios being acquired by tech companies. However, patents still matter -- especially to companies like Verizon and AT&T who have already spent a lot of time and money building up their own portfolios of patents. Both of these wireless carriers are very nervous about Google entering their markets in the future -- for example, by launching alternative wireless plans via WiFi. Both will aggressively defend their turf with their patent portfolios, and Yahoo!'s portfolio is likely to be worth the most to either of them in a sale.
Competitive dynamics. One reason AT&T might be so interested in Yahoo! now in this second round of bidding could be that it looks like Verizon is close to sealing the deal. That might be making AT&T uncomfortable with the lead they'll have over Verizon in the areas described above.
Previous relationships. Another reason why AT&T specifically might be interested in Yahoo! is their relationship with The Chernin Group, which is run by former (FOXA) - Get Fox Corporation Class A Report executive Peter Chernin. AT&T and the Chernin Group have bid together several times for various Web and video assets (including Hulu). And the head of digital for The Chernin Group is Mike Kerns, who formerly was an executive at Yahoo! He likely knows where the bodies of costs are buried at Yahoo!
Yahoo! has previously said that they expect to announce a deal by the end of June. AT&T and Verizon should be in the pole positions to win the core business. They should also be able to pay up the most to satisfy the demands of Yahoo's top shareholders.
Whether they admit it publicly or not, both AT&T and Verizon need Yahoo to accelerate their video strategies. The only way they won't win the assets is if they don't pay up.
This article is commentary by an independent contributor. At the time of publication, the author was long Yahoo!