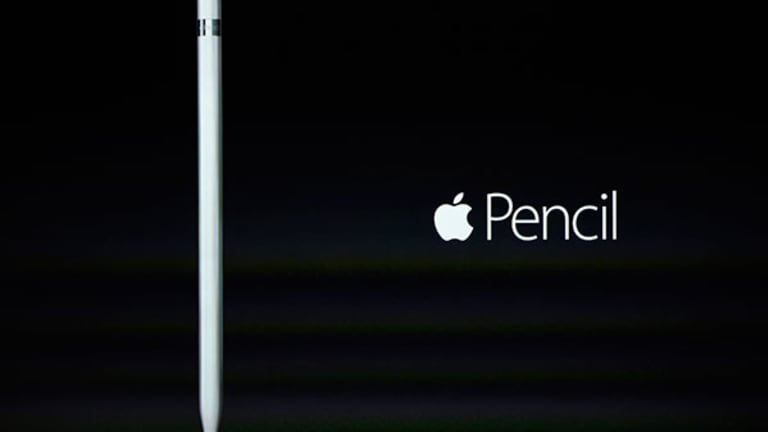 Here's Why Apple Is Worth a Lot Less Than You Think
Think Apple looks cheap at depressed levels following a challenging quarter? It actually might not be as cheap as you think. Let me explain: Get out your calculator.
Apple (AAPL) - Get Apple Inc. (AAPL) Report reported earnings yesterday in case you have been living under a rock and hadn't heard. It has been a great stock for many investors for many years -- and a truly great American company.
Looking at its cash position, its history of innovation and all the great products to come, one might think that the stock is cheap at current levels and smart investors should buy. But the story is a lot more complicated than that. You'd better get out your calculator. 
Apple is a holding in Jim Cramer's Action Alerts PLUS Charitable Trust Portfolio. See how Cramer rates the stock here. Want to be alerted before Cramer buys or sells AAPL? Learn more now.
Today we're hearing the usual noise: Where's the next great product? Will India be a growth market? Why is it so "cheap"?
Much of this debate is a waste of time. But regarding the "cheap" calculations by some, let me so bold as to suggest that Apple is not at all as cheap as some may suggest.
It's amazing to me how much focus is put on Apple's oversees cash hoard. To start, you can't calculate all of cash at it's true value because the company continues to borrow against it via debt markets around the world. So the "Apple only trades at 8-times cash argument" is fairly silly in my mind simply because of that. But here's another key factor.
As we all know Apple has embarked on the greatest capital return strategy in the history of the world over the past few years. It's been truly remarkable. And during that time, while the debate about larger batteries and watches raged all over the Internet, Apple's earnings have not kept up. In fact, you could argue that real earnings have decreased over the past four years.
From the first quarter of 2012 to the first quarter of 2016, Apple shrank the float (the number of shares) by 16%. The largest company in the world has bought back 16% of the company in the last four years and remains as the most valuable company in the world. But here's the kicker: Apple's actual earnings-per-share (EPS) has only increased 8.5%.
I rounded a few of the decimal points, and you have to divide by 7 thanks to the split, after all, but those are pretty close calculations. The company has saved a huge pile of cash on the dividend payments that those bought back shares would have been entitled to and the stock price is up over 20% over that time frame (with large swings in-between) but the larger point is that Apple has turned into more of a math equation then a revolutionary technology company.
Keep in mind there's been a lot of record quarters from 2012 to 2016 and a lot of cash flow, but the benefit of the buyback hasn't even been one-to-one as far as EPS is concerned.
None of this means that Apple is headed toward imminent bankruptcy or that we should all short it because the company is destroying its mounds of cash in a capital return program pumped by hedge fund managers far and wide. It's just a simple reminder that cheap can have many connotations and while you can count on Apple's dividend for years, with likely increases, how much can you count on the share price appreciating? 20% over four years and a 2% yield is nice, but that's not what many are looking for when they buy Apple shares. At least not historically.
Apple is the most valuable company in the world. There's nowhere to go above No. 1. Now, it's easy to see based on some of the math here how Apple's market cap could go nowhere yet the share price could still return double digits, assuming there are no interruptions in its capital return program.
But that raises another question: Can Apple count on the debt markets to be as accepting to its bond offerings over the next few years as they have the past few? Floating the debt to continue to fund the capital return program could become problematic. The yield on the Apple bond might actually start to meaningfully exceed the yield on the stock. And, at that point, which becomes more attractive if EPS is stagnant?
Of course these are all moot points if the next iPhone iteration has some game-changing feature that is embraced by everyone now under the Apple ecosystem and even more who are not already. But won't we know that when the predictable iPhone leaks start hitting? Why not wait and see instead of simply planning on the upgrade cycle hitting on all cylinders again. Until then, get out the calculator if you're looking to be opportunistic in, it's basically a math equation until further notice.
This article is commentary by an independent contributor. At the time of publication, the author held no positions in the stocks mentioned.