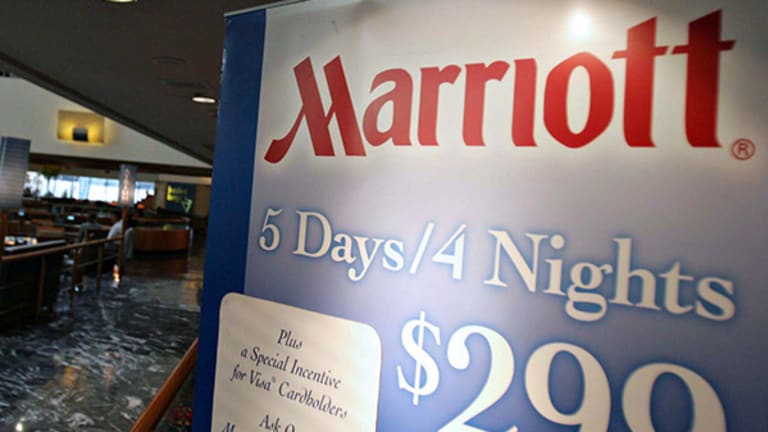 Here's Who Will Get Hurt the Most by Marriott's Deal to Buy Starwood
A combined Marriott and Starwood Hotels could have a negative impact on several companies in the lodging sector.
It's a big day for hoteliers Marriott (MAR) - Get Marriott International, Inc. (MAR) Report and Starwood Hotels (HOT) , but what's good for those two giants likely won't be so great for others in the lodging sector.
On Monday, Marriott surprised industry watchers by swooping in to buy luxury hotelier Starwood Hotels for $12.2 billion. Combined, the companies will operate or franchise more than 5,500 hotels with 1.1 million rooms worldwide, including luxury brands such as Marriott's Ritz-Carlton and Starwood's St. Regis. Marriott expects to deliver at least $200 million in annual cost savings in the second full year after closing, which is tentatively scheduled for the middle of 2016.
"The transaction will broaden the appeal to younger travelers, meeting planners, business travelers and franchisees," said Marriott president and CEO Arne Sorenson on a call with analysts. Sorenson, who will lead the combined company, added that deal is a "transformative event" for Marriott, and that it will help to forge deeper relationships with guests.
While it may be a monumental day in Marriott's storied history, the news could be bad for a host of others that service travelers.
1. Hyatt could be hurt by the combined company's massive new loyalty program.
Once combined, Marriott and Starwood would boast over 75 million members in their loyalty programs. The greater scale would give the company more room to better reward frequent guests, such as business travelers or higher income households that travel often and tend to stay in upscale hotels. In turn, that would ensure people stay loyal to Marriott and Starwood properties.
The loser is likely Hyatt (H) - Get Hyatt Hotels Corporation Class A Report, which was rumored to have been interested in Starwood and has five brands catering to the upscale/luxury market in the Park Hyatt, Andaz, Hyatt, Grand Hyatt, and Hyatt Regency. Collectively, the brands make up 73% of Hyatt's total portfolio of rooms. Hyatt may not be able to match the better rewards for members of a combined Marriott and Starwood loyalty program, and if they were to, it could come at the expense of profits.
As Choice Hotels (CHH) - Get Choice Hotels International, Inc. Report CEO Steve Joyce noted in a recent interview, "scale is king in the hotel business."  
2. Airbnb would have more formidable competition for business travelers.
Airbnb has been a thorn in the side of the lodging industry since its founding in 2008, offering cut-rate room rentals for individuals and families, as well as harried business travelers. The privately-held company currently has over 2 million room listings in 190 countries. Marriott and Starwood would have an estimated 1.1 million rooms worldwide after their combination is completed, giving it greater worldwide coverage in locations that tend to attract business travelers.
It's a point not lost on Starwood. "We will have a wider distribution of brands across price points -- and today, size matters," said Starwood chairman Bruce Duncan on the call.
The cost savings from the deal could be reinvested in offering deals that specifically target business travelers, who may be using Airbnb today for its relative affordability and ease.
3. Online travel booking agencies such as Priceline and Expedia could suffer.
Online travel agencies, or OTAs, such as Priceline (PCLN) and Expedia (EXPD) - Get Expeditors International of Washington, Inc. Report , earn commissions by facilitating reservations for hotel accommodations, rental cars, and other travel services for consumers. The growing popularity of Priceline and Expedia, the latter of which just purchased rival Orbitz for $1.6 billion, has led to increased price transparency in the travel industry. As a result, travelers can book vacations at more competitive prices by using an OTA as opposed to dealing directly with hotels.
A combined Marriott and Starwood with cost savings in hand could reinvest some of that money in offering more competitive prices for consumers and marketing its brands' websites. That could take a bite out of Priceline and Expedia's businesses, especially as a combined Marriott and Starwood would also be able to offer better perks to frequent guests.