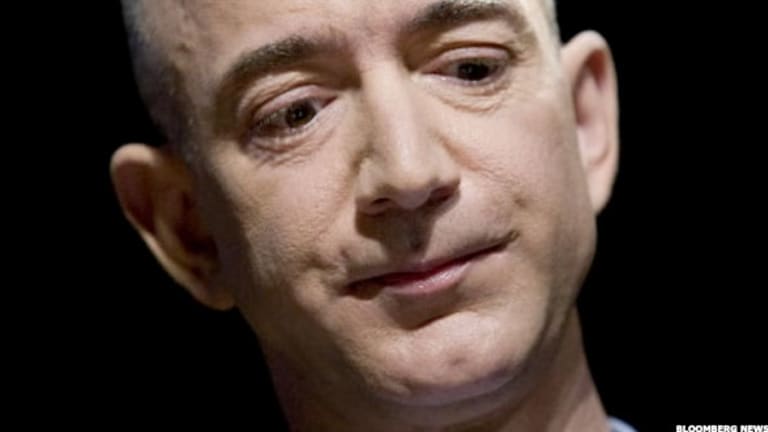 Here's What Went Wrong With Amazon's Earnings Report
Yes, Amazon.com (AMZN) suffered a big earnings miss, and its stock plummeted on Friday. But here's what the e-commerce company is doing right for the long term.
It would be an understatement to say that investor expectations were high going into Amazon.com's (AMZN) - Get Amazon.com, Inc. Reportfourth-quarter earnings report. Preliminary reports of the company's holiday sales were a cause for optimism. According to Channel Advisor, Amazon.com's same-store sales in December were up 15.5%, following a 22.9% increase in November. Those are some pretty strong gains, especially when compared with traditional bricks-and-mortar retailers, who struggled over the holiday season. Walmart is closing 269 stores. Macy's is cutting 4,500 jobs and shuttering dozens of stores.
Expectations were also high for Amazon's cloud service business, Amazon Web Services, which had been growing at a crazy rate. And although Amazon does not release figures for its Amazon Prime service, at $99 per subscriber, there were rumors that almost half of Amazon customers were now on Prime.
So what happened? Amazon failed to deliver, but it wasn't all bad. Amazon's annual sales surpassed $100 billion for the first time. Amazon customers surpassed 300 million. Holiday quarter sales were up 22%, coming in at $35.7 billion vs. $29.3 billion last year. In fact, the quarter would have been even stronger from a revenue standpoint absent a $1.2 billion unfavorable currency impact due to the strong dollar.
Amazon Web Services beat sales estimates, coming in at $2.41 billion vs. estimates of $2.38 billion. But the rapid trajectory of growth has slowed a bit, and the gain in the latest quarter was only 69% compared with 82% in the previous quarter and 78% a year before.
For the third consecutive quarter, Amazon was profitable, but it wasn't as profitable as analysts had been modeling. The Capital IQ consensus was for earnings per share of $1.58. But EPS came in at only $1.00. That represents a big miss on the bottom line.
Given the company's strong sales growth, CEO Jeff Bezos and company management didn't seem overly apologetic on the conference call. The stock fell so precipitously on Friday because it had been priced to perfection on those bullish expectations about the holiday period. Before the earnings release on Thursday afternoon, shares had been changing hands around $638, up 9% on the session and up about 110% over a year. Shares plummeted during Friday's session and closed the day down 7.6% from Thursday. 
Why the Miss?
So why the earnings miss this quarter? Amazon is spending to drive sales growth. Although Amazon Prime memberships were up 51% worldwide, adding more than 3 million members in December alone, that revenue did not come without a cost.
To supplement shipping needs during periods of peak demand, Amazon has been investing in logistics: buying trucks, cargo planes and ocean freight. The company will be advertising on the Super Bowl for the first time in its history.
And Amazon is spending money on original content for its Amazon Prime streaming video service, making a big original content push with five new series and renewing a bunch of others. Its original series Transparent and Mozart in the Jungle have both won Golden Globe awards.
So while Amazon's sales growth has been impressive, Wall Street wanted even more this quarter. Investors had gotten used to a more reliable earnings stream given the earnings beats of the previous two quarters.
E-Commerce Growth Alive and Well
Although Seattle-based Amazon is indeed a powerhouse in global e-commerce, its $71.8 billion in e-commerce sales over the last 12 months, up 5.6% year-over-year, is a small fraction of the overall worldwide e-commerce market. eMarketer estimates that market was $1.672 trillion last year. eMarketer's forecast for 2016 is for more than $2 trillion in global sales.
Global e-commerce remains one of the "sweet spots" of global retail. Some of the fastest growth in the online retail segment is coming from the increased adoption of mobile commerce. Thanks to bigger screens, enhanced security and mobile payment options, global m-commerce sales were expected to grow 68% in 2015, representing $155 billion in sales.
According to Amazon.com, almost 70% of its holiday customers shopped on mobile devices and the number of Amazon app shoppers also more than doubled in the same period. So an investment in mobile and mobile apps is another area of focus for Amazon going forward.
In short, while Amazon failed to deliver on the bottom-line this quarter, its investment in the future should help it deliver sales growth for many years to come.
You see Jim Cramer on TV. Now, see where he invests his money and why Amazon.com stock is a core holding of his multimillion-dollar portfolio. Want to be alerted before Jim Cramer buys or sells AMZN? Learn more now.
This article is commentary by an independent contributor. At the time of publication, the author held no positions in the stocks mentioned.
Amazon is a member of the EQM Online Retail Index (IBUYXT). The opinions expressed above should not be construed as investment advice. It is not possible to invest in an index. This article is not tailored to specific investment objectives. Reliance on this information for the purpose of buying the securities to which this information relates may expose a person to significant risk. The information contained in this article is not intended to make any offer, inducement, invitation or commitment to purchase, subscribe to, provide or sell any securities, service or product or to provide any recommendations on which one should rely for financial, securities, investment or other advice or to take any decision. Readers are encouraged to seek individual advice from their personal, financial, legal and other advisers before making any investment or financial decisions or purchasing any financial, securities or investment related service or product. Information provided, whether charts or any other statements regarding market, real estate or other financial information, is obtained from sources, which we and our suppliers believe reliable, but we do not warrant or guarantee the timeliness or accuracy of this information. Nothing in this post should be interpreted to state or imply that past results are an indication of future performance. Jane Edmondson is a registered investment advisor and founder of EQM Capital LLC and EQM Indexes LLC, both headquartered in San Diego, California. She has more than 20 years of financial experience in the investment industry and worked for more than 12 years as in Institutional Investment Analyst and Portfolio Manager before founding her own firm in 2013. She holds an MBA in Finance from San Diego State University and a BA degree in English from UC Irvine.