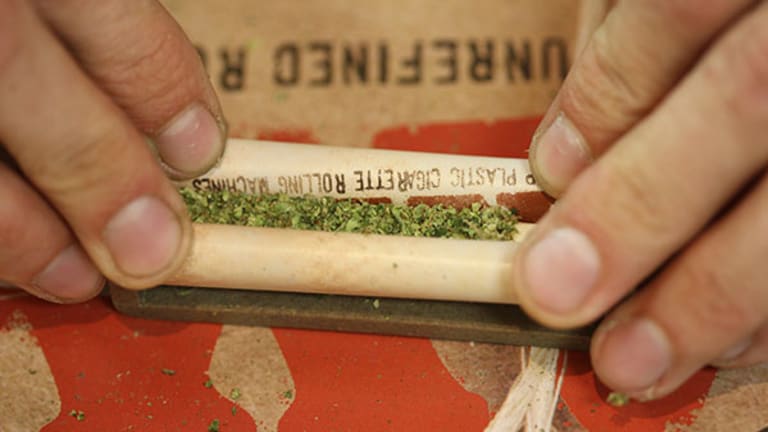 Here's What to Expect from the Marijuana and Cannabis Sector in 2016
The marijuana and cannabis sector is heating up in 2016. Here are the stocks leading the way and what to look for from the group overall.
The marijuana and cannabis sector is heating up in 2016. Here are the stocks leading the way and what to look for from the group overall.
Expect 2016 to be a comeback year for marijuana stocks and the cannabis sector as a whole.
Elections and new legislation have the marijuana debate gaining mainstream media exposure similar to what was seen in 2014, the year of the marijuana boom. Some companies that were once considered marijuana industry leaders are beginning to pump life back into the sector.
GrowLife (PHOT) , a provider of farming soil, hydroponics equipment, organic plant nutrients and other products to specialty growing operations in the United States, saw its stock soar nearly 206% on 43 times the average three-month volume after it received clearance from the Financial Industry Regulatory Authority Inc. to have its stock re-listed on the OTC Bulletin Board on Feb. 18.
Shares of GrowLife have traded on the grey markets since being halted by the Securities and Exchange Commission on April 10, 2014. President Marco Hegyi said that the company is now focusing on up-listing to the OTCQB exchange.
GrowLife was once considered the leader of the marijuana industry, with its stock gaining 2,100% between 2013 and 2014. When trading in the stock was halted two years ago, many market observers considered that the needle that burst the marijuana bubble, as virtually every other stock in the sector collapsed soon thereafter.
The resurgence of GrowLife as a high flier has the marijuana investment community buzzing. High volume trading, coupled with triple-digit gains is what attracted so many traders and investors to the marijuana sector more than two years ago.
Now, GrowLife's recent surge after re-listing to the OTC Bulletin Board could be a catalyst to ignite a once red-hot sector.
TerraTech (TRTC) , a company focusing on legal hydroponic crop produce as well as cannabis products, is another former industry leader providing a boost to the overall sector. 
The stock gained 2,228% between 2013 and 2014 before the sector hit the skids in 2014. But for this year to date, the stock is up nearly 53% and saw highs at one point representing a 97% gain.
TerraTech was featured in an article by Forbes contributor Debra Borchardt on Jan. 12 that highlighted the company's purchase of Blüm Oakland, a retail medical cannabis dispensary in Oakland, Calif.
TerraTech paid 1.5 times the 12-month forward revenue, which is expected to be more than $14 million, valuing the purchase at about $21 million.
Blüm Oakland has more than 42,000 registered patients and serves about 1,000 a day. It has been in business since November 2012 and contains an on-site cultivation facility, proprietary strains and a retail storefront.
TerraTech's stock soared 104% on heavy volume in the two days following the article's publication.
Meanwhile, shares of mCig (MCIG) , a company that manufactures, markets and distributes electronic cigarettes, vaporizers and accessories, gained 948% between 2013 and 2014 and is starting to now show significant growth. The stock is up 62% in the past two months and saw a high of 180% during the same time.
MCIG data by YCharts
In the company's last 10-Q, for the three months ended Oct. 31, mCig reported a 240% revenue increase from the previous three months ended July 31 to $885,556, though that it is a small figure. That number is 1,200% better than the company's reported revenue for the corresponding period in 2014.
Seeing many of the industry's past high fliers coming back to life with strong starts this year supports the theory that 2016 will be a comeback year for the marijuana industry. Similar to the industry's run in 2014, it is possible that secondary or ancillary item companies will also start to gain steam.
One to watch could be FBEC Worldwide (FBEC) , a company that manufactures, markets and distributes hemp-infused energy shots, natural hemp rolling papers and CBD vaporizers, which recently gained distribution into six states. The company's products can be found in stores throughout Louisiana, Maryland, New York, Rhode Island, Texas and Washington.
FBEC Worldwide has also added world UFC fighter Anthony "Rumble" Johnson as the brand ambassador for its WolfShot hemp energy shot product line.
When the marijuana boom happened in 2014, no one seemed to be ready for it. Several stocks that had no relation to anything cannabis quickly began announcing their entry into the space.
Although some of these efforts were legitimate, most were not. Many penny stock companies jumped on the cannabis bandwagon in an attempt to increase share price, liquidity and dilution.
Penny stocks are very volatile and extremely risky anyway, but in 2014 there was extreme choppiness in the sector, and many retail investors made and lost a lot of money in a very short period of time.
The industry as a whole needed to establish its real levels, which has happened more in the past two years. The marijuana sector needed time to cool off, for the real companies to emerge and others to be "weeded out."
The second coming of companies such as GrowLife and the emergence of new companies that have real products, sales, distribution and celebrity athlete endorsements is once again breathing life into a sector that has since struggled to find its roots. Let's see what 2016 can bring to this industry.
It is important to note that investing in penny stocks is extremely risky and volatile. Investors should never invest what they can't afford to lose, as losses can and do happen especially within the penny stock market. Do due diligence, as this article represents the opinion of just one person. No one should make any investments in any security based solely on the information provided in this article.
This article is commentary by an independent contributor. The contributor, Adam Heimann, is an affiliate of MAPH Enterprises LLC which owns MarijuanaStocks.com and WolfofWeedStreet.com. The company was paid an advertising fee of $60,000 and 60 million restricted common shares by FBEC Worldwide Inc. (FBEC) for visual sponsorship of MarijuanaStocks.com and WolfofWeedStreet.com and for visual placement FBEC Worldwide Inc. (FBEC) within written materials.