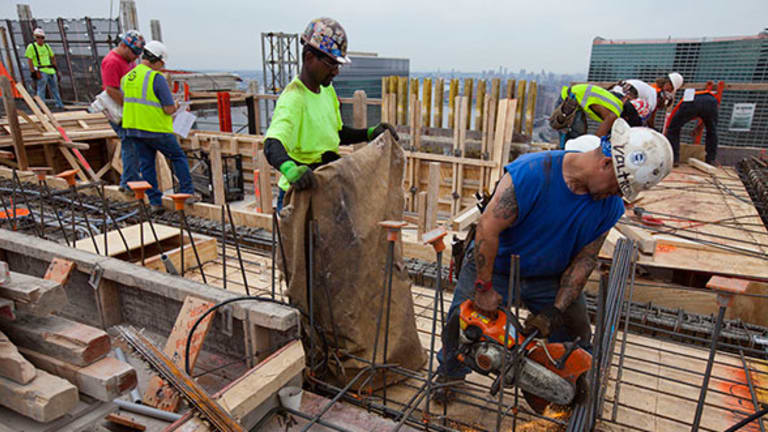 Here's What the Hightower-VTS Merger Signifies for the CRE Sector
Two leading real estate technology companies have combined in a historic $300 million deal. Expert Jonathan Schultz, who co-founded Onyx Equities, discusses what it means for the industry next year.
Since 2014, billions flowed into the real estate sector at such a breakneck pace that experts started wondering about a bloodbath before ink on different record-setting deals had even begun to dry.
Last week, two monsters in the commercial real estate technology sector, Hightower and VTS announced a historic, blockbuster $300 million merger, consolidating the two cloud-based portfolio management companies under one banner.
Altogether, real estate start-ups raised close to $2 billion last year, with big players such as New York-based real estate giant Thor Equities' Joe Sitt taking a "bullish" view on the sector.
Although the Hightower-VTS union is a landmark deal, there have been whispers of change -- even mild panic -- in the industry for months, leading to rampant speculation about the next wave of change in the sector.
Some are even going as far as saying that the boom is over.
Despite a record-breaking 2015, the second quarter this year saw the fewest CRE tech deals in four years, according to research firm Pitchbook.
So what is the deal heading into next year?
Is this merger the "tip of the iceberg" in terms of consolidations or even initial public offerings? Or will venture capital firms come back to pump more money into the sector?
CRE tech expert Jonathan Schultz, who co-founded Onyx Equities, a real development and investment powerhouse, with partner John Saraceno in 2004, spoke about the latest trends in an interview.
Outside the core business, Schultz bridges the real estate and tech spaces as an adviser to a vast range of start-ups, a blogger, Shark Tank-style investor and a speaker.
In recent years, Schultz has carved out a nice niche as someone akin to a Mark Cuban of the real estate tech space.
TheStreet:There has been record-shattering activity in the past few years, but a bit of a slowdown this year. What do you expect next year?
Schultz: I can expect all the products to continue on the adoption train they've been on. That's not to say there won't be any downfalls. That's how innovation works. Just go back to the last dot-com era. Some failures eventually became big success in the end. Steve Jobs and Apple are perfect examples of that. If we're in a revolution, which I believe we are, that's what's going to happen. There are so many products that have been invented since this cycle started that 2017 will see what could work and won't work, for now. That doesn't mean it won't work down the road. Everything takes time.
Apple is a holding in Jim Cramer's Action Alerts PLUS Charitable Trust Portfolio. See how Cramer rates the stock here. Want to be alerted before Cramer buys or sells AAPL? Learn more now.
TheStreet: The huge Hightower-VTS deal just went down. Do you see this as a stand-alone event, a sign of more deals like it to come or something else entirely?
Schultz: I'll never say I'm a fortune teller, but what I do see is two companies that solved a major problem that create major adoption and change in our industry. Could they both survive as a business alone? Absolutely. And we personally used VTS. But I guess they thought to catapult their success together in a faster way through consolidation. What excites me is that the leasing process has now changed forever and has a become a stable long-term product, which helps the industry evolve in an efficient way. There's a real paradigm shift on how our business now works on the leasing end.
TheStreet:What are the biggest trends this year so far?
Schultz: So what I'm seeing is [artificial intelligence], machine learning, 3D printing and virtual reality are becoming reality. Our industry is using more data more efficiently. And the more efficient we get with data, the more all the other products will flourish. 3D printing, drones, virtual reality are big ones that are going to present our buildings in a radically different way. It's taking us out of the dark ages in a new way. It's going to make our lives easier and our customers' lives easier. As [a portfolio] owner, why I'm loving that is that we now have these new tools to express ourselves to our customers in a different way.
TheStreet: Despite its size as an asset class, commercial real estate has been notoriously slow to innovate. Has the so-called industry disruption peaked in the sector?
Schultz: In my mind, we're at the beginning. Now why do I say that? Just look at the consumer world. Look at how we use technology. It's catapulted in the last decade, with Facebook, Twitter, Uber, Airbnb and so on. It's paved the way for business to use tech. Why? Nobody likes change, especially in business. So to change, we had to practice that in our personal lives to see how it felt to use it. People won't change, unfortunately, unless they're forced to, but the way it's changing in our personal lives, change in business is inevitable, especially in the next decade. Two, if you look at the workforce, as the demographics change, as it continues to be made up of Gen Y and Gen Z, we're going to be forced to make that change anyway, so we might as well get on the freakin' bus now.
Facebook is a holding in Jim Cramer's Action Alerts PLUS Charitable Trust Portfolio. See how Cramer rates the stock here. Want to be alerted before Cramer buys or sells FB? Learn more now.
TheStreet: What technologies in particular are you bullish on?
Schultz: I'm an engine of change. All these tech companies are parts to me. Whoever's going to make it is going make it. But the force and the momentum are not going to turn off.
TheStreet: As an angel investor, how do you spot an opportunity? By business model, case by case, people, sector or upside?
Schultz: It's three major things. First off, is [the opportunity] a need or a want? In my mind, whatever you create has to have the ability to be a need. Most people don't buy anything because they want it. They have to need it. Solving a need is what drives every business model. The second thing I look for is passion behind the idea. To me, being in a start-up environment, you better have passion that drives you through the ups and downs of this business. If you're not passionate about it, you're going to quit. And last, experience in the space. The guys at VTS started as leasing brokers, had an understanding of the pain points leasing brokers go through, had the guts to say "Why are we doing it this way?" and then go out and fix it.
TheStreet: Overall, what do you expect next year?
Schultz: Overall, I think 2017 is the year of information, data and convergence of all these tools, so consolidation, from a user point of view. We're all searching for convergence and efficiency. Not just in an independent way to solve a business need, but I also believe 2017, at least in the real estate tech space, will be the year of "putting your nose to the grindstone" and making use of all these tools in a way to become more efficient, effective, faster and smarter in how we operate our business period.
This article is commentary by an independent contributor. At the time of publication, the author held no positions in the stocks mentioned.