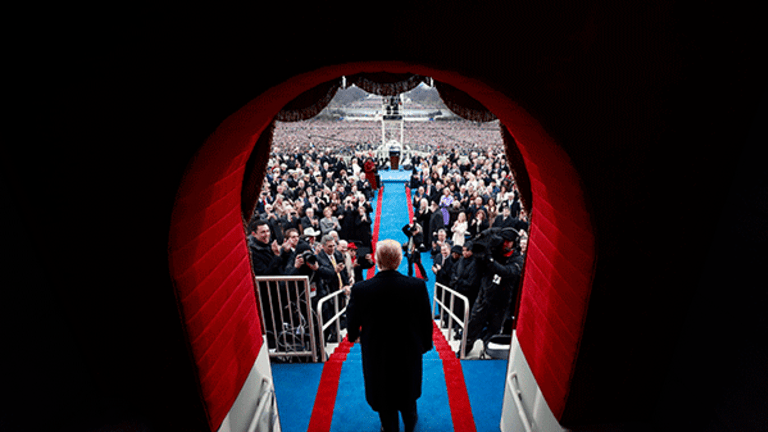 Here's What Might Happen to Dodd-Frank Under President Trump
President Trump has vowed to do 'big number' on the Dodd-Frank financial regulation act. Here's what might happen next.
In less than two weeks in office, President Trump has signed 20 executive actions, according to ABC News. They include an executive order that paves the way for the construction of a wall on the border with Mexico, and one that bans all refugees for 120 days, Syrian refugees indefinitely and people from seven majority-Muslim nations for 90 days. Another seeks to unwind the Affordable Care Act. So far, these executive actions remain closely aligned with the blueprint that was issued by Trump's campaign in October last year.
One action that is not on Trump's 100-day plan is dismantling the Dodd-Frank act, which regulates the financial industry. But the president Tuesday said the law was a "disaster" and that soon he would do a "big number" on it, The New York Times reported.
The Obama administration first proposed what became known as the Dodd-Frank act in the aftermath of the financial crisis. The law took its name from the two lawmakers who introduced revised versions of it in Congress: former Sen. Christopher Dodd and former Rep. Barney Frank. 
Key reforms introduced by Dodd-Frank included new liquidity requirements, reforms aimed at creating more transparency for derivatives, stress tests on banks, and the establishment of the regulatory agencies including the Financial Stability Oversight Council, which is chaired by the Secretary of the Treasury. Broad goals included preventing large banks from failing during an economic and financial crisis and consumer protection.
President Trump has nominated former Goldman Sachs banker Steven Mnuchin for Treasury Secretary. After his nomination back in November, Mnuchin said that he wanted to simplify the law and "strip back parts of Dodd-Frank that prevent banks from lending," according to CNBC.
But Steven Mnuchin in his confirmation hearing earlier this month expressed support for one part of Dodd-Frank: the Volcker Rule. Named after former Federal Reserve Chairman Paul Volcker, the rule restricts banks from engaging in speculative activities for their own accounts. 
"I support the Volcker Rule, but there needs to be proper definition around the Volcker Rule so banks can understand what they can do and what they can't do," Mnuchin said, according to Bloomberg. He said its limits on speculative activities made sense, because "the concept of proprietary trading does not belong" in lending institutions that receive government deposit insurance, Bloomberg also reported.
Some of the other regulatory bodies that could also come under scrutiny from the Trump administration are the Consumer Financial Protection Bureau (CFPB), which was among the regulators that fined Wells Fargo $185 million last September over accusations the bank opened up accounts without its customers' consent in order to meet sales targets.
Wells Fargo is a holding in Jim Cramer's Action Alerts PLUS Charitable Trust Portfolio. See how Cramer rates the stock here. Want to be alerted before Cramer buys or sells WFC? Learn more now.
Republicans generally have opposed the CFPB, as have big banks and the U.S. Chamber of Commerce, this Los Angeles Times opinion article notes. Democrats, who were largely behind the agency's creation, say the agency has repeatedly protected consumers' interests.
Dodd-Frank reform or replacement could resemble the Financial CHOICE Act, proposed legislation that has been promoted by Rep. Jeb Hensarling (R., Texas), the chairman of the House Financial Services Committee and a longtime critic of Dodd-Frank. The congressman met with President Trump after the election.
Big banks may not be fond of this legislation, though, because it would give them regulatory relief only if they significant increased their amounts of equity capital.
Hensarling's proposed legislation would get rid of the Volcker Rule and would change the CFPB. The bureau's name would be changed to the "Consumer Financial Opportunity Commission" and the board's single director would be replaced by a bipartisan five-member committee subject to congressional oversight.
In the event of a full dismantling of Dodd-Frank, Republicans might move toward restoring a fresher version of the Glass-Steagall Act. But so far nothing about Glass-Steagall has been mentioned on Trump's recent transition website or spoken about after the election. In his confirmation hearing, Steven Mnuchin mentioned that even though he did not favor reinstating the original Glass-Steagall Act, a modified, contemporary version of the act should be considered.
The Republican Party's platform said last year, "We support reinstating the Glass-Steagall Act of 1933 which prohibits commercial banks from engaging in high-risk investment."
During the Clinton administration the Gramm-Leach-Bliley Act revoked the Depression-era Glass-Steagall Act following aggressive lobbying by some of the biggest Wall Street Banks. In 1999, 207 House Republicans voted for repealing Glass-Steagall while only five voted against it.
Investors in bank stocks should keep a close eye on financial news for hints about the fate of how Dodd-Frank will be modified or replaced. It's very likely, though, that what comes next will be less tough on banks than Dodd-Frank, given that Trump's cabinet is shaping into one of the most probusiness ones in U.S. history.
This article is commentary by an independent contributor. At the time of publication, the author held no positions in the stocks mentioned.