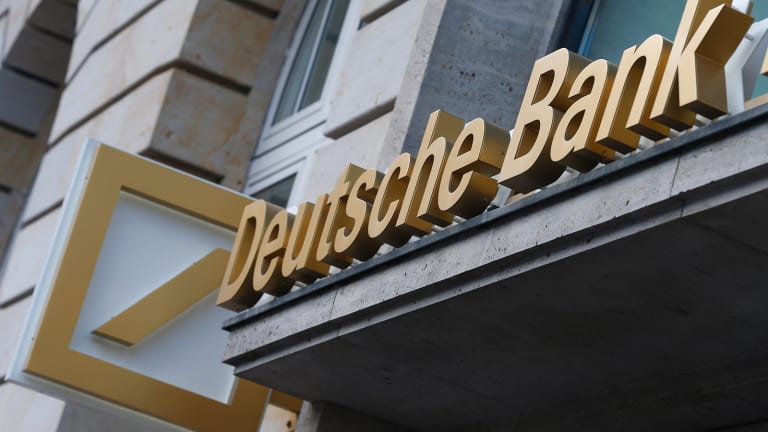 Here's What Deutsche Bank's Huge Problems Mean for It and for the Global Economy
Deutsche Bank's stock has been hammered, and global banking experts have issued worrisome assessments of the bank's health. Here's what you need to know.
Deutsche Bank (DB) - Get Deutsche Bank AG Report and its shares are under heavy pressure, and the bank's fate has serious implications for the global economy.
In a June 29 report, the International Monetary Fund said Deutsche Bank appeared to be "the most important net contributor to risks" in the global banking system. At around the same time, the Federal Reserveannounced that Deutsche Bank's U.S. unit had failed its annual stress test for a second straight year.
Along with the victory of "Brexit" proponents in the U.K., those assessments from regulators have hammered Deutsche Bank's stock price, although the shares had been trending lower already. The stock is down 18% since just before the Brexit results and 43% so far in 2016. Earlier this month, Deutsche Bank's U.S.-listed American depositary receipts hit their lowest levels ever. Legendary investor George Soros made a $111 million bet that Deutsche Bank stock would fall in the wake of the Brexit vote. 
Only foolish investors would think that now is the time to pick up Deutsche Bank stock on the cheap. Let's look in more detail at what this large German bank's problems are and what they mean for the world.
So what is Deutsche Bank's problem? Yes, the Brexit has had a hugely negative impact on its fortunes. Deutsche Bank has significant operations in the City and could see those operations adversely affected when Britain departs the European Union. In addition, the Brexit vote is just one more piece of economic news that has increased global financial volatility and shaken investor confidence.
But Deutsche Bank has been struggling well before the Brexit. It lost 6.7 billion euros last year. Its stock has fallen from the beginning of the year as noted above, and the bank has no real plans for how it plans to turn things around. Furthermore, Deutsche Bank appears to be overleveraged and may lack the capital to survive a financial crisis or recession. The Fed said "broad and substantial weaknesses" still existed in its capital planning.
Also troubling are the continuing legal issues. Recently Deutsche Bank was fined $6 million by the Financial Industry Regulatory Authority "for failing to provide complete and accurate trade data in a timely manner." Although that's not a huge amount of money for a large international bank, it's only the latest in a string of fines that includes a hefty $2.5 billion fine in April 2015 for rigging interest rates and fines for breaking U.S. sanctions against countries including Iran, Myanmar and Cuba.
Some investors are suggesting that the Brexit may mean nothing more for Deutsche Bank than to transfer its headquarters from London to Frankfurt. But even if we assume that the Brexit will not be the long-term disaster that many believe it will be, that does not make the Brexit good news for Deutsche Bank. And Deutsche Bank needs some good news if it is going to recover.
All of these above factors should show that investors should absolutely not take a long position on Deutsche Bank shares. But if news gets worse with Deutsche Bank, could it start hurting other banks as well?
Let's return to the aformentioned IMF report on Deutsche Bank. The report slammed Deutsche Bank, saying that its overleveraging and lack of risk management could lead to problems that would spill over to other banks. A chart by the IMF showed that Credit Suisse, Societe Generale and BNP Paribas are three major banks that would be hit particularly hard.
But Deutsche Bank is not the only bank which could pose a problem for the global banking sector. The IMF listed HSBC and Credit Suisse as posing the second- and third-biggest threats, respectively. And all three of these banks are much more leveraged and risky than any U.S. bank.
The problem here is that when the problems created by these European banks is combined with the volatility created by the Brexit, there is a real concern that a new European banking crisis could explode. If Deutsche Bank can't recover, or if the other two banks go down due to the Brexit, this could have a cascade effect on the European and global economies.
In a sense, the 2008 financial crisis has had some positives for the American banking industry, as it led to reforms aimed at reducing and monitoring systemic risk. European banks don't seem to have learned quite as well, and some are much more leveraged than their U.S. counterparts.
Plenty to Worry About
Maybe this all blows over. Maybe the impact of the Brexit is overstated, and Deutsche Bank can recover and start making money.
But even in the best-case scenario, investors should stay away from Deutsche Bank stock. And the threat of a European bank failure should make investors worry about risky investments in general. Now is the time to be cautious until things settle down.
This article is commentary by an independent contributor. At the time of publication, the author held no positions in the stocks mentioned.