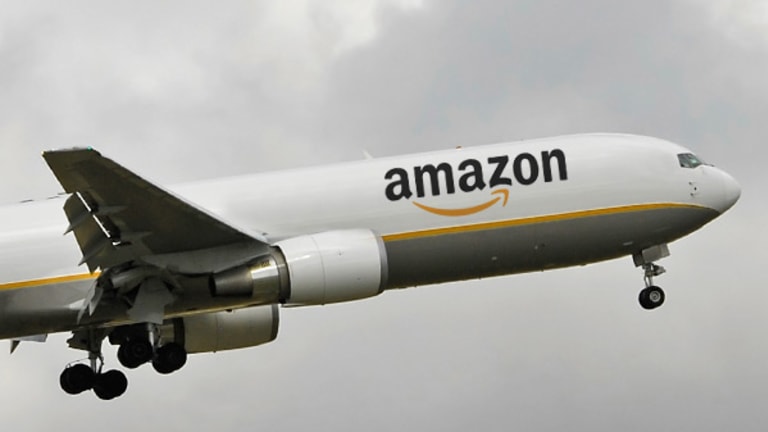 As Amazon.com (AMZN) - Get Amazon.com, Inc. Reporttakes more significant steps to build out its own transportation and logistics capabilities, the dividends could well be significant, analysts say.
On Thursday, the e-commerce giant announced that it had partnered with Atlas Air Worldwide (AAWW) - Get Atlas Air Worldwide Holdings, Inc. Report  to support its deliveries to customers. The long-term commercial agreements will include the operation of 20 converted freighters by Atlas for Amazon for 10 years. Operations will start in the second quarter and are expected to be ramped up by 2018.
Shares of Amazon were up 0.86% on Monday to $647.75.
"Shipping is one of the most burdensome costs for retailers like Amazon," said Frederick Moran, director of research at Burke & Quick Partners, via phone Monday, adding that Amazon handling shipping directly could be a smart, long-term way to grow profitability.
Going the direct route could mean that Amazon may control its shipping cost structure as well as its ability to deliver packages on a timely basis, Moran added.
"Doing it direct does potentially add extra cost in the short term. But time again and again, we've seen Jeff Bezos be willing to add cost to build a more scalable, competitive and efficient company in the long term," he said, adding that Amazon's founder and CEO has done this better than any other leaders in the sector.
While Moran cautioned that it may be too early to speculate how exactly Amazon's efforts toward expanding its transportation and logistics footprint will affect the business and the stock, he also said "it's a no-brainer to at least try it" and that the offerings could end up being "an icing on the cake."
Meanwhile, Prime has become entrenched and developed in the U.S. and is also expanding overseas, Moran said, with international customers choosing Prime serving as a big leg of growth for the services.
The partnership with Atlas Air Worldwide follows Amazon's deal with Air Transport Services Group (ATSG) - Get Air Transport Services Group, Inc. Report in March. Under that agreement, Air Transport will operate an air cargo network with the leasing of 20 freighter aircraft to serve Amazon customers across the country.
Cantor Fitzgerald analysts wrote in a Monday note that the partnerships with Atlas and Air Transport are aimed at improving Prime delivery offerings, reducing bottlenecks during peak-demand periods and controlling shipping costs, which represented about 11% of revenue last year.
"We continue to believe that Amazon is in the early stages of building out larger-scale transportation and logistics operations to add capacity beyond existing providers, to lower logistics expenses and ultimately, to offer specialized [third-party logistics] services," wrote R.W. Baird analyst Colin Sebastian in a note last week.
He further explained that the e-commerce giant's ambitions in transportation and logistics likely come from "peak-period capacity constraints" and that it aims to alleviate stress on its internal network because network partners including United Parcel Service (UPS) - Get United Parcel Service, Inc. Class B Report and FedEx (FDX) - Get FedEx Corporation Report haven't been able to accommodate Amazon's growth.
It's a "natural step" for Amazon to control more of its transportation and logistics to continue expansion of Prime and related offerings, Sebastian noted, explaining that the e-commerce empire likely has larger logistics ambitions beyond just its partnerships with Atlas Air and Air Transport Services.
"Given that Amazon spent ~$11.5 billion on shipping in 2015 ... even a slight improvement in per-unit economics could provide a notable boost to the company's margin profile," he said.
Meanwhile, the e-commerce company surprised investors with a strong Q1 fueled by growth in Prime program and Amazon Web Services cloud computing business, beating estimates for both revenue and earnings per share. Amazon had $29.1 billion in revenue and EPS of $1.07 vs. Wall Street's consensus for $27.99 billion in revenue and 58 cents in EPS.