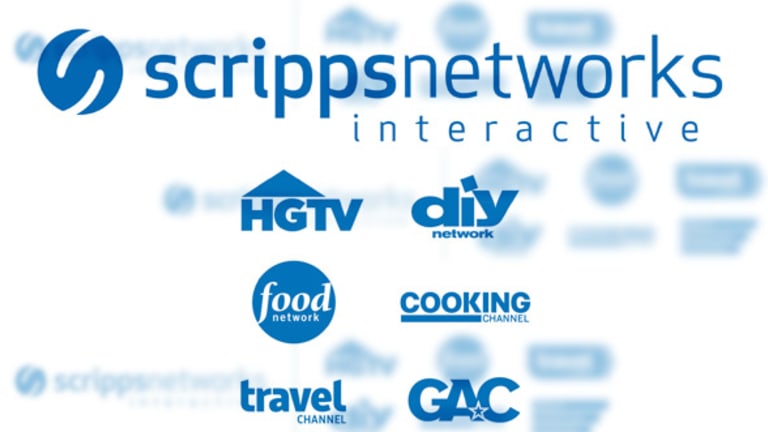 Here's the One Media Stock to Buy for 2016 (Hint: It's Not Disney)
As we head into a new year, 'The Force' isn't necessarily on Disney's side. Surprisingly, another company that's a reinvented remnant from print publishing now boasts better momentum.
When his secretary asks him what magazines he reads, Dr. Egon Spengler, played by Harold Ramis in the classic 1984 film Ghostbusters, tersely responds: "Print is dead." Dr. Spengler was ahead of his time -- but not that far ahead. 
Media will always pervade our lives and as such, a stake in the industry should be a part of your long-term retirement portfolio. As you re-calibrate your investments for 2016, what's the best media stock to buy right now? The answer may surprise you.
It's Scripps Networks Interactive (SNI) , which on December 21 proved yet again that it's strategically farsighted by announcing the launch of its HGTV, Food Network and Travel Channel brands on Apple's "Apple TV" set.
SNI
data by
With a legacy in the print world, Scripps Networks has been able to reinvent itself. Some media companies have not. Consider the following seminal events, both of which occurred in 2013 about a week apart:
The New York Times Co. -- corporate parent of the most powerful newspaper in the world, the "Gray Lady" -- sold The Boston Globe to Red Sox owner and hedge fund billionaire John Henry for the fire sale price of $70 million. The Washington Post Co., controlled by the famous Graham family, stunned the "Beltway political-media complex" by dumping its flagship newspaper The Washington Post for a measly $250 million to Jeff Bezos, founder and CEO of e-commerce giant Amazon.
These two media sales are vivid case studies of how even the shrewdest, most talented leaders in the media world are pacing the floor at night, trying to monetize content in an era where information is increasingly available for free at the click of a mouse.
Scripps: The Smart Path
Other media companies should all take a page, so to speak, from the Scripps Networks playbook. The stock is a great "old media" play in a publishing and media environment revolutionized by the around-the-clock immediacy of social media, smartphones and streaming video. Scripps should be a part of your long-term wealth building strategy.
This former print player may not have in its product pipeline a blockbuster such as Walt Disney'sStar Wars: The Force Awakens. But then again, Scripps isn't vulnerable to the fickle tastes of movie audiences. It also doesn't share Disney's looming woes with cable subscription cancellations at its sports network ESPN.
Disney is enjoying roaring success with Star Wars, but it's still saddled with a cable operation that has the highest level of fixed costs, in the form of sports rights, in the industry.
Scripps Networks is the result of a 1994 spin-off from E. W. Scripps Co., a 135-year-old media company based on newspapers and television stations. Since the spin off, Scripps Networks has focused on the growing emergence of "lifestyle" niches, developing content for television, Internet satellite radio, mobile and social media platforms, as well as books and magazines that serve as synergistic complements for its other media.
Scripps anticipated the fracturing of media into various niches that cater to narrowly defined interests and launched a wide variety of lifestyle media channels that are so popular, they practically have cult followings: HGTV (an acronym for Home & Garden Television), the Food Network, Cooking Channel, Do-it-Yourself (DIY) Network, Travel Channel and Great American Country (GAC).
The rise of increasingly affluent consumers in developing nations is prompting Scripps to pivot toward these viewers who are intent on mimicking the middle class lifestyles they see in the West.
But despite these enormous inherent advantages, the stock is ridiculously undervalued right now, as investors myopically focus on the bigger, splashier brand names in media (e.g., Disney or Facebook). That spells opportunity for you.
Scripps sports a trailing 12-month price-to-earnings (P/E) ratio of 12.4, compared to 19 for its industry and 21.8 for Disney. With SNI now trading at about $54, analysts are calling for a one-year price target of $90, for a gain of nearly 67%. Disney is a great company, no question about it. But it's now trading at a much pricier valuation, with analysts calling for a one-year target of about 39% growth.
Scripps Networks is showing earnings and revenue momentum as it heads into 2016. The company reported third-quarter earnings-per-share (EPS) of 96 cents, compared with EPS of 93 cents in the same quarter a year ago. The company's third-quarter adjusted EPS of $1.06 beat Wall Street's expectations. Consolidated revenue in the third quarter jumped 20.4% year over year to $776.1 million and also exceeded the consensus estimate of $764 million.
If you're looking for a media stock to buy for the new year, The Force seems to be with Scripps.
Are you making the right investment moves for your retirement, or are you blowing it by committing all-too-common money mistakes? There are crucial steps that you should be taking now, to build wealth over the long haul. To find out whether you'll have enough money in your later years, download our free report: Your Ultimate Retirement Guide.
John Persinos is editorial manager and investment analyst at Investing Daily. At the time of publication, the author held no positions in the stocks mentioned.