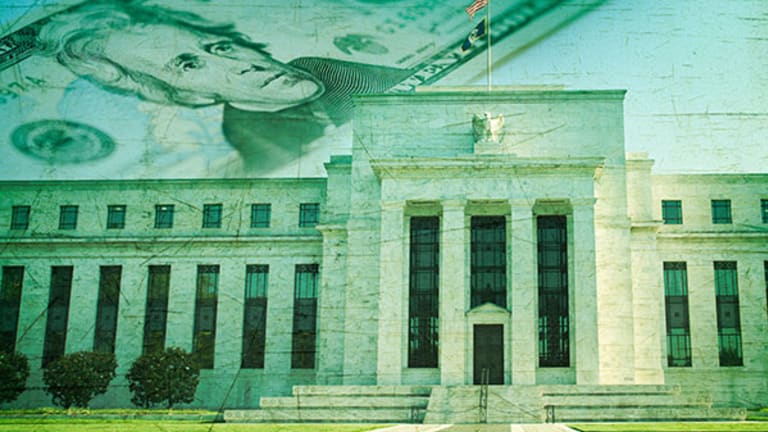 Here's One Regional Bank to Buy to Play the Coming Rise in Fed Rates
The market's are prepared for a Fed rate hike -- here's a way to position yourself.
Recent comments from Federal Reserve chief Janet Yellen point to a clear possibility that the central bank is about to raise the Fed funds rate at its December meeting. In addition, there's been an advance in short-maturity yields, which reflects a growing consensus among traders as well.
While restrictive monetary policy is generally a bad for stocks, there are a few areas in the market that might do well. In particular, financial companies such as banks, insurance companies and brokerage firms tend to outperform. This is because they have margins that expand as rates climb.
For larger banks, rising rates allows them to earn more on the spread between what they pay for deposits at the bank as well as certificates of deposit and what they can earn from their investments in U.S. bonds, which now have a higher interest rate.
Smaller, more regional banks can benefit from making loans to local businesses at a higher rate. Two areas with banks that are picking up their growth rates are the Southeast, in such states as Georgia and Florida, as well as the Southwest, in Arizona and Utah. Even stronger is the Western region of California which has some very healthy regional banking stocks.
One Western regional bank to keep an eye on is Opus Bank (OPB) - Get Opus Bank Report based in Irvine, Calif. Like many other regional banks, they serve small-to-medium-sized commercial businesses as well as real estate investors in the area. Opus Bank has a strong merchant banking division and earlier this week it announced an expansion into health-care investment banking. The Irvine, Calif.-area is renowned for having a vibrant community of health-care companies, both mature as well as start-ups.
OPB
data by
Late last month, Opus reported strong quarterly earnings, which were influenced primarily by improvements in operating margins. Earnings estimates for next quarter are for a 71% improvement over its fourth quarter last year and annual earnings estimates for the company continue to be revised upward.
One thing to keep in mind when investing in regional banks, however, is their smaller size. Many of them have daily trading volume that can be smaller than average. This lower volume can sometimes cause unusual moves in the stock's price as a larger investor gets in or out of the stock. That said, given the current interest rate environment, this liquidity risk can easily be outweighed by the stock's price improvement possibility.  Another alternative is to invest in the S&P's Regional Bank ETF, which has a ticker symbol of (KRE) - Get SPDR S&P Regional Banking ETF Report . 
data by
This article is commentary by Mary Ellen McGonagle, President MEM Investment Research an independent contributor. At the time of publication, the author held no positions in the stocks mentioned.