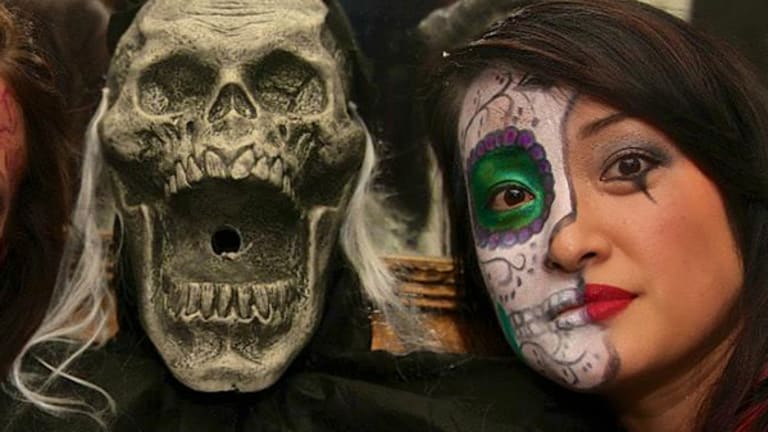 Here's Just How Important This Halloween Is to Party City
The party supplies retailer, which went public in April, may really need big sales to scare up interest in its plunging stock.
To bolster a scary decline in its stock price, Party City (PRTY) - Get Free Report  better pray that Halloween turns out to be more treat than trick.
Since debuting on the New York Stock Exchange on Apr. 16, shares of the party supplies retailer have plunged about 23%. The decline has likely been fueled by several factors related to Party City's second quarter earnings release in mid-August.
First, Party City's comparable store sales only increased by 1.2% in the second quarter, with the company saying results were hampered by Easter falling in the first quarter this year instead of the second quarter as it had last year.  Further, says Party City, traffic to its stores was weak in June. The sales results were much softer than the first quarter, when same-store sales rose an impressive 5.2%.
Second, Party City slightly reduced its same-store sales outlook for 2015 to 3% growth from a range of 3% to 3.5% previously. In doing this, it may have signaled to investors the potential for a disappointing Halloween selling season.
The tempered sales outlook reinforces a critique of Party City reported by TheStreet at the time of the April IPO -- that is, the company needs to get more people in the door in non-Halloween periods such as wedding and graduation seasons to drive consistent results that satisfy investors. In 2014, Party City's Halloween business represented about 25% of its total domestic retail sales.
With that diversification failing to happen so far in 2015 as evidenced by sluggish second quarter sales, investors have decided to flee the stock.
Now, Party City is left relying on its bread-and-butter Halloween business to help it reach its profit goals for the year. Party City sells Halloween costumes and related accessories at its stores and through over 300 temporary "pop up" locations under the "Halloween City" banner. 
It's a typically a great business to be in for Party City given the lucrative profit margins, especially when Halloween falls on a party-friendly Friday or weekend, as it does this year. Helping Party City this year for Halloween besides a friendly calendar are the fact that there's a ready market for masks with the presidential elections coming up, as well as a growing interest in dressing up pets.
But despite those factors, Party City may disappoint with its Halloween sales as consumers opt to spend more on experiences such as haunted house visits instead of hosting and attending parties both on Friday and Saturday. Further, waning consumer confidence may influence how much consumers are willing to shell out for Halloween costumes and related paraphernalia.
According to the National Retail Federation, Halloween retail sales, which had surged from $3.3 billion in 2005 to $8 billion in 2012, is expected to fall almost 7% this year to $6.9 billion. That would represent the lowest total since 2011.
And if it comes to fruition, it may lead to some frightening commentary from Party City execs when third quarter results are issued on Nov. 12.