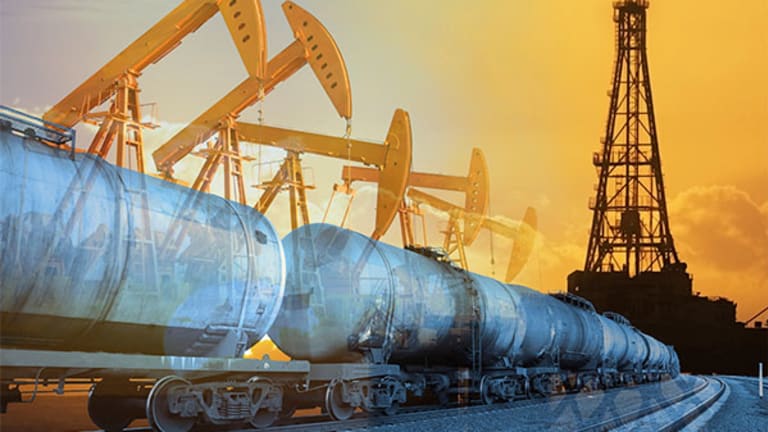 Here's How to Play This Still-Dangerous Energy Rally
Energy prices are bouncing back, but these rallies have faded before. Here are two plays, one bullish and one bearish, to profit from both the ups and the downs.
To the ministers in Saudi Arabia who set energy policy, it must have seemed like a clever idea at the time. Throw open production and generate a worldwide oil glut, to push down prices and put the screws to key rivals such as Russia and North America.
That was the plan, anyway. The problem is that price wars often move down unintended paths. And this war has careened out of control, making many energy stocks among the most dangerous investments today.
However, new signs emerged Wednesday that perhaps oil has (at long last) hit bottom and begun an upward trajectory.
Crude oil rallied on Wednesday after Nawal Al-Fuzaia, Kuwaiti governor for OPEC, asserted that an agreement was possible when members meet in Qatar on April 17. Below, we examine the best ways to play what remains an uncertain rally. If you want to protect your portfolio from downside risk, but still make money on a rise in oil prices, these investment moves are timely opportunities. Indeed, our bullish bet is projected to gain nearly 100% over the next 12 months.
Whatever happens at OPEC's meeting later this month, the energy markets are likely to remain tumultuous for the rest of the year. Saudi machinations, combined with a gigantic oil glut and slowing economic demand, are the chief culprits.
With trillions in cash reserves on hand, the Saudis were confident when they launched their price war that they could outlast competitors. The de facto OPEC leader figured it had the wherewithal to wait until competing energy producers went belly up. With the competition on the ropes, the Arab oil sheikhs would curtail production to drive up prices again. Then Saudi Arabia, the largest oil producer in the world, could sit back and gobble up larger market share while prices were high.
We've been down this road before. Similar hopes for a deal among OPEC's increasingly fractious members recently evaporated after Iran intimated that it wouldn't participate and would continue pumping oil until it reached pre-sanction levels.
This time around, though, a deal seems more probable. Nawal Al-Fuzaia also indicated Wednesday that approximate equilibrium between energy supply and demand was likely by the second half of this year.
But is the recent surge in energy prices a "sucker's rally" that will soon reverse course? Indeed, Saudi Arabia now faces an existential crisis and could very well go broke before its competitors cry uncle. The kingdom's quandary accounts for its announced moves in March to diversify its economy beyond just oil, starting with the creation of a $2 trillion mega-fund for non-oil investments.
Let's look at two energy plays -- one a strong buy and one a short -- that are well suited for an oil price rebound that still poses several investment perils.
The Bullish Bet: Devon Energy (DVN) - Get Devon Energy Corporation Report
You're probably thinking: Yikes! A North American shale oil and gas producer, when energy prices are plunging and most of the sector's stocks are tanking?
But that's how money is made: by going against the grain and embracing promising stocks in unloved sectors. Be a contrarian, not a sheep, because in this extremely volatile market, sheep get slaughtered.
What separates Devon from its debt-laden and doomed peers such as Chesapeake Energy? Through asset sales and joint venture proceeds, Devon has been able to make ambitious but methodical and sustainable investments in Permian Basin projects, avoiding the debt that has hobbled so many U.S. energy producers.
As many as half of all U.S. shale producers are expected to go bankrupt this year, which clears the field for the strongest players, such as Devon.
With a market capitalization of $13.72 billion, Devon's drilling rigs are tapping shale formations in Oklahoma and Texas, as well as oil sands in Canada. The company's big opportunities these days lay beneath the Permian Basin of West Texas.
Devon is operating 19,000 producing wells across 1.3 million net acres in the Permian Basin. The Permian is no upstart: it has been producing crude since 1921 and its potential remains enormous. The total recoverable resource potential of the biggest formations in the Permian Basin is roughly 75 billion barrels of oil equivalent, second only to the massive Ghawar Field in Saudi Arabia.
Robust cash flow, low debt and a strong balance sheet combined with prolific production are keeping Devon afloat in otherwise turbulent waters. If you're looking for an energy stock that will survive any shakeout that results from the Saudi-instigated price wars, Devon is it. This independent energy producer proves that the North American shale revolution lives on.
Over the past month, Devon shares have risen nearly 30%, as energy prices provide the stock with tailwinds. Further capital appreciation is in the cards. With the stock now trading at about $26.90, the median analyst one-year price projection is $30, for a gain of nearly 12%. On the high end, the one-year price projection is $53, for a gain of nearly 100%.
Our Bearish Bet
A shrewd bet now is to sell short the iShares US Oil Equipment & ServicesETF (IEZ) - Get iShares U.S. Oil Equipment & Services ETF Report , an exchange-traded fund with net assets of $206.80 million that tracks the energy drilling segment.
This ETF's holdings include Schlumberger, Transocean, Halliburton and other troubled drillers that are caught in the vise of falling revenue and increasingly unsustainable debt. The ETF is down nearly 30% over the past year and 2.82% year to date.
If oil and gas prices actually embark on an upswing in coming weeks, don't get taken in by what's more than likely a "sucker's rally." These two energy plays give you the best of both worlds: growth potential by going long on an inherently strong energy stock, and a moneymaking opportunity by betting against the weakest players in the energy patch.
Do we face a repeat of a 2008-style debacle? You need to prepare now, by weeding out the fundamentally flawed stocks that could ruin your portfolio. We've done the homework for you, by putting together a report on the world's most dangerous stocks. These equities are poised to collapse; don't get left holding the bag. To download your free copy, click here.
John Persinos is editorial manager and investment analyst at Investing Daily. At the time of publication, the author held no positions in the stocks mentioned.