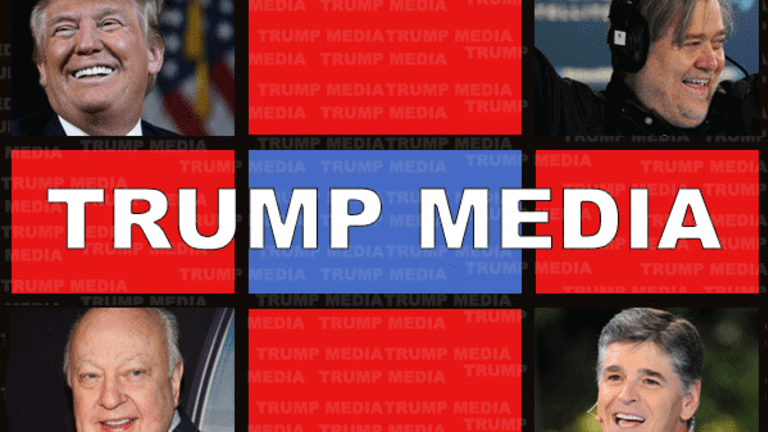 Here's How Trump TV Could Become a Reality
Donald Trump's son-in-law has reportedly been putting out feelers regarding the launch of a Trump-inspired television network. Here's how it could actually happen.
Donald Trump's son-in-law has reportedly put out feelers regarding the launch of a Trump-inspired television network. How might Trump TV actually work?
Jared Kushner, who is married to Trump's daughter, Ivanka, has informally approached one of the media industry's top dealmakers regarding a potential Trump media endeavor, reports The Financial Times. He contacted Aryeh Bourkoff, the founder and chief executive of boutique investment bank LionTree, within the past couple of months. The conversation has not progressed since. Politico's Mike Allen reports Bourkoff never followed up with the Trump team on the matter, telling him he has "no interest in being in business with Trump."
The FT report revives speculation the real estate billionaire may launch his own media empire should he lose the November election -- an increasingly likely prospect, given his current poll numbers. Might Trump become the conservative media world's Oprah Winfrey?
After his campaign hired Breitbart News Chairman Stephen Bannon and was rumored to be getting advice from now-disgraced Fox News founding CEO Roger Ailes, mediaspeculationwas that Trump is setting himself up to be a media mogul if his bid for the Presidency doesn't work out.
"Does he have the right people to do something a little different from Fox News?" Moody's Investors Service analyst Neil Begley said. "I would say the answer is 'yes.'"
"Trump TV" has been called the "logical end" to his campaign, but, like Oprah, it could go so far beyond cable TV. Maybe it's better to call Trump's next act "Trump Media." 
But if Trump Media is in the offing, what will it be? How will it get built? Who will join up and who will finance it? 
Getting Trump Media Off the Ground
While Ailes has chops in cable news, Bannon brings experience in online media. Trump's outsized persona seems made for talk radio, if the demanding schedule of live broadcasts didn't put him off (Rush Limbaugh is on the air for three hours a day). TV, digital and radio are all possibilities. 
If the terms of Ailes' separation from Fox don't block him from competing against his former employer, cable TV would seem an obvious place for Trump's media team to start. After his frustrations with NBC over The Apprentice, Trump could covet his own network, bearing his name in large, gilt lettering.
"Trump tends to be a guy who thinks big. Roger Ailes is a guy who likes to think big," Begley said. "They might have enough chutzpah to say they'll build a cable channel but I think it would struggle."
Traditionally, Begley suggested, it would cost about $500 million or so to take a cable network from inception to profitability. 
Fox News sped up the process in the 1990's because it could leverage other broadcast networks, including NFL coverage, and because it paid cable operators to carry the fledgling news service.
"Unless Roger Ailes were willing to pay a couple of bucks per subscriber, with no or minimal subscriber fee, for a couple of years, they'd be hard pressed to be successful from scratch," Begley said. The tab could run $100 million to $200 million per year to buy distribution, he noted, and doesn't even count the satellite TV transponders, staffers, producers and talent for a 24-hour a day, 7-day-a-week network.
Lynne Costantini, President of Costantini Media Advisors, suggested that costs are "easily in excess of $300 million" to set up the infrastructure and talent for a round-the-clock network.
The big pay-TV systems operators, like Comcast (CMCSA) - Get Comcast Corporation Class A Report and Charter (CHTR) - Get Charter Communications, Inc. Class A Report , and advertisers are the two main sources of revenue for cable networks and entail challenges of their own.
"Distributors are reluctant to pay license fees for new linear television networks," said Constantini, who is a veteran of The Blaze, Scripps Network Interactive (SNI) and Time Warner Cable. "Without a dual revenue stream, new independent networks...must survive on ad sales alone which can be particularly challenging."
One alternative to building a TV network is to buy one.
Conservative news and commentary cable networks One America News Network, Glenn Beck-affiliated TheBlaze and NewsmaxTV could be targets.
"It's possible that Trump or a media company that is backed by him could buy one of those companies or joint venture with them," Costantini said.
Al-Jazeera's $500 million purchase of Al Gore's Current TV provides a cautionary tale, however. After the acquisition, due to contractual clauses, Time Warner Cable dropped the networks from its systems, and the company shut down earlier this year.
If buying a network seems daunting, partnering with one, like Outdoor Network could work. The network already partners with Trump-ally National Rifle Association on programs. Outdoor Network owner Stan Kroenke has donated to Republicans such as George W. Bush. Or any of the above-mentioned conservative channels might work.
An easier option might be following the path of a company like Vice, which has a network now but started in TV creating shows for other networks. 
"You could produce a show or two and sell those shows to other, well distributed networks and then make your bones that way," Costantini said. "Vice has done that very well."
Vice, which sells programming to HBO, joined the cable network fray earlier this year. Even the ultra-hip Brooklyn media group, which raised a whopping $770 million, launched its cable channel with a legacy media partner. The channel, Viceland, is a joint venture with Hearst- and Disney- (DIS) - Get Walt Disney Company Report backed A&E Networks.
The same conservative networks that Trump Media could buy or partner with would make ideal syndication partners.
"Their growth has been slow," Costantini said. That makes them great partnership targets. Think of them as underdeveloped real estate properties with potential that Trump Media could activate. "Imagine the Donald Trump show on any one of these networks," Costantini added. "It would put them on the map or breath new life into them."
Talk radio, which has been kind to conservatives, is another option.
Starting a political radio network from scratch would have its own problems, Standard & Poor's analyst Jeanne Shoesmith said, because iHeartMedia's Premiere network and Cumulus's (CMLS) - Get Cumulus Media, Inc. Class A Report Westwood One already have the marquee names. Limbaugh signed a new deal in August with Premiere, which also has Sean Hannity and Glenn Beck on its roster. Westwood One has Don Imus and Michael Savage.
"To put together a pool of talent and syndicated programming would take a lot of time in some cases you may be waiting until some of those people are out of their contracts," said Shoesmith.
Trump's personality seems made for radio, and an easier path would be for him to launch a show to run alongside other media efforts.
Competing against Hannity, Limbaugh and Beck on the grueling schedule of a talk radio host would be no cake walk, however.
"Would Donald Trump really want a daily radio show?" Costantini asked. "You have to do that at least four days a week live or mostly live."
Comcast is a holding in Jim Cramer's Action Alerts PLUS Charitable Trust Portfolio. See how Cramer rates the stock here. Want to be alerted before Cramer buys or sells CMCSA? Learn more now.
Trump Media Digital
Like with television and radio, Trump Media could start from scratch or pick up a pre-existing platform and rebrand it.
"If there's one thing Trump is good at, it's moving around existing resources and putting his name on it and adding value beyond what it had before the name was on it," said Ian Schafer, media observer and founder and chairman of ad agency Deep Focus. 
Breitbart is an obvious candidate, given the Bannon connection. The right-wing media platform drew in 18.2 million unique visitors in July, according to data from comScore. The personality-driven site was named for its founder, firebrand conservative Andrew Breitbart; one could easily imagine it taking the Trump name in a rebranding. 
Other conservative (albeit some less Trump-friendly) websites he could take a look at are Daily Caller (10.4 million), The Blaze (5.3 million), National Review (5.0 million), Drudge Report (3.1 million), Weekly Standard (2.2 million) or The Federalist (1.4 million). 
And, of course, there's always Observer.com, the website attached to the New York Observer, a paper owned by his son-in-law Jared Kushner that has taken on a more pro-Trump, conservative slant lately. It's been a shrewd pivot, as web traffic at Observer.com was up to 8.2 million unique visitors in July, an increase of 213% from the same month a year ago. 
But generating advertising revenue for a Trump-branded site could be difficult. Trump has lost various business deals since launching his presidential bid and criticized various big-name companies. There is also evidence his campaign has damaged his brand.
Breitbart appears to rely largely on programmatic and retargeted advertising as well as pay-for-click ads designed to get users to read content on other sites. It also features ads for related businesses, such as Breitbart podcasts and "Clinton Cash" (a film that Bannon produced). The model generally relies on high traffic volumes -- largely from desktop -- to generate meaningful revenue.
"You don't have Nike coming in and doing branded content with Breitbart," said Schafer. "They're almost like a fledgling website with a lot of traffic, because they can't necessarily take the money of the biggest national advertisers directly."
And these days, brands don't seem eager to endorse conservative ideas. But a Trump-rebranded Breitbart or other digital presence wouldn't necessarily need to depend on advertising for revenue.
It could, for example, launch a podcast on the recently launched conservative podcast networkRicochet, home of former Jeb Bush super PAC head Mike Murphy's "Radio Free GOP," or on PodcastOne, home of podcasts from notable conservatives like Bill Kristol, Laura Ingraham and Milo Yiannopoulos.
Or, Trump could pull a page from Jon Stewart's playbook. The comedian host has teamed up with HBO to produce short-form video and content for distribution on HBO's digital platform and on television.
Or, perhaps most aligned with Trump's way of doing business, he could take the path of conservative talk radio host Alex Jones, who runs InfoWars.com. In addition to the content of his show, Jones aggressively promotes a dietary supplement called "Anthroplex," of which he says, "The compounds in here are absolutely designed and are on record to be some of the best shots we've got at countering and blocking the globalist operations."
Trump has an entire line of goods that he sells under his own name, mostly at properties he owns. 
Trump Media on Social 
Trump himself boasts 11 million followers on Twitter (TWTR) - Get Twitter, Inc. Report , 10.4 million on Facebook (FB) - Get Meta Platforms Inc. Class A Report and 2.3 million on Instagram. That audience size is already larger than most major conservative news outlets and personalities. On Twitter, for example, Fox News has 10.4 million followers, Breitbart about 381,000, and the Drudge Report around one million. Bill O'Reilly has 1.2 million followers, Glenn Beck 1.1 million and Ann Coulter 944,000.
If he were able to transfer even one-tenth of his audience to social media entities run by his media company, he would be in line with competitors.
Who Would Be the Major Personalities at Trump Media? 
At the top of Trump Media would be Bannon, Ailes, and The Donald himself. Whatever you think of Trump's record as a businessman, he has many years of experience launching and running businesses. His children, who all have executive positions at the Trump Organization, which is primarily a licensing and brand marketing company, could likely step in and fill leadership roles, too. 
But, most importantly for a media organization, who will fill out the roster of talent? 
The first place to look is Trump and his family. Some might remember that before this year's presidential run, Trump who was host of the long-running reality show The Apprentice for 14 seasons. It's easy to imagine Trump with a talk show, perhaps not unlike the one his friend Howard Stern runs. Ivanka, his oldest daughter, runs a women's lifestyle brand centered on work-life balance issues. That could be absorbed into Trump Media and Ivanka, who is polished on stage and screen, could be its public, media-friendly face. And Donald Trump Jr. is a known sportsman and could develop or even host a show about hunting, fishing and shooting. 
Outside of his immediate family, there are a host of already-established media personalities who are Trump-friendly. 
Sean Hannity, who is the host of a nightly television show on Fox News as well as a nationally syndicated radio show, is an obvious first choice. He's made no secret of his support for the GOP candidate and has even taken flack for his gentle treatment of Trump. But, from a career perspective, his alignment with Trump has been a smart move: His ratings are up and he's now No. 2 at Fox, behind only Bill O'Reilly. 
Radio host and best-selling author Laura Ingraham has also aligned herself with Trump. She gave a rousing speech in support of him at the Republican National Convention (that was ultimately overshadowed with controversy). 
While Sarah Palin's star has somewhat diminished -- she was one of the first major political figures to endorse Trump, all the way back in January, but has all but disappeared from the campaign trail -- she has loads of television experience and even has a Judge Judy-like television show in the works that could find a spot in the Trump Media empire. 
Former Governor of Arkansas Mike Huckabee endorsed Trump in May and also has television experience. He had a show on Fox News that he quit to launch his own presidential bid in 2015. 
Aside from Huckabee, who is a Christian minister, there are others in the evangelical world who might join up. Roughly four in five evangelicals support Trump over Hillary Clinton. Two good candidates: Jerry Falwell Jr., the president of Christian Liberty University, spoke for Trump at the Republican National Convention; retired neurosurgeon Ben Carson was once seen as a major Trump rival and is now one of his evangelical surrogates; and James Dobson, who founded conservative group Focus on the Family, has endorsed Trump and wrote that Trump is "tender to things of the spirit" in a blog post discussing Trump's Christianity. 
And here are some other names that could find a home somewhere at Trump Media: 
-- Jeffrey Lord: A former member of the Reagan administration, Lord has appeared frequently on CNN defending Trump. 
-- Corey Lewandowski: Trump's first campaign manager joined up with CNN very soon after his departure from the campaign and has provided some fiery moments. 
-- Katrina Pierson: Trump's campaign spokesperson displays great confidence on screen, even -- especially -- when under fire. 
-- Howard Stern: The huge radio personality already has a gig on Sirius XM (SIRI) - Get Sirius XM Holdings, Inc. Report , but one could imagine him jumping if the opportunity was right. He and Trump are very alike and also friends. 
-- Milo Yiannopoulos: Banned from Twitter, to say Yiannopoulos is a polarizing figure is an understatement. He's been a supporter of Trump, often defending his positions in a way that gives liberals fits. 
-- Michael Cohen: This Trump lawyer's recent appearance on CNNdidn't go well -- or did it? Depends on who you ask. 
-- Alex Jones: The InfoWars.com operator and radio host is pro-Trump and, like Trump, is a polarizing figure. 
Facebook is a holding in Jim Cramer's Action Alerts PLUS Charitable Trust Portfolio. See how Cramer rates the stock here. Want to be alerted before Cramer buys or sells FB? Learn more now.
How Would Trump Finance It?
The self-described billionaire could draw from his own bank account -- after all, he spent nearly $50 million of his own money on his primary campaign. But he also has other billionaires backing his run for the White House, and they could be willing to put money towards a new business venture as well.
Venture capitalist Peter Thiel, who spoke at the Republican National Convention on Trump's behalf, was one of Facebook's first outside investors and co-founded PayPal (PYPL) - Get PayPal Holdings, Inc. Report . He has invested in online media entities like Reddit and Quora. Real estate investor Tom Barrack, who also delivered a speech at the RNC, is reportedly helping to raise money for the pro-Trump super PAC Rebuilding America Now.
Robert and Rebekah Mercer, the father-daughter pair who helped orchestrate his most recent campaign shake-up, might be willing to back a Trump media company. The elder Mercer, co-CEO of hedge fund Renaissance Technologies, gave millions of dollars to Keep the Promise PAC, a super PAC backing Ted Cruz, this election cycle. The group has since been repurposed as Make America Number One and is now a pro-Trump entity. Mercer also reportedly invested in Breitbart.
Activist investor Carl Icahn, who has been one of Trump's most vocal high-profile supporters, has declined to get involved with the Trump campaign directly this election cycle, though he has floated the idea of starting his own super PAC. Icahn and Trump have been in business before, specifically in Atlantic City, though that didn't turn out particularly well.
WWE's (WWE) - Get World Wrestling Entertainment, Inc. Class A Report Vince and Linda McMahon have not said much publicly about Trump's presidential bid, but they do have a long-standing relationship that is both personal and financial. The pair have donated $5 million to the Trump Foundation over the past 10 years.
Could Trump also roll over some of the funds fueling his presidential campaign into a media venture?
With regard to his official campaign committee, the short answer is "no," explained Paul S. Ryan, deputy executive director at the Campaign Legal Center. "Federal campaign finance law prohibits candidates from converting campaign funds to 'personal use,' which would include a gift or investment into a candidate's private business," he said.
The campaign committee could return to Trump the funds he has lent to the campaign, which he could then use to invest.
With the super PACS, it's a different story. They aren't subject to the same personal use ban under campaign finance law. "Federal campaign finance law places no restrictions or requirements on the use of super PAC funds," said Ryan.
However, there would be some tax law consequences. Super PACs are exempt from federal income tax, but the exemption is only available for funds used to support or oppose the nomination or election of people to public office. If a super PAC were to give money to a private media company, the super PAC would have to pay federal income tax on those funds. "This type of transaction wouldn't be 'illegal,' it'd just require payment of tax that a super PAC wouldn't have to pay if it used the money in connection with elections," said Ryan.
PayPal is a holding in Jim Cramer's Action Alerts PLUS Charitable Trust Portfolio. See how Cramer rates the stock here. Want to be alerted before Cramer buys or sells PYPL? Learn more now.