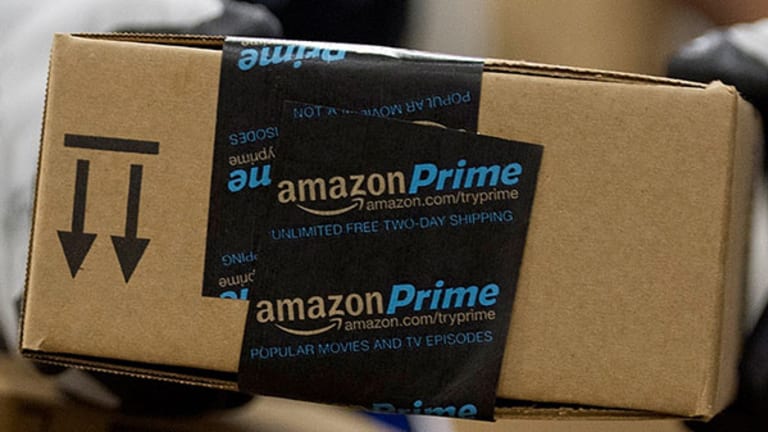 Here's How Much Analysts Estimate Amazon Hauled in on Prime Day
The e-commerce giant was mum about sales generated on its big shopping day, but that didn't stop analysts and research firms from speculating.
Updated to include additional estimates from Slice Intelligence.
While Amazon (AMZN) - Get Report  declined to share sales figures from its much-hyped Prime Day shopping promotion on July 12, that hasn't stopped analysts from estimating what the e-commerce giant brought in on the day. 
In a press release, Amazon said Prime Day was its biggest sales day ever, but only specified that the number of orders on its second-ever Prime Day rose more than 60% worldwide and more than 50% in the U.S. year-over-year. It also boasted that Prime Day was the biggest sales day ever for Amazon devices.
Analysts estimated that Amazon pulled in around $350 million to $400 million in incremental sales on its inaugural Prime day last year, and some projected that sales this year would more than double those results. 
Following the actual day's performance, here's what several analysts and research firms were estimating:
Morningstar consumer strategist R.J. Hottovy said Prime Day may have generated between $500 million and $600 million in incremental sales for the Amazon. In an interview with CNBC, Hottovy said "the numbers blew me away."
FBIC analyst Deborah Weinswig estimated additional sales of $525 million, up 26% from her estimate of $415 million in incremental sales in 2015.
Meanwhile, Forrester Research's Sucharita Mulpuru estimated that Amazon could have had a billion-dollar day on Prime Day, about $500 million more than its typical world-wide estimated daily sales of around $500 million ($300 million in the U.S., and $200 million in the rest of the world).
She arrived at the estimate based on the knowledge that it was Amazon's biggest sales day in history, meaning it did more than the estimated $1 billion it raked in on Cyber Monday last year. 
"It's probably unlikely to be more than a billion, but it's not an unreasonable estimate," said Mulpuru.
Meanwhile, Channel Advisor, which tracks sales of third-party sellers on Amazon, estimated that Prime Day sales for merchants that have been on Amazon for at least a year actually decreased 3% in the U.S., while growing 12-15% in the U.K., France and Italy, and 60% in Germany.
But Channel Advisor doesn't track sales where Amazon is the direct seller, which would include sales of Amazon's own products, such as the Echo and Fire tablets, that were heavily promoted during this year's Prime Day. The firm also noted that a change in how search results were displayed this year may have minimized sales for third-party sellers.
On Tuesday, market research firm Slice Intelligence released findings showing that Amazon's U.S. sales on Prime Day were up 50% from the previous year. Slice's research comprises sales of both Amazon's own products and those of its third-party sellers, and is based on data collected from a panel of more than four million online shoppers.
According to Slice, Prime Day 2016 was the biggest online sales day in the U.S. ever, surpassing Amazon's Cyber Monday sales in 2015 by 19%. The average shopper spent $112 (up nine percent from last year), with an average order size of $54 (down two percent from last year).
Amazon captured 74% percent of all U.S. consumer e-commerce on Prime Day this year, according to Slice.