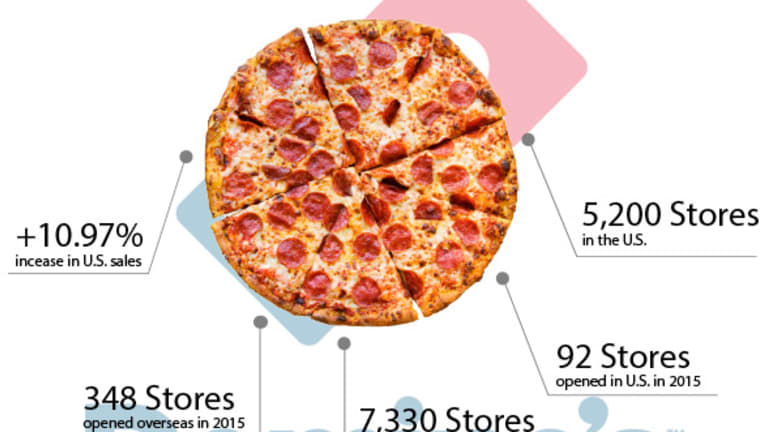 Here's How Domino's Pizza Is Clobbering Its Rivals
The pizza chain continues to outperform rivals such as Papa John's and Pizza Hut with good food, savvy marketing and smart technology.
Several ingredients may be behind the utter dominance of Domino's Pizza (DPZ) - Get Domino's Pizza, Inc. Report  over its pizza rivals recently, particularly in the fourth quarter.
"At the end of the day it's a combination of a number of things -- I think we got our food right starting six years ago with our re-launch, our approach to advertising has worked incredibly well with the direct honest nature of it connecting with consumers, and our technology I think is the best in the business," Domino's Pizza president and CEO Patrick Doyle told TheStreet. 
On Thursday, Domino's Pizza reported domestic same-store sales surged 10.7% year over year in the fourth quarter. For the year, Domino's cooked up a 12% same-store sales gain in the U.S. Adjusted for one-time items, Domino's earnings for the quarter rose 26.4% from the prior year to $1.15 a share. Wall Street had expected $1.13 a share.
The better-than-expected quarter sent shares of Domino's surging higher by about 7% in trading on Tuesday.
Domino's trounced its pizza competitors last year as it promoted a new $5.99 value menu, $8.99 pan pizzas and the ease of use of its digital ordering platform. Digitally-derived sales now comprise about 50% of Domino's U.S. business.
The company also continued to aggressively remodel its restaurants into its "pizza theater" concept, as Domino's calls it, in order to lure in patrons. The new design features a sleeker-looking interior and exterior, with seating both inside and outside, a new feature for a chain best known for its delivery cars. Customers can even watch their pizza being made, similar to what they can do at Chipotle (CMG) - Get Chipotle Mexican Grill, Inc. Report .
By 2017, the company intends to finish refurbishing its entire store fleet of over 12,000 global locations.

Domino's began TV marketing this week of its new DXP delivery car.
Papa John's (PZZA) - Get Papa John's International, Inc. Report , which has continued to emphasize its ingredient quality and new items rather than price in its marketing, saw its system-wide sales in North America rise a paltry 1.9% in the fourth quarter. The result badly lagged Domino's, and marked a slowdown from the 4.2% growth rate delivered for the entire year.
To jump-start sales, Papa John's recently announced a pledge that any customer dissatisfied with their pizza will get their next pie free. It also continues to tout an offer for a 50 cent large pizza when one large, one-topping pizza for regular price is purchased.
Whereas Papa John's sales stumbled late in 2015, Yum! Brands (YUM) - Get Yum! Brands, Inc. Report owned Pizza Hut experienced a mini-revival owing to a new value menu and more frequent deals. Still, sales underperformed Domino's, with Pizza Hut's U.S. same-store sales improving 2% in the fourth quarter, following a quarter in which they were unchanged. For the year, Pizza Hut's U.S. same store sales gained 1%.
In addition to Domino's, McDonald's appears to be a recent winner in the fast food wars with the successful launch of its all-day breakfast menu and a new discount menu.


Domino's continues to cook up better sales than rivals.
Domino's also managed to leave the rest of the pizza industry -- which includes a plethora of local independent mom and pop chains -- in the dust.
According to foodservice data firm CHD Expert, pizza industry sales fell 0.5% for the year ended Sept. 30 to $38.5 billion. Independent pizza operators, defined as those with fewer than 10 stores, saw their sales dive 5% to $14.9 billion. At chain operators that operate over 10 units, sales increased 3.4% to $23.5 billion.
Given the momentum in its business, Domino's stock may continue to serve up savory gains in 2015. Over the past year, Dominos shares have risen about 26%, outdoing the S&P 500's 8% decline. Shares of Yum! Brands and Papa John's have fallen roughly 13% and 4.9%, respectively, during that span.
To keep sales hot, Domino's is investing even more in digital.
In September, the company launched its first ever rewards program -- for every order of $10 or more, a user snags 10 points. After amassing 60 points, customers can get a free, medium two-topping pizza. Domino's declined to share how many users it has enrolled so far in its loyalty program, but said it's off to a "strong" start.
"We have spent a lot of time trying to grow digital penetration in the U.S.," said Doyle. "Now that it is the majorly of our business we are turning our attention a bit more to how can we drive more sales from the customers that are already there digitally. The first example of that is the loyalty program, which is digital only."