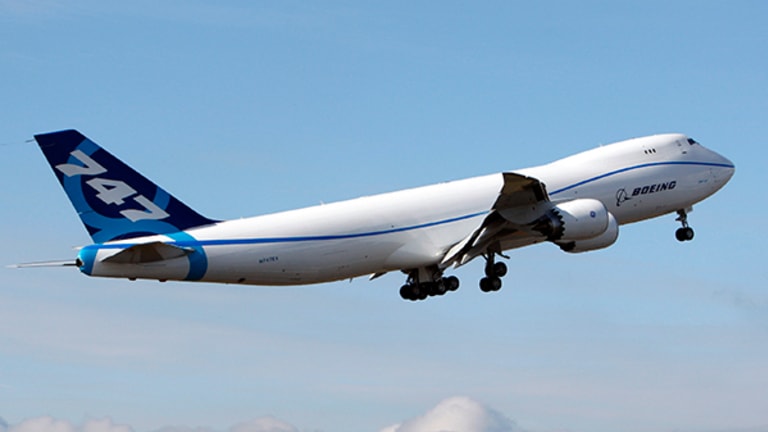 Here's How Boeing's Stock Can Fly Higher
Wednesday's narrower loss and solid guidance will serve as the catalyst.
Sometimes the best offense is a great defense. Few defense companies have the appealing qualities of Boeing (BA) - Get Report , which earlier Wednesday not only beat Wall Street's second-quarter earnings estimates, its guidance was better on both the top and bottom lines. So why would you want to part with this company?
Although Boeing share have gained some 8% over the past month, the stock is still some 12% below its 52-week high of around $150. With strong demand in its commercial deliveries and backlog valued at almost $420 billion, BA has tons of runway to reach a new 52-week high in the next 12 to 18 months.
Add in its 3.30% annual dividend yield and its cheap price, BA is as close to a no-brainer as there is among the large-cap companies. Take a look at the chart, courtesy of TradingView.
BA trades around $135, up 1.44%. Despite the 8% one-month rise the shares have enjoyed, the stock is still down more than 6% year to date, trailing not only the 6% rise in the S&P 500 (SPX) , but also the Fidelity Select Defense & Aerospace Portfolio (FSDAX) - Get Report , which has risen 7% this year. In other words, Boeing has only been making up for lost ground.
You can see from the chart the stock has traded in a tight range since rising to around $135 in March, which means the stock has gone virtually nowhere in four months, even with the post-Brexit rise from around $122 in June. The chart shows resistance is now at $137, or about 1.5% higher from Tuesday's close, while support is at $129. The stock's key averages -- the 20-day ($130.80 -- blue line), 50-day ($130.16 -- pink line) and 100-day ($130.13 -- yellow line) -- are all at the same area.
What does this mean? First, the stock has fully consolidated from its post-Brexit rise and will see limited to no volatility going forward. Second, investors have been waiting for a reason to jump back in to the stock. Wednesday's narrower loss and solid guidance will serve as the catalyst.
Expect Boeing's shares to break resistance at $137 in the coming weeks on its way toward $150 in the next 12 months.
This article is commentary by an independent contributor. At the time of publication, the author held no positions in the stocks mentioned.