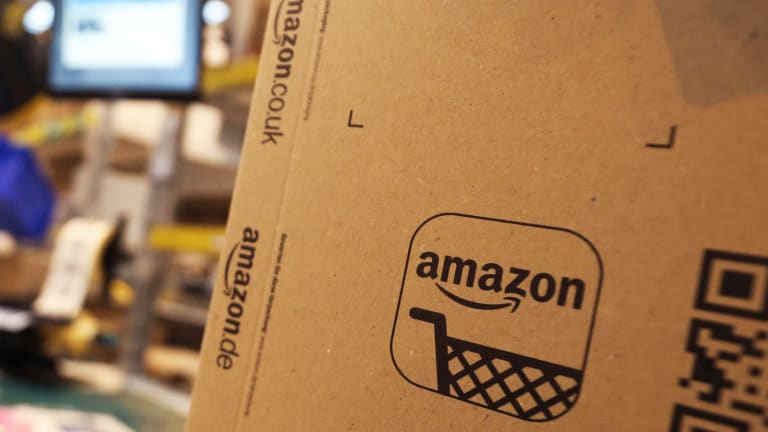 Here's How Amazon's Buyback Program Should Drive the Stock Higher
Amazon's changes to its original share repurchase program after six years should be very good news for shareholders.
Amazon (AMZN) - Get Free Report has long been criticized for its opaque accounting practices.
Nevertheless, the e-commerce giant continues to grow and remains one of the most valuable S&P 500 companies. And the Seattle-based company's future looks bright as it is diversifying its revenue streams and its cloud business shows great promise. 
Amazon's announcement on Feb. 10 that it has upped its share repurchase program to $5 billion a year, from the $2 billion a year originally set in 2010, indicates that the company's management is optimistic.
Stock repurchases allow a firm to buy back shares on the open market, which in turn reduces the number of outstanding shares. This increases the value of the remaining shares, boosting the confidence of existing and potential investors.
A stock buyback happens when a company's board thinks that the stock is undervalued and when the company has enough extra money to buy back a large number of shares. Amazon had $15.89 billion cash on its balance sheet as of Dec. 31.
As of now, the program doesn't have an expiration date. 
Markets initially received the news positively, sending shares upward in after-hours trading following the announcement. 
Because Amazon hasn't paid dividends since its inception nor announced an increase in its share repurchase program in six years, increased value in shares is good news for shareholders. An increase of $3 billion worth of shares would mean an increase in Amazon's earnings-per-share price, which will eventually be reflect in the market value.
But Amazon Chief Executive Jeff Bezos has long focused on free cash flow instead of earnings per share.
In an interview with the Harvard Business Review in 2013, he said that he cared more about the long-term share price than the short term.

"It's the absolute-dollar free cash flow per share that you want to maximize, and if you can do that by lowering margins, we would do that," Bezos told the publication. "So if you could take the free cash flow, that's something, that investors can spend."
Free cash flow represents the funds available at the company, but it isn't used for investment projects. In simpler terms, free cash flow is the value of a firm, after all the capital requirements, working capital and financial needs have been met.
Although Amazon's free cash flow soared dramatically to $7.3 billion in last year from $1.95 billion in 2014, critics think that the company's free cash flow figures may be deceptive. Because much of the additional capital spending that runs in billions of dollars is through capital leases, it is argued that these numbers are inflated.
The use of capital leases by Amazon allows the firm to defer the cost of the large majority of properties. In 2009, it acquired just $300 million worth of property through these leases.
For many unconvinced investors, the worrisome sign in the financial statements comes in the debt portion of the company's balance sheet, which could weigh down the outlook for the company. Last year, Amazon saw a 20% increase in its long-term debt to a whopping $9.97 billion.
But though critics are closely analyzing the reasons for and the repercussions of the new buyback program, Amazon plans on expanding its existing avenues. For instance, the company has been looking at a large logistics business that will likely focus on moving freight from China to designated hubs around the world.
Last year, Amazon's sales crossed $100 billion for the first time.
Robert W. Baird analyst Colin Sebastian has said that the delivery and logistics market could be a $400 billion market opportunity,Business Insider reported.
According to critics, Amazon's real worth may be hiding behind the lofty numbers, but for now the company is set to diversify and challenge traditional business models.
This article is commentary by an independent contributor. At the time of publication, the author held no positions in the stocks mentioned.