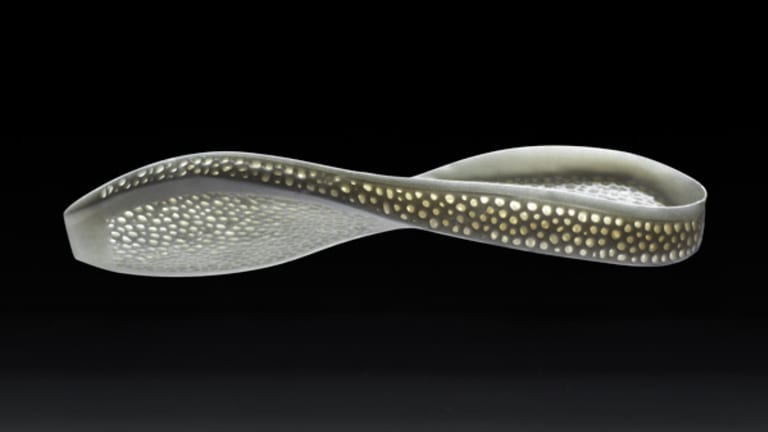 Here's How 3-D Printing Is Transforming the Fashion Industry
By shortening the supply chain and eliminating the need for inventory, 3-D printing is shaking up the fashion industry in a significant way.
From live-streaming runway shows to virtual fitting rooms, technology is disrupting the fashion industry more than ever before, and one of the most exciting innovations making its way to the fashion world is 3-D printing.
3-D printing, also known as 3D printing or additive manufacturing, is the process of producing three-dimensional objects from a digital file. Like most industries, the fashion industry typically relies on mass production, where the cost of manufacturing per unit decreases as production quantity increases. In turn, retailers can then lower the price on each unit, which in theory should further increase demand. When demand does rise, the cost of production continues to decline while profit margins increase. This is a scenario in which mass production benefits the retailer. However, a noteworthy challenge with mass production is that nothing can be sold until it's produced, and 3-D printing could solve that. Furthermore, additive manufacturing significantly cuts down production time and shortens the supply chain in a way that can seriously increase profit margins for retailers.
With 3-D printing, shoppers purchase products based on digital models before those products are actually manufactured. Essentially, production is on demand. Once someone purchases a product, it can be manufactured anywhere with a 3-D printer. So from a cost perspective, it makes no difference if the product is customized for each order, as 3-D printing doesn't require any standardization. This means retailers can produce personalized products with no added cost. Also, because buying a custom-made product feels like a luxury for the average shopper, retailers can charge more for the product without having to absorb a higher manufacturing cost. Another critical advantage of 3-D printing is that it completely eliminates the need to liquidate excess inventory. With 3-D printing there is no such thing as overstock, because there's no stock to begin with.
One vertical within the larger fashion industry that's proving to be an early adopter of the technology is footwear, with several prominent brands dipping toes into the additive manufacturing pool. For example, in January 2014 Nike (NKE) - Get Nike Inc. Reportannounced a pair of cleats partially made with 3-D-printed parts that the brand debuted at Super Bowl XLVIII. Since then, the athletic wear giant has continued additive manufacturing initiatives, with its COO Eric Sprunk telling attendees at a recent GeekWire Summit that we're not far off from a time when consumers can print his or her own shoes at home. He explained that with the way things are going, a shopper could potentially buy a digital file from Nike that contains data for a specific pair of shoes and then either manufacture the shoe at home using a 3-D printer or take it to a bricks-and-mortar location to be printed in store.
In October, Adidas (ADDYY) followed suit when it unveiled Futurecraft 3D, a 3-D-printed midsole that can be completely tailored to fit each consumer's foot perfectly. New Balance entered the additive manufacturing race when it announced a partnership with Intel at the International Consumer Electronics Show in Las Vegas in January. New Balance will use Intel's RealSense technology to measure customers' feet to create completely personalized midsoles and then manufacture the shoes on demand with 3-D printing. The shoes will launch in Boston as a limited release next month with plans for expansion thereafter. Not one to be left behind, Under Armour (UA) - Get Under Armour Inc. Class C Report threw its hat in the ring when it announced its UA Architect earlier this month, which features a both a 3-D-printed midsole and upper design to help provide a perfect fit.
In addition to footwear, jewelry is proving to be a segment that lends itself well to additive manufacturing, with brands like Trove and Daniel Christian Tang leading the charge. Furthermore, we're starting to see 3-D printing make its way into the lingerie world -- an area of fashion in which the perfect fit is critical. For example, Trusst Lingerie, founded by industrial designers Laura West and Sophia Berman, utilizes 3-D printing technology to create prototype of bras meant to provide support without underwire.
While 3D printing won't necessarily work for all industries -- specifically, those that require mass production -- its ability to drastically shorten the supply chain and eliminate the need for excess inventory should not be ignored. Not only does additive manufacturing ultimately increase profit margins for retailers, but it also satisfies today's ever-demanding consumer who craves customization. Regardless of how things shake out, the continued adoption of 3-D printing in the fashion industry will surely be exciting to watch.
This article is commentary by an independent contributor. At the time of publication, the author held no positions in the stocks mentioned.