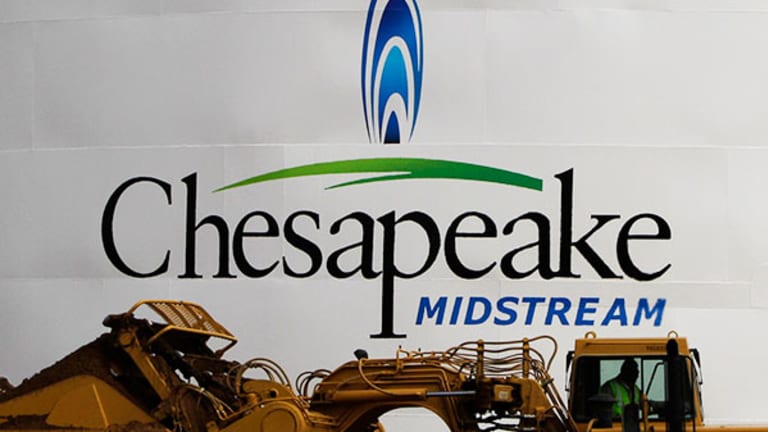 Publish date:
Here's All the Awful News About Chesapeake Energy
Some analysts actually suggest that beleaguered Chesapeake is an undervalued turnaround play. Don't believe it! Here's why you should stay far away from this erstwhile high flier.
Some analysts actually suggest that beleaguered Chesapeake is an undervalued turnaround play. Don't believe it! Here's why you should stay far away from this erstwhile high flier.
After the carnage in crude oil prices in the first three weeks of January, there has finally been some respite with oil reclaiming the $30-a-barrel mark.
Crude oil prices were badly badgered touching 12-year lows after sanctions on Iran were lifted, which meant the Organization of Petroleum Exporting Nations (OPEC) member would release copious amounts of oil into a market that is already flooded, with inventories at multi-decade highs.
The recent bounce in crude oil prices has come after Russia said that it, along with the oil-producing powers, may discuss scaling back production in order to prop up prices at a meeting in February. An OPEC delegate, however, said that as of now no emergency meeting has been planned so far.
Over the past few days, crude oil have taken stocks of some companies along with it on its upward journey. But this temporary breather will be of little use to investors, especially those who have parked their money in energy stocks such as Chesapeake Energy (CHK) - Get Report , which is part of a group of distressed and "Stressed Out" stocks that TheStreet will be monitoring through these choppy markets.
data by
Over the past year, shares of oil and natural gas producer Chesapeake Energy has fallen from grace, clocking in losses of a whopping 83.6%. On a year-to-date (YTD) basis alone, shares have crashed 36.2%. That puts Chesapeake on a list of the worst stocks you can own now.
The company's financials have been alarming. In the most recent quarter, the company reported a net loss for the third quarter in a row -- at $4.7 billion, down from a net profit of $661 million in the same period a year ago. Earnings-per-share (EPS) in the quarter ended September also shrunk to -$7.08, a huge fall from 26 cents last year. 
No points for guessing that the plunge in crude oil and natural gas prices is the biggest culprit here. Chesapeake is the biggest natural gas producer in the U.S. after Exxon Mobil.
However, Chesapeake also has its own demons to fight, one of which is the huge debt pile on its shoulders.
At a debt/equity ratio of 2.68, Chesapeake dwarfs the industry's average of 0.8.
Chesapeake has $2 billion of debt maturing in 2017. Its current assets as of end-Sept. stand at $3.58 billion, including $1.76 billion in cash on hand. Its current liabilities, including $839 million worth of debt due within a year, stand at $4.56 billion, thus displaying a gap between current assets and liabilities.
While the $4 billion credit facility may come handy to fulfill near-term debt obligations, one wonders how Chesapeake will pull a rabbit out of its hat to fulfill the longer term commitments.
With the recovery in crude oil prices expected to be gradual (the Energy Information Administration estimates oil to trade at $40 on average in 2016 and $50 on average in 2017), it is unlikely that Chesapeake will rely on generating cash from operations to pay off its debts.
The company will thus need to save up on as much cash as possible, and consider asset sales, capex reduction and production cost cutting to pay off its debt and return to green bottom lines. It adds up to Chesapeake being one of the most vulnerable stocks on the market today.
Dividend Suspension
Dividend payments have been the collateral damage here.
In July 2015, the Oklahoma-based energy firm suspended its quarterly common dividend payments for the first time in 14 years as its cash streams went dry. The cut would help the company save $240 million a year.
Just six months later, in January 2016, the company has even halted payments on preferred stock dividends -- as clear a warning signal as they come. The latest move will save Chesapeake $170 million a year.
Downgrade by Standard & Poor's
The latest round of dividend cuts triggered Standard & Poor's (S&P) Ratings Services to slash Chesapeake's corporate credit rating to CCC+ from B, with a negative outlook. The latest cut comes barely a month after the agency had downgraded Chesapeake to B from BB-.
"Based on our price assumptions, we expect only limited improvement in the near-term and that Chesapeake will face both a challenging operating environment and weak capital markets as about $2 billion of debt comes due in 2017," S&P said in its statement.
With EIA expecting a slow recovery in prices and S&P lowering its assumption for Henry Hub natural gas and West Texas Intermediate (WTI) crude by over 15% and 20% respectively, it will be a long battle for all energy majors including ConocoPhillips, BP, and Anadarko Petroleum.
Bearish is an understatement for analysts tracking Chesapeake. According to Thomson Reuters, analysts expect the company's EPS to shrink 114% this year and by more than double of that in the next year -- greatly underperforming the industry and the S&P 500.
Touching its 15-year low last week and currently at little over $3 a share, Chesapeake might look a tempting stock to some, but we strongly recommend you wait for the storm to pass.
For more articles on distressed stocks to avoid, read Real Money's "Stressed Out" stocks coverage. You can find more information on the index here.
As we've just explained, Chesapeake Energy is a dreadful place for your money right now. For stocks in similarly bad shape, download our free report on the world's most dangerous stocks. In fact, using a little-known financial "health test," the stocks on this list are a failure in every category. Click here now to make sure your portfolio doesn't contain any "future Chesapeakes."
This article is commentary by an independent contributor. At the time of publication, the author held no positions in the stocks mentioned.