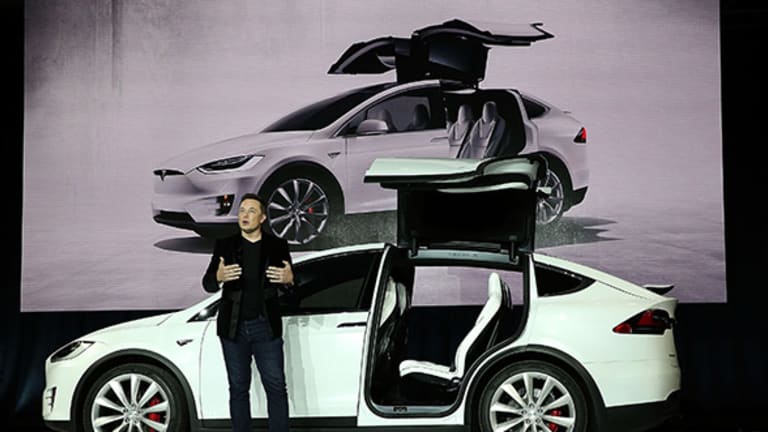 Here Is Why More Skepticism Is Needed About Tesla's Bid for SolarCity
The electric-car maker's Elon Musk attempts to acquire the energy company, which he also founded, and the market reacts uncomfortably.
The electric-car maker's Elon Musk attempts to acquire the energy company, which he also founded, and the market reacts uncomfortably.
Tesla Motors' (TSLA) - Get Report stock was hammered last week, thanks to Founder and Chief Executive Elon Musk's questionable attempt to acquire lagging SolarCity, of which he is a founder and the chairman.
The proposal raises questions about the financial soundness of such a decision.
Some think that mega-entrepreneur Musk can do no wrong. He turned upstart Tesla Motors into one of the most-coveted car makers in the U.S.
Although many argue that Tesla Motors is grossly overvalued, there is no denying that the company has enjoyed some enormous successes from its humble beginnings. Musk also helped rekindle interest in space programs with the ambitious SpaceX aerospace company.
SolarCity was always something of an outlier compared with some of his other successes. Although it was credited for being innovative because of its unique leasing model, the company never performed strongly.
That is especially true by comparison with Tesla Motors' high but often fluctuating rise in share value. This makes Musk's decision all the more dubious.
The market's negative reaction to the deal must have come as something of a surprise to Musk, who is the largest shareholder of both SolarCity and Tesla Motors.
Tesla Motors' stock dropped 10% on the news of the deal, with some going as far as to call it a bailout of SolarCity at the expense of Tesla shareholders.
That might be too strong of a condemnation, but there are valid concerns.
Tesla Motors' offer for SolarCity came in at $26.50 to $28.50 a share, for a 21% to 30% premium. That is a modest premium to pay for a company, as Microsoft recently paid a 50% premium for LinkedIn.
The difference is that SolarCity has been suffering a troubling downward trajectory for some time with few signs of recovery. Shares are down a whopping 57% on the year after failing to hit earnings targets.
With those numbers, it is no wonder that some analysts are questioning the offer and openly wondering if Musk is losing his Midas touch.
Analysts think that SolarCity will remain unprofitable for the next several years and that Tesla Motors will have to take on debt to make the purchase.
For Musk, the acquisition is an opportunity to "improve efficiency."
Tesla Motors has always been more than an electric-car company, as green-energy technology has been central to the company's growth. With SolarCity, Musk thinks that Tesla Motors car owners will be able to use SolarCity as early as next year.
A statement on Tesla Motors' website signed by the company's directors goes into further detail by saying that the acquisition would create "the world's only vertically integrated energy company offering end-to-end clean energy products to our customers" and that the two companies are a great fit from a cultural standpoint.
Some analysts are on board, at least tentatively, with the mission of the proposed acquisition. For them, the similar goals of the companies mesh nicely, and they think that Musk has a strong long-term vision about how the companies can interact.
Trying to effectively predict Tesla Motors's stock performance is something of a fool's errand. In many ways, the company's impressive performance is completely irrational.
Tesla Motors' $30 billion market capitalization is comparable to Ford Motor's $53 billion and General Motors' $46 billion, despite only producing a fraction of the number of vehicles. Tesla Motors has had some incredible business successes since its formation, but it is still more of a speculative buy than a sound decision. 
The company's up-and-down nature makes it even harder to predict how an acquisition of SolarCity would play out. Then again, people have doubted Musk before and have been proven wrong countless times.
This article is commentary by an independent contributor. At the time of publication, the author held no positions in the stocks mentioned.