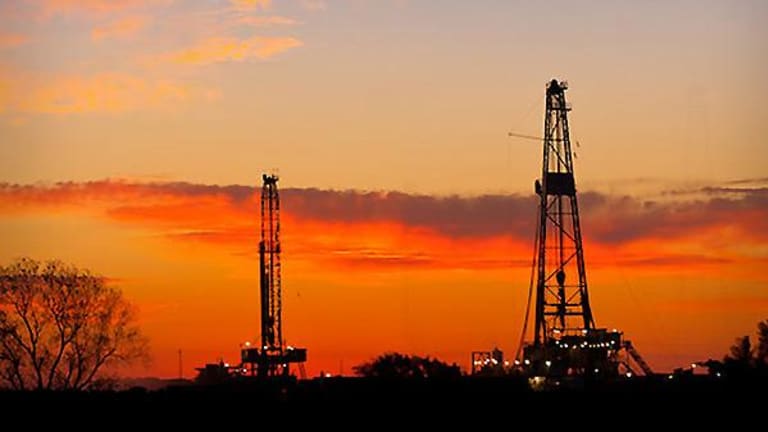 Here Is Where the Natural Gas Market Could Head Going Into Year End
A top expert on the space weighs in.
It may be summer, but natural gas prices are back in focus. 
Natural gas logged heavy losses on Monday, falling to their lowest level since mid-March, as updated weather forecasting models predicted a cooler early summer throughout the Midwest and Northeast. With cooler weather comes less need for air conditioning and by extension, natural gas. 
Nearly 50% of all U.S. households use gas to heat and cool their homes.
TheStreet's founder Jim Cramer, who also manages the Action Alerts PLUS charitable trust portfolio, recently talked with President and Principal Market Consultant for RBN Energy Rusty Braziel to get his assessment of the natural gas market.
What follows is part one of the interview, which focuses on the outlook for natural gas. 
Jim Cramer: What is your outlook for natural gas in 2017/2018, and what's moving the market?
Rusty Braziel: Okay. Well, natural gas is looking good. Natural gas prices this year are up a buck from where they were last year. So we thought things were going to be looking fine, natural gas production down a little bit, down 2 or 3 Bcf (billions of cubic feet) versus last year. Exports out of Cheniere are up, so we have a tighter market. Inventory is down 10% versus where it was last year.
Things are looking good, right?But it's the gas market.
Cramer: I want to understand something.
Braziel: Yes, go ahead.
Cramer: How did it [natural gas prices] go from $2.00 to $3.00? Because if I take a five-year outlook, I want to know if I can extrapolate that.
Braziel: Well, production is down 2 to 3 Bcf.
Cramer: And that's because there was no place to put it [the natural gas]?
Braziel: No. That was because prices were down as there's not enough pipeline capacity to get it out of the Marcellus-Utica [region], and because associated oil production out of the Permian and the Eagle Ford [regions] is down, and therefore, crude oil production is down.
Then we have gas production down as well out of those plays.So production down a little bit, exports up a little bit, market tightens up, inventories drop, and so the price is up. Things looking good.
Cramer: But I've been reading your bulletins, and I know that if I am Cabot Oil & Gas (COG) - Get Report or Range Resources (RRC) - Get Report , very low-cost producers, I want to ramp it up. I mean, I just want to take advantage of this $3.00, because you tell us exactly in your writings that you're talking about $1.50 production. You're talking about guys who make a lot of money.
Braziel: Yes.
Cramer: Is it not possible for the Cabots and the Ranges of the world to really turn on the spigot of natural gas?
Braziel: (A) It takes a little time; and (B) not everybody is as well positioned as they are.
So you've kind of picked the rock stars here, right?
Cramer: I did, because you taught me that.
Cramer: So, you're talking about if I want come in long here and start buying, that maybe there's a better entry point?
Braziel: Not right now, because production is back up. We've got the Rover Pipeline that is going to come online, and production in the Permian is starting to crank up again. And so you've got all of those factors coming on.
There's going to be more gas on the marketplace, so where we're going to go, I think, is we're going to go into the winter and it's going to be a typical natural gas winter. If it's cold, prices are going to go up. If it's not cold, prices are going to go down. And then we're going to get to this time next year and there's going to be an awful lot of gas in the marketplace, so it could get really ugly this time next year.
Visit here for top investing ideas from the brightest minds around.