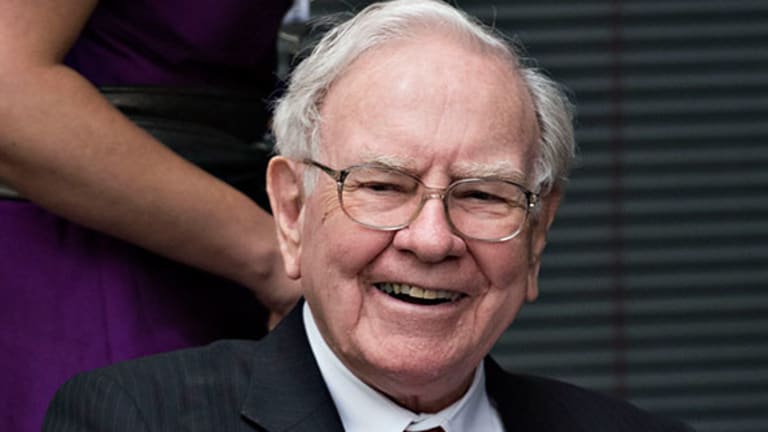 Here Is the Real Story Behind Warren Buffett's Stance on Stock Split
Warren Buffett keeps pushing the envelope in search of growth. This is what investors need to know about the complex way shares of the company trade.
Warren E. Buffett, the world's most successful investor, has long defended his decision to not split the stock of his company Berkshire Hathaway (BRK.A) - Get Berkshire Hathaway Inc. Class A Report , but in a sense, there has already been a split.
Let's examine how Berkshire Hathaway pursues long-term value enhancement.
As most investors know, Class A shares of Berkshire Hathaway don't come cheap, trading at more than $217,000 apiece.
And yet, by issuing Class B shares in 1996,  (BRK.B) - Get Berkshire Hathaway Inc. Class B Report , Buffett has already indirectly split the shares. Class B shares of Berkshire Hathaway are a bargain proposition by his standards, costing about $145 each.
How can one Class A share cost investors the equivalent of a Lamborghini Huracan, while one Class B share amount to less than half the price of an Apple Watch?
Apple is a holding in Jim Cramer's Action Alerts PLUS Charitable Trust Portfolio. See how Cramer rates the stock here. Want to be alerted before Cramer buys or sells AAPL? Learn more now.
Although the cheaper Class B shares offer increased flexibility for investors and also provide a potential tax benefit, they also offer shareholders fewer voting rights.
Buffett has said that Class A shares will never be split because he thinks that high share prices attract like-minded investors who are focused on long-term profits as opposed to short-term price movements.
Berkshire Hathaway certainly offers a portfolio of great companies. It holds sizable stakes in companies such as American Express, AT&T, Bank of New York Mellon, Coca-Cola,Deere, Goldman Sachs,International Business Machines andMoody's, so there is no doubting why its Class A shares are steeply priced.
But with Class B shares, Berkshire Hathaway offers a way in for retail investors as they originally cost 1/13th of one Class A. Then, a 50-to-one stock split in 2010 sent the ratio to one-1,500th.
Now, the value of a Class B share is about 1/1452 of a Class A share.
Buffett argued that Class B shares would allow smaller investors to hold Berkshire Hathaway's stock directly instead of unit trusts and mutual funds being their only options.
Class A shares are costly, but selling just one could fetch a fairly large amount of money.
But owning Class B shares allows investors to pass them to heirs without eliciting the gift tax.
However, Class A shares can be converted into an equivalent amount of Class B shares at any time, as per the discretion of a Class A shareholder. Obviously, the conversion freedom doesn't exist in the reverse.
In fact, Class B shareholders can only convert their holdings to Class A by selling their Class B shares and then obtaining the equivalent in Class A shares.
So should Buffett split the Class A shares? It might not be a bad idea.
Apple raised eyebrows by splitting its stock 7-for-1, making the stock more accessible to a larger number of investors.
However, Buffett seems defiant on the stock-splitting front.
How would a split hurt Berkshire Hathaway if it ever goes down? In all fairness, that is a question only the Oracle of Omaha can answer.
"I have enjoyed 1,586 days of free money." If big, triple-digit winners get your adrenaline pumping, then stop reading because this isn't for you. Only traders who calmly enjoy raking in an extra $67,548 with no surprises or hiccups will appreciate this strategy. In fact, for the past 1,586 days, I have been leisurely collecting giant payouts with this boring approach. I win eight out of every 10 trades, guaranteed. Click here to join me.
This article is commentary by an independent contributor. At the time of publication, the author held no positions in the stocks mentioned.