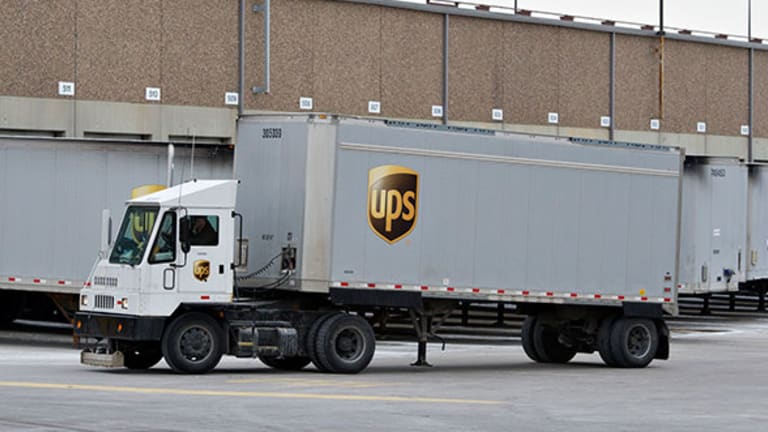 Publish date:
Here Is the Bear Case Against UPS
The U.S. economy is not healthy and transports like UPS will suffer as a result.
The U.S. economy is not healthy and transports like UPS will suffer as a result.
Investors should prepare for United Parcel Service (UPS) - Get Report  shares to keep falling if broad market conditions continue to deteriorate. Our team at Foundation Investing has been stalking this short since the middle of last year. Both macro and micro headwinds make UPS an attractive bear vehicle.
The United Parcel Service earns almost 75% of its revenues from deliveries within the United States. Unfortunately, many important U.S. economic indicators are starting to roll over. This is a bad sign for the economy. And a bad economy means fewer deliveries for UPS.
The graph below shows the year-over-year U.S. industrial production numbers. Production decreased in December by 1.8% and November saw a contraction as well. UPS relies heavily on business-to-business (B2B) deliveries (
). When industrial production falls, less of these deliveries are needed. Fewer B2B deliveries could leave the company vulnerable.

Another useful gauge of the economy's health is the ISM index. This index is used as a leading indicator to inform investors of a broad slowdown in the economy. The ISM has been dropping since late 2014 and is now printing readings below 50. Readings below 50 indicate a contraction in the manufacturing sector. This sort of contracting production has a history of preceding recessions. And based on the numbers below, it looks like there's a high probability of a U.S. recession in the near term.
Along with struggling production, the economy is currently in an overdone expansion cycle. This cycle has been longer than 29 of the last 33 expansions since 1854. At this point, an economic contraction would not be a surprise. A slowdown would be normal.
In addition to production levels and cycle analysis, we can also look at order backlogs and inventory levels for recession signals. Stanford Ph.D. John Hussman explains this concept here. When order backlogs dry up and inventory levels rise, companies have to reduce production. The resulting general slowdown of business leaves less for UPS to deliver.
On top of the layers of evidence pointing to a nationwide slowdown, transport specific data continues to disappoint as well. The Cass Freight Index measures monthly freight activity. This index can give us insight into how transports as a whole are performing. Freight activity includes goods transported by truck, train, ship, or plane. You can view the 2015 results below. As you can see, 2015 was a pretty terrible year and showed the worst readings of the past 4 years.
To strengthen the bear case against transports we can also drill down into the latest earnings reports of key B2B companies. B2B companies account for a large part of UPS' deliveries. 
Operators in the office furniture space are great candidates to inform us on B2B conditions from a "boots on the ground" perspective. When the economy is buzzing, businesses look to expand into larger office spaces and hire on more workers. More workers means more office equipment. In these environments the office furniture space does quite well. But when the economy is in the midst of a slowdown, companies stop hiring or even lay off workers. In this environment sellers of office furniture suffer.
Steelcase
, a manufacturer of office furniture, recently reported horrible earnings. After the report, shares dropped 20% and continued to trend lower. In the release, Steelcase lowered its 2016 sales forecast, citing a drop off in large projects. CEO Jim Keane commented:
"The thing that was most pronounced was ... a decline in orders from large customers and a decline in large projects. At the same time, order growth in the U.S. furniture industry has slowed, as has overall U.S. business capital spending. Our orders and pipeline at the end of the quarter showed fewer large projects than last year."

Steelcase isn't the only one saying this either. The Business and Institutional Furniture Manufacturers Association, or BIFMA, also reported a drop in furniture order growth. 10% growth in early 2015 fell to 3% by the end of the year.
Office furniture is an example of a key B2B delivery that UPS needs to sustain its earnings. A fall in office furniture has "knock-on" effects that hurt transport companies like UPS.
The health of the transport sector does not offer reassurance to investors. The chart of IYT, the transport ETF, looks sick. This chart shows that declines are not limited to UPS at all. It's industry-wide. Critical support levels have been broken since the start of the year.
A famous passage from Jack Schwager's Stock Market Wizards came from billionaire Steve Cohen. He said that 40% of a stock's movement comes from the overall market, 30% from the sector, and only 30% from the stock itself. So over 70% of a stock's movement can be attributed to macro and sector headwinds or tailwinds. Weak indications across the the macro and transport sector suggest UPS is in for bumpy ride in 2016.
The specific fundamental snapshot of UPS itself is not great either. Revenue has remained stagnant for the last two years and margins have stayed around 16% for the last five years. It's no surprise that UPS has been range bound since late 2013. Things aren't growing. Third quarter revenues actually came in 0.4% lower than a year ago, meaning a contraction has started in the top line figure.
And where there actually is growth, we still see a slowdown. UPS' U.S. Domestic Package segment saw slower growth in its latest report. This segment counts for 60% of UPS' revenues. Per package revenues decreased by 2.5% while ground product delivery struggled. These numbers are a direct result of the slowing macroeconomic environment. Falling B2B activity hurts UPS.
The Supply Chain and Freight segment reported a drop in revenue too. This segment includes logistic services that UPS provides to other companies and also trucking operations. Less business activity lowered the demand for logistics and resulted in a dip in logistic related revenues. Freight revenue saw a reduction of 8.6% in revenues due to a reduction in tonnage. UPS cited "softer demand", which we know is a direct effect of the general macroeconomic slowdown.
If trends in the macro environment continue, UPS will follow IYT lower.
Misinformed bulls may think the fall in oil prices is a plus for UPS. Lower fuel prices imply cheaper costs to move all the brown trucks around right? Wrong.
It seems counter-intuitive at first, but many transport companies actually enjoy higher fuel prices. The reason has to do with fuel surcharges. These surcharges are costs that are passed on to the customer. The amount of these surcharges depends on the price of fuel. These surcharges are only supposed to cover the gas bill, but in reality they end up covering many other costs too. Transport companies love them for that reason. If fuel prices are higher, they can get away with higher surcharges. This phenomenon is primarily seen in the long haul trucking business, but delivery companies like UPS benefit as well.
Third quarter earnings underperformed due to a decrease in fuel surcharges. Operating profits in the U.S. Domestic Package segment fell 1.6%. The International Package Segment declined as well for the same reason. Package yield fell by 3.5%. Supply Chain and Freight felt a little pain as well.
When large systemic changes occur in commodities, businesses have a hard time adjusting. The drop in oil is a legitimate regime change. It's no longer just a dip expected to soon recover to pre 2014 prices. Until it can adjust to this change, more pain is expected for UPS.
By now most market participants have become accustomed to hearing about "dollar strength." For UPS, dollar strength is a drag on the International Package division. USD strength requires UPS to either raise prices denominated in foreign currencies or keep them the same and take a hit on international revenue. Neither of these options help the shipping company. The first option makes them less competitive in the global marketplace. The second option translates into a direct hit to earnings when foreign cash is converted back to USD at unfavorable rates.
International deliveries account for over 20% of UPS' revenues. According to the latest earnings report, revenue has dropped 7% from a year earlier. This is of course due to USD strength.
Unless the entire market crashes, the Fed is expected to continue raising interest rates throughout 2016. This policy divergence from the rest of the world will support the dollar bid and continue to act as a headwind on UPS' international business.
To top off the bear case, UPS also looks overvalued when compared to competitors. FedEx has been gaining ground on UPS for years now. The reason why is clear. FedEx is able to deliver packages quicker than UPS on 30% of its routes. UPS is only faster than FedEx on 3% of routes. FedEx continues to relentlessly upgrade its processes and is in turn gaining market share. The company has gaining market share from UPS for last 16 years straight.
FedEx is even gaining momentum overseas. It recently acquired TNT, giving it control of 22% of European express delivery. UPS owns 25%. The gap is closing fast.
FedEx also has better earnings growth than UPS and almost the same amount of revenue. But even so, FedEx's market cap is half of UPS'.
UPS trades near 16-times forward earnings while FedEx only trades near 12-times forward earnings. These companies will converge to a similar valuation at some point. But this will happen by UPS falling, not by FedEx rallying.
The chart of UPS formed a clear head and shoulders topping pattern. The recently broken support spans all the way back to October 2013. Our
were alerted to a short trade on 1/7/2016. We have seen follow through since that entry and expect more to come after earnings are reported on February 2nd.
This article is commentary by an independent contributor. At the time of publication, the author was short UPS.