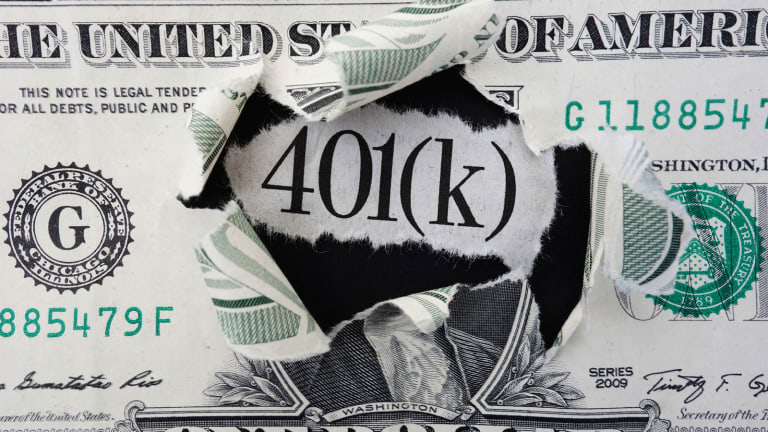 Here Are the Seven Deadliest 401(k) Sins You Can Commit
Planning for retirement isn't a sprint, it's a marathon. To avoid any stumbles along the way, be sure to follow this timeless advice.
When Enron collapsed in 2001, employees who had invested all or most of their retirement savings in the company's stock watched helplessly as their life savings were decimated.
The corporation's 401(k) plan had encouraged employees to invest heavily in the company's stock, in part by matching employee contributions with Enron shares.
The lesson: Don't put most of your retirement money in any one stock, whether it's the stock of your employer or any other company. In fact, no single stock should account for more than 5% of your retirement portfolio.
Overinvesting in your own company is just one way of failing to diversify, which is a key mistake made by 401(k) investors. Diversification is crucial in any kind of investing, but it's particularly important with respect to your retirement savings.
Here's a rundown of six other common mistakes. Keep them in mind, as you put together your long-term retirement strategy:
An Excess of Caution 
In light of extreme market volatility so far in 2016, many investors are understandably skittish about investing their retirement funds heavily in equities. Stocks have historically been the best long-term investment, however, and there is no fundamental reason to think that's changed.
A good rule of thumb is to subtract your age from 110, and use result as the percentage of your retirement money that should be in stocks. So if you're 45, you should still have 65% of your 401(k) money in equities.
Keeping a 401(k) With an Old Employer
After you change jobs, it may seem like a hassle to roll over your old retirement plan to one offered by your new employer. But former employees won't be informed as quickly, or perhaps at all, about changes to the plan, new investment strategies, higher fees and so on.
Unless your new employer's plan entails some unusual drawback, you should roll your money over as soon as you are eligible.
Withdrawing Funds Before Retirement
It can be tempting to look at the pile of money you've accumulated already and dream about tapping into it before you reach retirement.
Recent tough economic times have certainly increased that temptation for many, especially those who have seen the value of their homes fall sharply.
But raiding your retirement fund should be an absolute last resort. Even if you can demonstrate a hardship, the Internal Revenue Service will force you to pay a 10% penalty on the amount withdrawn. If you take out $20,000, $2,000 of your savings is gone for good.
On top of that, the money you took out is considered income, and you will have to pay taxes at your top marginal rate the following year. And that's just the cost you see immediately. There is also the opportunity cost of how much that money could have grown within your retirement account over a period of years or decades.
Using the Default Contribution Level
When starting your 401(k), think carefully about your age, how much money you think you'll need in retirement and whether you have other assets that will be contributing to your income later in life.
An honest evaluation of your retirement needs may indicate that you have to set aside more than the default contribution level (often 3%) suggested by the plan's administrators or your employer. If it means setting aside more than what your company matches, so be it.
Ignoring Fees 
When you're investing over a period of many years, fees that might appear to be tiny at first can add up to a major drag on your returns. Small plans typically charge more than 1.3%, while larger plans can have fees as low as 0.15%. Anything over 1% is probably excessive.
Trying to Make Up for a Late Start
Maybe you didn't get around to starting a retirement savings plan in your 20s or 30s, so now you feel like you have to "catch up." You may be tempted to search for the stocks and mutual funds that have been burning up the track this year and invest heavily in them.
This won't work: You need to objectively determine what level of risk is acceptable given your age and assets, and then stick with it. Chasing returns is not the way to go. Better to bite the bullet and cut back on some of your living expenses to increase your contribution level.
Your 401(k) is not the place for you to try to "time" the market. It's an optimal long-term investment, where you should aim to strike a balance between steady growth and minimal risk.
For more advice on 401(k) plans, consider consulting the financial advisers at Charles Schwab, TD Ameritrade or T. Rowe Price.
Ultimate Retirement Guide: Are you making the right investment moves for your retirement, or are you blowing it by making all-too-common money mistakes? There are crucial steps that you should be taking now, to build wealth over the long haul. To find out whether you'll have enough money in your later years, download our free report: Your Ultimate Retirement Guide.
This article is commentary by an independent contributor. At the time of publication, the author held no positions in the stocks mentioned.