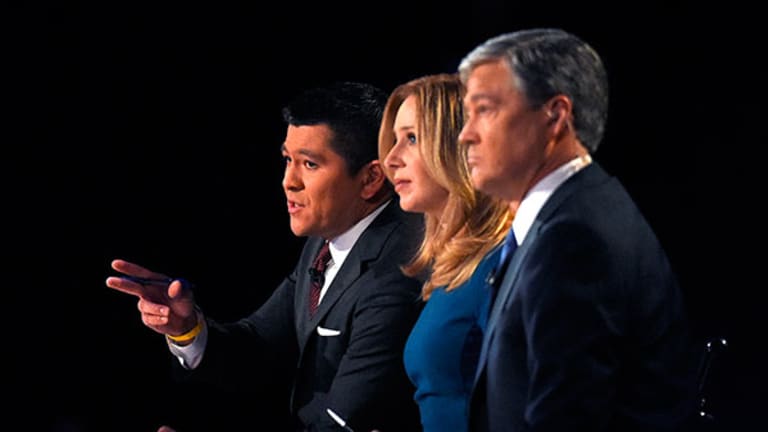 Here Are the 16 Biggest Moments of Wednesday's #GOPDebate
At Wednesday's Republican presidential debate, candidates duked it out amongst one another and identified a new arch nemesis of Darth Vader proportions: CNBC.
The third Republican presidential debate was, arguably, the most colorful yet. Contenders squabbled (kind of) over real issues, addressed (sort of) their biggest weaknesses, and identified (seriously) a new arch nemesis of Darth Vader proportions: CNBC.
Did billionaire television star Donald Trump do enough to retake the lead in the polls from neurosurgeon Ben Carson? Did Jeb Bush manage to remount his struggling campaign? Did Rand Paul or John Kasich say something -- anything -- that might finally get them on the radar?
We'll find out in the coming days.
In the meantime, here's a wrap-up of the biggest moments of GOP debate, aired on CNBC on Wednesday night:
1. Hillary and Bernie Give Dems a Way to Pass the Time. While many Americans spent the evening watching the Republicans duke it out (or, let's be honest, watching the second game of the World Series), Democratic contenders Hillary Clinton and Bernie Sanders gave them other options for entertainment. Clinton set up her own mini game of bingo, and Sanders hosted a Q&A online. Both kept active on Twitter during the debate, too.
2. Sanders, Not in Colorado, Beats Republicans to the Punch on Pot. Marijuana didn't get a whole lot of airtime from Republicans Wednesday -- perhaps because Sanders sucked all the air out of the room on the subject ahead of time. The Vermont senator announced his plan to legalize the substance at a campaign event in Fairfax, Virg., just minutes before the Boulder event kicked off.
3. Kasich Gets Mad About 'Fantasy' Tax Plans. Ohio Governor John Kasich is totally over the tax plans put forth by outsiders and frontrunners Donald Trump and Ben Carson, and he made his stance known, standing up for his "realistic" proposals as opposed to the "fantasy" ideas put forth by his rivals. "You don't just make promises like this. Why don't we just give a chicken in every pot while we are coming up with these fantasy tax schemes? We're just cleaning up. Where are we going to clean it up?" he asked.
4. When Asked to Name a Weakness, Trump Gives an Honest Response. Has Trump been gorging on humble pie ahead of the holidays? Looks like it. When all of the candidates were asked to name their biggest weaknesses at the open of the debate, he gave a pretty real answer. "I trust people too much," he said. Others gave more bizarre answers, including Carly Fiorina, who said she doesn't smile enough, and Ted Cruz, who jokes that he's too agreeable. Perhaps the strangest response came from Carson, who said his biggest fault was "not really seeing [himself]" in the position of president until the encouragement of his supporters compelled him to run for the office in earnest.
5. The Big Fat Flat Tax. As opposed to our current progressive taxation system, a national flat tax puts everyone on the same level -- at least percentage-wise. A lot of Republicans like it, including Cruz and Carson. The neurosurgeon backtracked a bit on the 10% rate he has put forth with his "tithing analogy" in the past and suggested his actual rate will actually be closer to 15%.
6. Cruz Turns Into the White Knight to Save GOPers from the Media. One of the biggest moments in the evening came not when candidates were attacking one another but instead when they are going after another entity -- the media. "Let me say something at the outset, the questions that have been asked so far in this debate illustrate why the American people don't trust the media," Cruz said when pressed on his position in opposition of the Congressional budget agreement. "This is not a cage match, and you look at the questions: 'Donald Trump, are you a comic book villain? Ben Carson, can you do math? John Kasich, will you insult two people over here? Marco Rubio, why don't you resign? Jeb Bush, why have your numbers fallen?' How about talking about the substantive issues people care about?"
7. No Love Lost Between Fellow Floridians Bush, Rubio. Marco Rubio has been playing hooky at the Senate, and Jeb Bush isn't having it. He attacked the senator's voting attendance record, saying, "I'm a constituent of the senator and I helped him and I expected that he would do constituent service, which means he shows up to work." Rubio defended himself from jabs, pointing out that other senators-turned-presidential-candidates -- including current President Barack Obama -- missed votes to campaign as well.
8. Chris Christie Wants to Send GM to Jail. New Jersey Governor Chris Christie told TheStreet's Jim Cramer that he thinks the people behind GM's defective ignition switch scandal should be sent to the big house. "If I were the prosecutor [on the case], that's exactly where they'd be," he said.
9. Trump's Bankruptcies: The Cure for U.S. Debt?Donald Trump's companies have filed for Chapter 11 bankruptcy on four separate occasions -- and according to him, that fact makes him especially well equipped to manage America's big deficit problem. "That's what I can do for the country: We owe $19 trillion," he said. "Boy, am I good at solving debt problems. Nobody can solve them like me."
10. You Might Have to Wait Forever to Retire. Okay, not forever, but maybe until you're 70 -- at least if Jeb Bush gets to decide how Social Security works. Former Arkansas Governor Mike Huckabee took an opposing stance to Bush's, saying, "This is a matter not of mathematics, this is a matter of morality."
11. Cruz, Paul Want the U.S. Back on Gold. It's not just the media Cruz dislikes -- he's got a pretty serious disdain for the Federal Reserve as well. "I've got deep concerns about the Fed," he said, adding the "first thing we ought to do" is audit the body -- something Rand Paul has pushed for, too. Cruz went on to suggest we should be focused on "sound money ... ideally tied to gold."
12. Donald Trump Might Be Packing Heat. Not only does Trump have a firearm permit, but it likes to mix it up when it comes to his guns -- so beware. "I have a permit, which is very unusual in New York, a permit to carry, and I do carry, on occasion, sometimes a lot, but I like to be unpredictable so that people don't know exactly when I'm carrying," he said on Wednesday.
13. Huckabee Hearts Donald. Trump has found an unlikely friend in Governor Huckabee, who stood up for the reality TV star when asked if he saw him as someone with the moral authority to guide America. "I love Donald Trump -- he is a good man," he said. "I'm wearing a Trump tie tonight." Just before Huckabee responded, Rubio let out an exasperated and audible, "This is unreal."
14. Jeb Loses Again?Whatever the opposite of "All I Do Is Win" is, that is Jeb Bush's theme song. He did manage to make a few well-time jokes, including one about his success as a fantasy football player, but still, the former Florida governor largely faded into the background throughout the evening.
15. When In Doubt, Bash the Press -- Somehow in the Context of Mark Zuckerberg. The tactic appeared to work well for more than one presidential candidate at the debate. Take Marco Rubio. "The Democrats have the ultimate super PAC -- it's called the mainstream media," he said in a subtle counter to Trump's rally against his rivals for using super PACs earlier in the debate. The Florida senator's words came in a somewhat unexpected context in response to a question about Trump's accusations of Rubio being the Facebook founders "personal senator" for supporting an increase in the cap on H-1B visas for foreign workers.
16. #CNBCSUX. Was CNBC the night's real loser? Some seem to think so. The Republican National Committee put out a statement in the wake of the event, calling the moderators' performance "extremely disappointing" and saying the network "should be ashamed of how this debate was handled." The Twitterverse wasn't thrilled with the channel, either.
Now that you've caught up, who do you think won the debate? Take our poll.
This article is commentary by an independent contributor. At the time of publication, the author held no positions in the stocks mentioned.