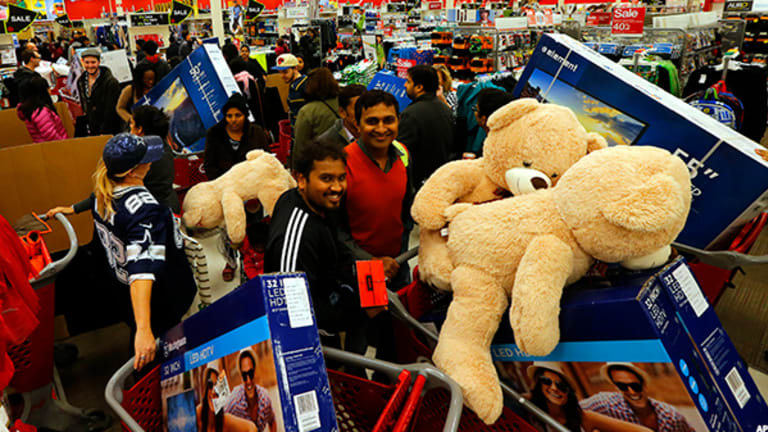 Here Are Black Friday's Biggest Winners and Losers
Apple, J.C. Penney and Macy's were clear winners, but Sears and Walmart didn't fare so well on Black Friday.
Updated to include additional sales estimates for Thanksgiving and Black Friday weekend.
The holiday shopping season has officially begun, and while some retailers experienced strong crowds and robust buying on Thanksgiving weekend, others did not fare as well. 
Consumers waited in long lines at J.C. Penney (JCP) and Best Buy (BBY) stores across the country on Thanksgiving, hoping to score 60% off a sweater or a great deal on a big-screen TV. Both retailers saw the return of good crowds on Black Friday as well.
But there were enough reports of sparse crowds on Thanksgiving, Black Friday and the weekend at the likes of Target (TGT) , Walmart (WMT) and others to suggest consumers did more of their shopping online this year. Or they simply didn't want to spend on the holidays just yet, for whatever reason (vote for which retailer you think won Black Friday in our poll).
Overall sales at retail stores from Thanksgiving through Sunday fell 10.4% from last year to $20.4 billion, according to figures from research firm ShopperTrak. Sales on Black Friday totaled an estimated $10.2 billion, down about 11.9% from 2014, while Thanksgiving Day pulled in an estimated $1.8 billion in sales, a 12.5% decline. ShopperTrak compiled its data from 1,200 retail chains, and the results don't include online sales.
Still, despite the declines on Black Friday weekend, ShopperTrak maintained its 2.4% projected increase in sales for brick-and-mortar retailers this holiday season.
According to the National Retail Federation (NRF), more than 151 million people shopped either in stores and/or online over the four-day Thanksgiving weekend, compared to the 136 million that said they planned to shop over the weekend in a mid-November survey. But slightly more people said they shopped online over the weekend, as opposed to going in to stores -- 103 million for the former versus 102 million for the latter.
Retailers hoping that an improving economy and low gas prices would lead to a good holiday season overall had reason to be optimistic. About 77.6% of those polled by the NRF said they had at least started their holiday shopping, and average spending per person over the weekend totaled $299.60. Comparisons to previous years were unavailable, however, since the NRF changed its survey methodology this year to reflect what it called "changing times" in retail.
Of those who shopped in stores over the weekend, 72.8 percent, or 74.2 million shoppers, said they shopped on Black Friday, while 34.6 million (34%) said they shopped on Thanksgiving Day and 46.8 million (45.9%) shopped on Saturday.

Toys 'R' Us chairman and CEO David Brandon told TheStreet that "we had a good day on Thanksgiving, we were pretty much on plan -- the general feeling across the chain is that we didn't have quite as long of lines on Thursday at the opening as we have had in some years past." 
Brandon, who took over as CEO in July, added "but interestingly, we had a more accelerated build of people throughout the evening on Thursday -- people tended to shop a little later in the day, and we still had good traffic in our stores."
With an mixed start to the holiday season for retailers for now, TheStreet takes a look at some clear winners and losers for the big shopping weekend.
Winners
1. Apple (AAPL)
The tech giant likely benefited from major retailers offering Black Friday discounts on some of Apple's most important products. At Target, for example, Black Friday shoppers were greeted with offers to get a $100 gift card with the purchase of an Apple Watch, a $100 gift card with the purchase of an iPad Mini 4 and a $150 gift card with the purchase of an iPad Air 2 .
For those who purchased an iPhone 6s or 6s Plus on an installment payment plan from Verizon (VZ) , Sprint (S) , or AT&T (T) , Target dished out a $250 gift card.
In a statement on Black Friday, Target said it sold an iPad every second throughout the day on Thanksgiving, with the Apple Watch "especially popular" in stores. Beats headphones, a brand owned by Apple, also sold well.
At Best Buy (BBY) , there was a $50 discount for Apple Watch Sport models on Black Friday, and a $100 discount for stainless steel Apple Watch models.
TheStreet also observed solid traffic during several visits to Apple stores on Long Island, New York on the evening of Black Friday, a key shopping time as people head out after work in search of deals.
2. J.C. Penney (JCP)
The crowds of shoppers came early -- and often -- to J.C. Penney stores across the country as they opened their doors at 3 p.m. on Thanksgiving. At one store on Long Island, New York, lines snaked around the block and crowds quickly built around the 60% off sweater tables and the home goods department, where J.C. Penney slashed prices on crock pots and blenders for early shoppers.
By midnight, and with seven visits to J.C. Penney stores under the belt, this much became evident: consumers were going to continue to pile into the stores until the wee hours of the morning. Although traffic eventually died down by Black Friday morning, it did pick back up in the evening based on TheStreet's visits to several J.C. Penney locations.

J.C. Penney saw stronger crowds on Thanksgiving and Black Friday than Macy's.
J.C. Penney CEO Marvin Ellison told TheStreet "we think we are off to a great start -- we had strong sales in store and strong sales online."Data from the NRF suggested department stores such as J.C. Penney were the early holiday season winners. About 53.6% of those shopping in stores over the four-day weekend said they shopped at a department store. 
3. Macy's (M)
For Macy's, the start of the holiday season may have finally brought some much-needed good cheer to the bottom line, even as crowds were not as robust as they could have been. "I feel better about the holiday season for sure, last night was an important shift for us," said Macy's Chairman and CEO Terry Lundgren in an interview with TheStreet.
Lundgren, who spent Thanksgiving night visiting malls on Long Island, NY and Queens, NY added "it was very encouraging to me to see last night not only our online business strong, but our store business responded as well."
Despite what appears to be a solid start to holiday shopping for Macy's, its store opening crowds did lack some of the gusto seen at J.C. Penney which opened at 3 p.m. on Thanksgiving across the country. And  J.C. Penney's traffic continued to be a little more impressive than Macy's on through the night on Thanksgiving and on Black Friday, based on TheStreet's tours of several malls.


4. Best Buy (BBY)
Best Buy was one of the early standouts of the Black Friday shopping madness. Opening its doors at 5 p.m. on Thanksgiving across the country, jam-packed lines moved at a snail's pace as the company only let 15-20 people in about every five minutes at many stores.
Lines began to rebuild on the morning of Black Friday ahead of Best Buy's 8 a.m. opening time, and although they were not as strong as those on Thanksgiving, it was encouraging to see another wave of consumers readying to do some shopping. Traffic remained decent into the evening on Black Friday.
When customers decided to open their wallets, they appeared to do so rather aggressively. Frequent images from stores visited, as well as on social media, showed people leaving with multiple big-screen TVs. Headphones were also being bought consistently, as were tablets and related accessories.
5. Abercrombie & Fitch (ANF)
The company came out swinging with 50% off the entire store promotions at its Abercrombie & Fitch and Hollister divisions for Thanksgiving, and crowds showed up in droves. The styles for girls and boys were strong relative to offerings by fast-fashion competitors such as Forever 21, H&M and Zara, reflecting the design inspiration of new executives atop each division.
On Black Friday, both chains switched to 40% off the entire store promotions, and the crowds continued to be solid into the evening hours.
Abercrombie continues to have success with these types of eye-popping promotions, and they were integral in driving better-than-expected third quarter earnings.
6. Amazon (AMZN)
With there being many reports of sparse traffic at retailers across the country on Thanksgiving and Black Friday, it's apparent this will be another year where online plays a larger role in the holiday shopping season. That has likely already played into the hands of e-commerce king Amazon.
Amazon began offering its holiday deals on Nov. 20, starting eight days of holiday deals with 10 "coveted" deals starting at midnight on Thanksgiving and up to 10 more on Black Friday. The company is also emphasizing its mobile app this season, offering mobile only deals not available on its website.
Of the thousands of what Amazon calls "Lightning Deals", which are not big-ticket items, about 150 will be made available only on the Amazon mobile app. These deals, which include products such as electronics and kitchen items, were released beginning on Thanksgiving and will continue through Dec. 9.

Losers
1. Sears Holding (SHLD)
It was business as usual on Thanksgiving and Black Friday for Sears in that both of its divisions saw minimal shoppers. In visits to four Kmart locations in Long Island, NY on Thanksgiving, TheStreet found stores to be well-stocked for their 6:00am openings with Christmas trees and holiday decorations, while doorbuster sales included 60% off winter jackets, a toaster for $2 and Christmas trees discounted from $49.99 to just $15. Toy sections featured expected top holiday sellers such as Star Wars action figures, Barbie dolls and remote-control powered drones. But, by 10:00 am, Kmart stores were dead as a doornail.  Moreover, store openings saw far less robust crowds than at Target, Best Buy and J.C. Penney. The theme continued on Black Friday during several more Kmart visits.
At a combined seven visits to Sears on Thanksgiving and Black Friday, stores were alarmingly absent of traffic and overstuffed with clothing inventory. Strong starts to the holiday season by Target, J.C. Penney and Macy's clearly weighed heavily on Sears. The stock market seemed to understand what a week start to holiday shopping for the company may mean to financial results for the fourth quarter: shares fell as much as 3% on Black Friday.
2. Walmart (WMT)
The world's largest retailer started its holiday season on a rather sour note for a number of reasons.
Walmart's website was overrun by strong traffic on Thanksgiving as it offered discounts starting at 3 p.m., three hours before they went into effect in stores. According to the company, the robust demand slowed online checkout, upsetting some shoppers.
In addition, a Black Friday brawl ensued at an El Paso, Texas Walmart with video on Facebook showing a crowd of shoppers fighting over the last big-screen TV and one person punching a police officer in the face. Several other videos swept the Internet on Friday showing fights at other Walmart stores, including one in Louisville, Kentucky on Thanksgiving night.
The incidents were a major blow to Walmart's efforts to improve safety protocols on Black Friday since an unfortunate incident in 2008 when a mob of frenzied shoppers smashed through a Long Island, New York store's front doors on Black Friday and trampled a Walmart worker to death. Since then, Walmart has beefed up security at its Black Friday store openings, and forces people to wait behind steel gates before the store's opening instead of allowing them to mob the doors.
People bought some Walmart doorbusters, but traffic was not that huge on Thanksgiving or Black Friday.
On Black Friday, traffic was similarly disappointing throughout the day. TheStreet observed a good number of doorbuster electronics and toys remaining unsold by the evening, and key toy categories such as Barbie, Star Wars and Ninja Turtles still had a good bit of inventory. Further, by evening on Black Friday, customers seemed more inclined to grocery shop for the weekend as opposed to buying holiday gifts.
3. Microsoft (MSFT)
With retailers showing strong support for Apple products and consumers biting at the early deals, Microsoft may have seen its sales take a hit. For its part, Microsoft was offering Xbox One console bundles for $299, $50 less than normal, beginning Black Friday through Cyber Monday to jumpstart sluggish sales of videogame equipment. Savings of up to $200 on the Surface Pro 3 were available, too.
Still, the impact of discounts on Apple products on Microsoft have surfaced. TheStreet saw generally empty Microsoft stores in several visits on Thanksgiving. On Black Friday, the theme continued -- for example, despite packed malls in the evening, one Microsoft store on Long Island, New York had upwards of 30 employees on the sales floor with fewer than 20 customers.