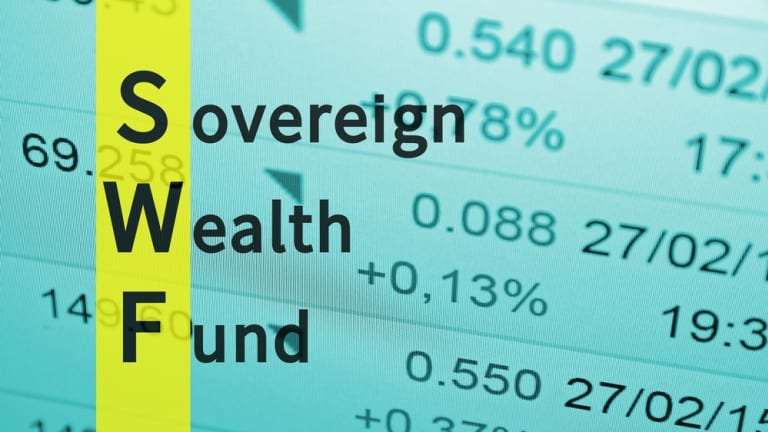 Here Are 4 Ways to Invest Like the Pros at Sovereign-Wealth Funds
Investors can improve their portfolio management skills by learning these lessons from those who manage money on behalf of governments.
In the world of investing, there are the small players, big players and then the biggest players of all: sovereign-wealth funds, which are state-owned investment funds.
The world's SWFs manage trillions of dollars' worth of investments on behalf of the governments that raised these funds through different forms of taxes, most frequently, by taxing natural-resource extraction. The funds are usually set aside for when they are needed but in the meantime are allocated in a wide array of investments.
The largest SWF is Norway's, Norway Government Pension Fund Global, which as of last June controlled $873 billion, according to the Sovereign Wealth Fund Institute.
Even those who don't have trillions of dollars saved for a rainy day can still improve their portfolio management skills by learning these four lessons from SWFs.
Lesson No. 1: Savings equal wealth. Save when times are good, invest those savings properly so that they grow over time, and that will provide a cushion to use when times get bad.
Consider the following data, as reported by the Sovereign Wealth Fund Institute: In early 2008, SWFs around the world controlled $3.4 trillion, but by late last year, that number had more than doubled, to $7.2 trillion.
This is more than the combined total of all hedge funds and private-equity funds worldwide.
The majority (57%) of these SWFs are funded by oil revenue. Of the five largest, four are owned by small countries with large oil reserves: Abu Dhabi, Kuwait, Norway and Saudi Arabia, worth about $2.5 trillion altogether.
These countries added to their SWFs when the price of oil was high. As the price drops or if their oil runs out, they are prepared.
Lesson No. 2: Use cash instead of going into debt, as long as investment earnings are less than interest paid on debt.
For individual investors, it is OK to spend some savings when necessary. Doing this makes more sense than relying on credit or high-interest debt to pay the bills.
This is also how SWFs are managed.
Many SWFs are getting smaller, due largely to weakness in the price of oil. For the first time in eight years, the value of all SWFs declined in 2015.
Last year, countries that rely heavily on oil saw the values of their SWFs drop by $34 billion.
There are three reasons for this drop. One is that SWFs may have invested in markets and asset classes that have had poor performance.
Another is that some countries have been withdrawing from their SWFs in order to cover the shortfall caused by having the same expenses but less oil revenue. Also, lower oil prices have meant a smaller inflow into these funds.
So, they are using their savings instead of going into debt to cover their expenses.
Take, for example, the Saudi Arabian Monetary Agency Foreign Holdings. Valued at $628 billion in November, it is the world's fourth-largest SWF.
Because of budget deficits, it withdrew $70 billion last year, though some say the real number may be more like $100 billion.
Norway's SWF has dropped 8% since the end of 2014.
In October, the country said that it would dip into its SWF for the first time to cover low oil revenue.
Lesson No. 3: Plan long term. Even though SWFs may be using some cash, they are still thinking about the future, even generations down the road.
They don't allow today's situation to change their long-term plans.
Individual investors must also think long term and be careful not to get distracted by market volatility and make short-sighted decisions.
Lesson No. 4: Diversify. As the chart below shows, most SWFs don't just own property or hold cash and gold.
They invest in stocks, bonds, infrastructure and real estate.
For example, Norway's SWF is a major real estate investor around the world. It also owns shares in about 9,000 companies in 75 countries.
Malaysia's Khazanah Nasional even has about 45% of the value of its portfolio invested outside the country.
Most SWFs (81%) invest in the stock market. The top 39 SWFs have about 45% of their assets, or $2.5 trillion, invested in shares.
SWFs are also important bond market investors. As of 2014, just 14% of SWFs didn't own bonds, and the same 39 top SWFs have more than $1.5 trillion invested in bonds, which is 29% of their portfolios.
SWFs' large size means that their investments have a worldwide impact.
Some say that they have had a hand in the current market turmoil. This may be because SWFs are adjusting to lower oil prices by selling stocks and freeing up needed cash.
Individual investors also shouldn't just invest in one type of asset. Stocks, bonds and real estate should all be part a portfolio.
Investors can even buy some infrastructure-related funds, just like an SWF would. Not to be forgotten are real estate investment trusts, which are an easy way to get into the real estate market without having to buy any property.
Follow these four lessons learned from SWFs. Investors may not be playing on the same huge scale, but imitating the way they handle their portfolios can go a long way to improving investment success.
Kim Iskyan is the founder of Truewealth Publishing, an independent investment research company based in Singapore. Click here to sign up to receive the Truewealth Asian Investment Daily in your inbox every day, for free.
This article is commentary by an independent contributor. At the time of publication, the author held no positions in the investments mentioned.