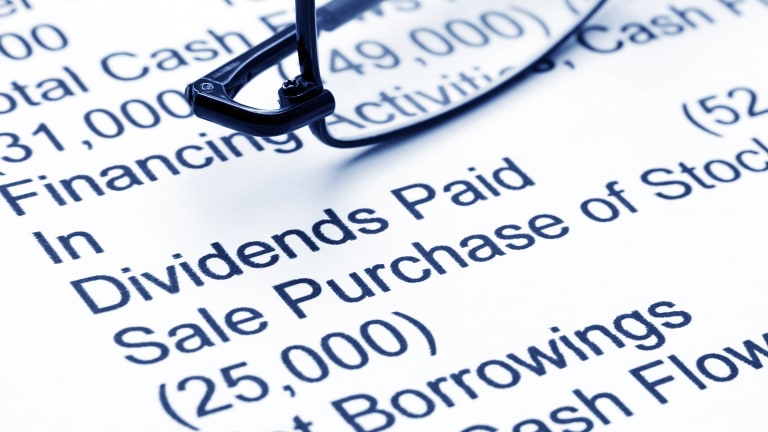 Here Are 3 Dividend ETFs to Avoid and 3 Others to Grab Right Now
Dividend exchange-traded funds are in favor, but not every ETF is worth owning at the moment.
Dividend exchange-traded funds have been some of the best-performing funds this year.
ETFs such as iShares Select Dividend and SPDR S&P Dividend gained 15% in the first half this year, while the S&P 500 was up just 3.8%.
But while dividends are clearly in favor, not every dividend ETF is worth owning. Some simply don't trade often, and these thinly traded ETFs tend to have wide spreads between the bid and the ask price.
This spread is a cost to investors and is on top of the ETF's expenses and any trading commissions.
ETFs that don't trade well also may experience larger or more frequent discrepancies between their net asset value and the value of the underlying securities.
And when the market comes under pressure, a small, poorly traded ETF may not be easy to sell, and that is a big deal, considering that many investors own ETFs because they think that they can sell them at any time.
So what dividend ETFs don't trade well?
Here are three ETFs to avoid:
1. QuantShares Hedged Dividend Income (DIVA)
This ETF invests in high-dividend paying stocks like other top-performing dividend ETFs, so investors might think that it is just as good as iShares Select Dividend or SPDR S&P Dividend.
But though those two are heavily traded, with more than 1 million shares of each often changing hands in a single day, QuantShares Hedged Dividend Income has days and even weeks when it doesn't trade at all.
When the ETF does trade, it often has wide spreads, with the average over the past 60 days at 0.74%, according to ETF.com.
The average spread for iShares Select Dividend and SPDR S&P Dividend, on the other hand, was just 0.01% and 0.03%, respectively. This means that if QuantShares Hedged Dividend Income gained 5%, the gain would be just 4.26%, but investors who bought iShares Select Dividend instead and saw it gain 5%, would actually reap a 4.99% rise.
2. SPDR S&P 500 High Dividend (SPYD)
This ETF has an average spread of 0.14%, according to ETF.com, which might be better than others but still isn't great.
It also has relatively low trading volume. At times, SPDR S&P 500 High Dividend trades fewer than 10,000 shares a day, while SPDR S&P Dividend typically trades anywhere from 500,000 to 1,000,000 shares a day.
There are many great SPDR ETFs that are heavily traded, but SPDR S&P 500 High Dividend isn't one of them.
3. WisdomTree Global High Dividend (DEW)
This is another dividend-focused fund that just doesn't trade as well as other ETF.
Its spread is also quite high at 0.40%, according to ETF.com.
So why pay that when ETFs such as iShares Select Dividend provide access to the same area of the market for just 0.01%?
The takeaway from all three of the above ETFs is that not all these funds trade well, so it is worth putting a little time and effort into finding ETFs that have sufficient liquidity and a solid trading history.
Investors should consider an ETF's trading history and its trading volume, as well as its structure, strategy and whether it is leveraged. Also, look at the size of an ETF, as smaller funds tend to trade less often than larger, more established ones, and smaller ETFs are at a higher risk of liquidating.
Here are three ETFs that meet those criteria and are also doing well:
1. iShares Select Dividend (DVY)
Investors who are looking for a diversified core ETF that trades well, should consider this strong performer that tracks the Dow Jones U.S. Select Dividend index.
Utilities have been one of this year's top sectors, and iShares Select Dividend has about 30% in utilities stocks.
2. PowerShares High Yield Equity Dividend Achievers (PEY)
This ETF tracks the Nasdaq U.S. Dividend Achievers 50 index, which has historically been more volatile than the relatively placid Dow Jones U.S. Select Dividend index.
But for those who can handle additional volatility, this ETF has outpaced more tamer ones such as iShares Select Dividend and SPDR S&P Dividend.
3. SPDR S&P Dividend (SDY)
This is another core diversified ETF that has a solid trading history and has had strong recent returns.
The ETF tracks the S&P High Yield Dividend Aristocrats index, which includes companies that have consistently increased their dividend payments over time. The ETF's largest sector concentrations are financials and industrials.
This article is commentary by an independent contributor. At the time of publication, the author held positions in DVY, PEY and SDY.