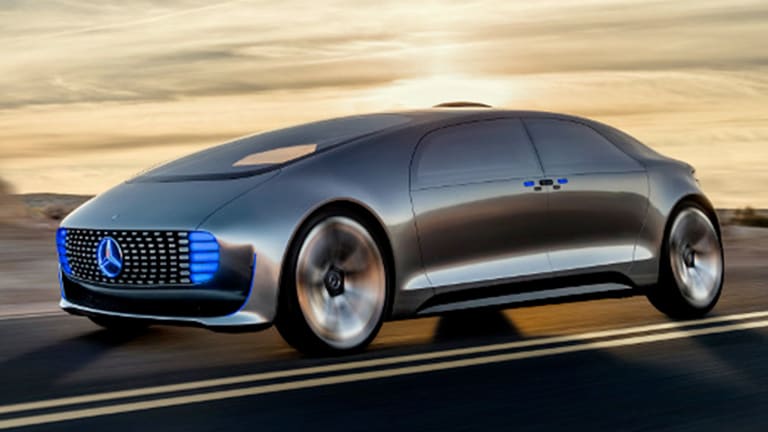 Here Are 3 Alternative Ways to Play the Self-Driving Vehicle Boom
Check out these companies that are poised to soar as this technology becomes a reality.
Check out these companies that are poised to soar as this technology becomes a reality.
Once the stuff of science fiction and far-fetched speculation, self-driving cars are becoming a moneymaking reality.
Some companies are already even testing this new technology, which was first made popular by Alphabet's Google.
ALPHABET is a holding in Jim Cramer's Action Alerts PLUS Charitable Trust Portfolio. See how Cramer rates the stock here. Want to be alerted before Cramer buys or sells GOOGL? Learn more now.
The implications of this are massive and not just for the automakers and technology behemoths alone.
For instance, a car re-marketing company such as Copart, which benefits every time a car is wrecked in an accident, may just go out of business when automated driving becomes the norm.
And this new normal is approaching at a faster rate than ever imagined.
Research firm IHS Automotive estimates that, worldwide, about 21 million self-driving cars will be on the road by 2035.
Global sales are anticipated to hit 600,000 by 2025 and then grow at a compound annual growth rate of 43% for the next 10 years.
The future doesn't seem so far away now, does it?
It seems prudent to gain some exposure to the sector while it is still new. Although many companies will be made obsolete with the widespread acceptance of this technology, others will flourish.
Here are three stocks that poised to ride the boom.
1. Mobileye (MBLY)
This company, which is best known for creating technology to alert drivers about obstacles in the road, is working with many of the world's biggest automobile manufacturers to pave the way for self-driving cars and trucks.
The company's software, the latest of which is the fifth-generation System-on-Chip, mimics the human eye. The company projects sales of $1.5 billion in 2018 and will provide its systems to two automakers as soon as 2019.
Mobileye's advantages include its advanced driver assistance systems solutions, which though partially autonomous, are cheaper than the lidar systems in Google's vehicles.
Analysts project more than 50% annual earnings-per-share growth for Mobileye over the next five years, nearly four times the growth rate estimated for the industry.
The median analyst price target on the stock is for a gain of more than 53%. This stock looks like a sure winner.
2. NVIDIA (NVDA) - Get Report
Many know NVIDIA as a major supplier of graphics processors for mobile and desktop devices. However, the company has expanded its Tegra processors for use in cars, such as Tesla Motors' Model S.
NVIDIA has also developed one of the most advanced autonomous driving technologies to hit the market. Christened the Drive PX, it combines data from cameras, lasers, maps and sensors to allow vehicles to drive themselves and learn from each experience.
Nearly 50 automakers are already testing or using the Drive PX. The newly released DGX-1 cloud-based server, which can be paired with the Drive PX 2 system, allows the processing of even more artificially intelligent self-driving car data.
With its fiscal fourth-quarter automotive revenue already up 68% from a year earlier and the self-driving car tech market expected to grow to $42 billion by 2025, according to Boston Consulting Group figures, NVIDIA's stock will likely only head north.
3. NXP Semiconductors (NXPI) - Get Report

Along with non-automotive applications, NXP Semiconductors manufactures tech solutions related to access, ADAS, body, chassis, infotainment, in-vehicle networking and safety applications.
The company's strong in-vehicle networking and secure interfaces connect vehicles to one another and to the outside world. Its systems capture data, process it and share control with drivers in critical situations.
In the United States, the National Highway Traffic Safety Administration has created a formal classification system for autonomous vehicles. They are rated 0 to 4 in terms of autonomy, with level 4 being completely self-driving.
Most semi-autonomous systems reach only level 2 or 3, but this company's off-the-shelf autonomous driving system BlueBox is a breakthrough innovation and will allow automakers to design, manufacture and sell level 4 self-driving cars by 2020.
Analysts expect the stock to surge almost 25% in just the next 12 months, according to their median estimates.
NXP Semiconductors is a holding in Jim Cramer's Action Alerts PLUS Charitable Trust Portfolio. See how Cramer rates the stock here. Want to be alerted before Cramer buys or sells NXPI? Learn more now.
---
These companies provide excellent ways to play the quickly approaching autonomous vehicle boom. But here is a way to make $67,548 per year or more without stocks, just by following this simple step-by-step process. The trader who is sharing this secret has been right more than eight of 10 times, turning $5,000 into more than $5 million. Click here to see how easy it is to follow his lead and collect thousands of dollars in free money every month.
This article is commentary by an independent contributor. At the time of publication, the author held no positions in the stocks mentioned.