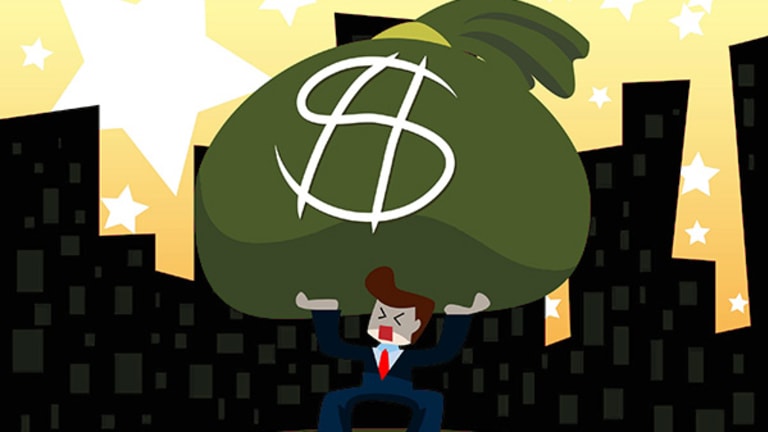 Here Are 2 Ways to Profit from the Potential Overseas Debt Crash
By shorting these two highly vulnerable ETFs, investors can make a quick profit from the economic mismanagement of these two particularly profligate countries.
The scandal over Deutsche Bank and its $42 trillion derivatives exposure is bringing to the fore the ugly balance sheets of foreign banks, an issue that the financial press has ignored amid its manic coverage of the U.S. presidential race.
Deutsche Bank's Chief Economist David Folkerts-Landau recently said that the European Union needs to initiate a €150 billion bailout as part of a major recapitalization program for the continent's ailing banks.
"Europe is extremely sick and must start dealing with its problems extremely quickly or else there may be an accident," he said.
"I'm no doomsday prophet. I am a realist," Folkerts-Landau said.
Several countries have allowed their banks to get over-leveraged via risky bets, but two countries are particularly guilty: China and Italy, the world's second- and eighth-largest economies, respectively. Their financial services sectors are poised for collapse.
As global growth continues its uneven pace and several potential crash triggers wait in the wings, the bank woes of these two powerful countries continue to worsen, posing a systemic risk to their national economies as well as the world's. Two exchange-traded funds help position investors for huge windfalls when the inevitable reckoning occurs: Global X China Financials ETF (CHIX) - Get Global X MSCI China Financials ETF Report and iShares MSCI Italy Capped ETF (EWI) - Get iShares MSCI Italy ETF Report .
Let's start with China. As underscored by Tuesday night's heated vice presidential debate between Democrat Tim Kaine and Republican Mike Pence, China has emerged as an international bogeyman in the U.S. presidential election.
Recent estimates peg China's troubled credit in excess of $5 trillion, which represents about half the country's annual gross domestic product. The policy-making mandarins in China's centralized mercantile economy racked up this staggering debt by desperately trying to stimulate the flagging economy through infrastructure projects, many of them poorly conceived and wasteful.
The Middle Kingdom is littered with bridges to nowhere and vacancy-plagued "see through" skyscrapers. The state also has pumped money into noncompetitive corporations that couldn't survive on their own without massive subsidies.
These domestic loans are souring at an accelerating rate.
China's lenders also scoured the developing world for new borrowers, in part to help the country gain strategic leverage in regions that felt neglected by the West. Several countries in Africa, Asia and Latin America are deeply in hock to Chinese banks and now many of these loans are becoming toxic, too.
Worsening an already alarming picture is the lack of transparency in China's financial system, reflected by the incessant accounting scandals among publicly traded companies. It is only a matter of time before this house of cards collapses, especially if Republican Donald Trump gets elected and launches his much promised trade war with China.
Investors can get in front of this looming disaster by shorting the Global X China Financials ETF.With net assets of $17.48 million, this fund is a proxy for China's financial sector.
Most of the ETF's portfolio is devoted to bank equities, notably Agricultural Bank of China, Bank of China, China Construction Bank, Industrial and Commercial Bank of China, and the expense ratio is 0.65%.
The fund is up 4.60% year to date, compared with a 5.30% year-to-date gain for the S&P 500. But the ETF has dropped -2.08% over the past five days, as the Deutsche Bank imbroglio has drawn greater attention to banking weaknesses overseas.
This ETF is probably poised for a big decline in coming months.
Then there is Italy, land of wine, song ... and debt.
Prime Minister Matteo Renzi's beleaguered government is projecting GDP growth of just 1.6% this year for Italy, but the Organization for Economic Cooperation and Development is less sanguine.
The OECD forecasts that Italy will generate 2016 growth of about 1% this year, 9% below the level Italy reached in 2008 immediately before the global financial crisis.
Italy's banks are shouldering €360 billion in bad loans, of which €200 billion are categorized as insolvent. To make matters worse, nationalist fervor is building in Italy for a referendum on whether the country should bolt the European Union, in the manner of Britain's self-destructive Brexit.
Cash in on Italy's spendthrift ways by shorting the iShares MSCI Italy Capped ETF, the proxy for the country's economy. The ETF holds the country's largest corporations, including the energy exploration and production giant EniLuxottica, the largest eye wear company in the world, and troubled banking behemoth UniCredit.
With net assets of $461.04 million, iShares MSCI Italy Capped ETF has posted three- and five-year average returns of -2.25% and -0.97%, respectively. As Italy's political establishment shows its characteristic disarray and the country's economic malaise sinks deeper, place a bet that this ETF will keep falling.
---
It's not just China and Italy. A global crisis is brewing. When it hits, weak companies and their investors will be washed away. Don't let that happen to you! I've found seven companies you should own no matter what the economy is doing. Each one of these powerful yet overlooked companies barely notices when the market tumbles. And they'll skyrocket when it rebounds. You can pick up all seven for pennies on the dollar right now. To get the names of these "seven survivor stocks," click here.
John Persinos is an editorial manager and investment analyst at Investing Daily.
At the time of publication, he owned none of the stocks mentioned.
Persinos appears as a regular commentator on the financial television show Small Cap Nation.Follow him on Twitter.