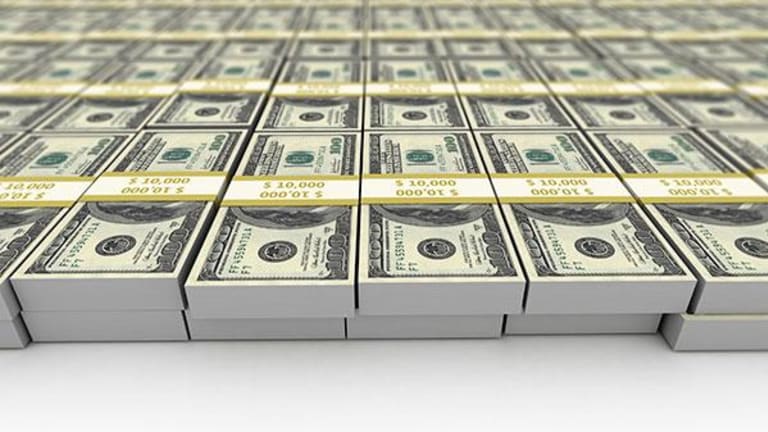 10 High-Yield Dividend Stocks With 20% Annual Returns to Buy Now
The 10 high-yield dividend stocks on this list have returned at least 20% per year over the past five years and offer an average yield of 4.5%.
Many conservative dividend investors like to review the Dividend Aristocrats and Dividend Kings lists for investment ideas, but most of these dividend stocks don't offer high yields.
High-yield stocks usually come with high risks. However, the 10 companies identified here have all trounced the market over the past five years by delivering returns of at least 20% annually.
Finding such a combination of high yield and capital appreciation is rare, but each of these companies has been successful and offers a dividend yield ranging from 3% to 8%.
Many of these dividend stocks are of interest for our Conservative Retirees Dividend Portfolio, which seeks to deliver a dividend yield between 3.5% and 4.5% while preserving capital.
Let's take a look at these high dividend stocks that have delivered at least 20% annual returns over the past five years.
1.Crown Castle International  (CCI) - Get Report
To paraphrase the movie Field of Dreams, build it, and they will come. In Crown Castle International's case, the field is a series of 1,700 wireless communications towers in Australia and 39,600 towers in the United States.
In urban areas, the company leases rooftops everywhere they can be found and provides a variety of antenna and cell network services.
When the company was founded in 1994, the high initial capital cost and relatively limited wireless usage made the cellular tower business attractive only to long-term dreamers. Today, these towers and their rooftop partners are the gatekeepers of wireless communication.
Crown Castle International is the largest operator in the industry, with an 18.5% market share. It has 40% more towers than its nearest rival, America Tower. The company's largest customer is Verizon Communications, which has just 1,400 of its own towers.
Those who are concerned about new entrants shouldn't be.
The odds of getting a new tower built are 0.8% because of regulations and carrier relationships, and then each one costs $150 million on average, according to StatisticBrain.com.
That is about as many barriers to entry as are needed.
The company's annual dividend payout of $3.54 a share offers an above-average yield of 3.7% and is very safe, thanks to Crown Castle International's recurring cash flow and healthy dividend payout ratio.
Earnings leverage is the key metric and should allow the 46% payout ratio to be increased. That suggests a baseline dividend growth of at least 8% to 10% per annually over the next few years.
This isn't simply a high return, but Crown Castle International also fits nicely into portfolios for dividend investors looking forward to retirement.
2. Extra Space Storage  (EXR) - Get Report
Real estate experts will remind say: "There is only so much land to go around."
As prices rise, homes and apartments shrink in size, and storage becomes a premium. One person's junk is another's precious possessions.
This simple premise is what Extra Space Storage is all about.
The company operates 1,347 locations in 21 states throughout the country, with about 10% in the largest market of California. Occupancy is the key to return on investment, and last year the company posted a 90%-plus level.
Extra Space Storage ranks second in the industry behind market leader Public Storage, with 2,266 locations.
Extra Space Storage appears to be the fastest-growing in the sector, based on the $1.8 billion invested in more than 173 new locations last year. The combined properties increased the total square footage of Extra Space Storage by 24%.
The company paid a dividend of $2.36 a share last year, according to its annual report.
This is a ratio of 75% of the company's adjusted earnings.
The quarterly dividend was raised 32% on May 25 to an annual level of $3.12 a share, offering a yield of 3.6%.
So long as Extra Space Storage continues finding opportunities for growth and acquisitions, its dividend should keep rising.
A healthy dividend yield and continued earnings growth to drive stock appreciation is a recipe for enhanced returns. In the case of Extra Space Storage, it has created substantial value for shareholders.
The stock's annual total return of 24.4% over the past 10 years more than tripled the market's annual return of 7.4%. With continued growth in demand for storage, Extra Space Storage continues to offer attractive long-term income growth and capital appreciation potential.
3. James Hardie Industries  (JHX) - Get Report
This company is a leading producer of commercial and residential building materials made from fiber cement. The generic product is a composite of cement, cellulose and sand.
Fiber cement has a number of advantages over traditional materials such as metal, vinyl or wood in terms of cost and durability. James Hardie Industries offers fiber cement products with various patterns and surface finishes for a range of applications including external siding, fencing, floors internal linings and roofing.
Within the construction industry, its brand names are well respected and include Artisan, Cemplank, HarkdiBacker, Prevail, Scyon and Stria. Products are sold directly, through distributors, real estate developers and retailers.
James Hardie Industries has been a familiar name in the industry since its founding in 1888 in Dublin, Ireland.
The construction industry is enjoying boom times. Capital is flowing into real estate development to satisfy the seemingly insatiable demand for rental apartments as well as home purchases.
On the demand side, millennials are stoking the fires for housing.
Meanwhile, aging baby boomers are downsizing and creating a shift in housing patterns. This often translates to remodeling, and that is good for James Hardie Industries.
The annual payout of 58 cents a share offers investors an above-average 3.5% yield. However, the payout ratio is high, and the company maintains a high debt load, resulting in a weak dividend safety score of 9.
What is attractive to total return investors is the combination of dividend and stock appreciation. The building industry may be economically sensitive, but this company's stock has consistently outperformed the S&P 500 over the past three, five and 10 years.
Should the construction industry experience a setback, James Hardie Industries is a stock for dividend investors to watch.
4. Lamar Advertising  (LAMR) - Get Report
This Baton Rouge, La.-based company, which was founded in 1902, isn't exactly a household name.
But by its own measure, Lamar Advertising is one of the largest outdoor advertising companies in the U.S. based on number of displays. This means that the Lamar Advertising logo can be seen on print advertisements on buses, bus shelters or benches, as well on ads in airport terminals.
The company offers customers ad copy, production, placement and maintenance.
The advertising business is highly competitive with few barriers to entry. Lamar Advertising has long been in a niche position that allows it to avoid competing with many of the industry giants.
Lamar Advertising owns and operates about 144,000 billboard advertising displays in 44 states, Canada and Puerto Rico. This geographic diversity provides a hedge against an economic downturn in any single area.
What makes Lamar Advertising different is its status as a real estate investment trust. This means that at least 90% of taxable earnings must be paid out to dividend investors, in which case, no income taxes are levied at the company level.
What further distinguishes Lamar Advertising is cash flow. Compared with the average REIT that has huge capital commitments, the capital requirement in advertising is lower and thus creates excellent cash flow.
Lamar Advertising didn't pay dividends between 2008 and 2013. That all changed when the company converted to a REIT in 2014.
The $3-a-share dividend payout offers investors a yield of 4.4%. With free cash flow per share of $3.92 at the end of last year, Lamar Advertising's dividend has a nice cushion and room for moderate growth.
The company's free cash flow per share has increased to $3.92 from $1.49 over the past decade, indicating that Lamar Advertising is managing its business well for dividend investors.
Since Lamar Advertising began dividend payments, investors have taken notice. In the past three years, the stock has compounded by 19.5% annually, beating the 15% annual return for the market.
5. LyondellBasell Industries  (LYB) - Get Report
The company is one of the largest petrochemical manufacturing and oil refining companies in the U.S. It traces its origins to 1985 when the chemicals side of the business belonged to Atlantic Richfield.
LyondellBasell Industries is the result of a series of acquisitions and reorganizations over the years. The latest of these was the combination of Lyondell Chemical and Basell that resulted in an American/European company, incorporated in the Netherlands with operational headquarters in Houston.
In the broadest measure, 82% of revenue and 93% of operating earnings come from the chemicals business.
The company manufactures plastic intermediates and derivatives as well as finished Olefins and Polyolefin to a vast variety of global customers in the automotive components, food packaging, home furnishings, and paints and coatings industries. There is hardly a segment of the world economy where products using these chemicals can't be found.
LyondellBasell Industries also engages in the refining of gasoline including jet fuel, lubricating oils and ultra-low sulfur diesel. Although demand for petrochemicals has reflected the gradual economic expansion, the refining side of the business has seen revenue decline in response to the overall fall in crude oil prices.
External influences haven't stopped LyondellBasell Industries, and it has successfully controlled costs and enhanced profitability. Improving gross profit margins to 22% last year from 14% in 2013 has been one the most important financial ratios driving the company's success.
The company's better utilization of assets is resulting in a sizable improvement in return on equity to 68% last year from 23% in 2011. The refining segment is in store for improvement, now that crude oil prices have had some recovery, so the company's high returns could continue.
The annual $3.40 payout offers an above-average 4.3% yield. The company's dividend safety score is 56, indicating about an average cushion.
However, the low 33% payout ratio and free cash flow of $9.45 a share last fiscal year show that dividend investors are in line to continue benefiting from the company's program of improved asset management. The company's dividend appears to be safe and possesses at least average growth potential.
6. Macquarie Infrastructure  (MIC) - Get Report
This company's products aren't found on the shelves of neighborhood drug stores because its employees operate outside plain sight providing services to businesses and government agencies.
Macquarie Infrastructure operates only in the U.S., and the business is organized in four segments: Atlantic Aviation (45%), Contracted Power and Energy (8%), Hawaii Gas (5%), Matex Tank Terminals IMTT (34%) and other (8%).
The company, which is based in New York and was founded in 2004, invests, operates and owns a diversified group of businesses that provide services, such as aircraft fueling, bulk liquid terminals and handling services, contracted power facilities and utility gas services. The majority of its revenue comes from contracts that typically comprise a fixed monthly charge that escalates annually with inflation for access to or use of its infrastructure.
Under current law covering investors in limited liability companies, qualified dividend income and long-term capital gains are taxed to non-corporate investors at a maximum U.S. federal income tax rate of 20%.
In addition, certain holders that are individuals, estates or trusts are subject to 3.8% surtax on all or a portion of their "net investment income." This offers an additional attraction to income-seeking investors.
The dividend payout of $4.80 a share offers a well above-average 6.3% yield. However, the company's dividend safety score is 5, which indicates that its dividend payment is very risky.
Indeed, the dividend was eliminated in 2008 and 2009 following the financial crisis. Since its resumption five years ago, the payout has increased to $4.33 a share last year from 60 cents in 2011.
Although Wall Street analysts project 7% growth in earnings in the years ahead, the company's high financial leverage and shaky dividend track record make it too risky for consideration in our Top 20 Dividend Stocks Portfolio.
7. Paychex  (PAYX) - Get Report
Paychex is a financial and business service company with nearly 600,000 customers in Germany and the U.S. The company made its mark in the early years by serving small- to mid-size businesses with payroll processing services and later added human resources, insurance and other outsourcing services.
Today, the company's service brands include Paychex Accounting Online, Paychex Online Payroll, Paychex Payment Processing Services and Paychex Small Business Loan Resources.
The company competes on the basis of price and service with payroll industry giants such as Automated Data Processing, Quickbooks and a host of larger merchant service processing companies such as First Data.
Paychex's strategy is to gain a foothold with new customers and then maximize revenue through additional services added over time. In general, business customers for accounting and payroll services tend to be highly loyal and don't easily change service providers.
The company's business development efforts benefit from the large number of new formations every year. Paychex brings to mind the type of company owned in Warren E. Buffett's portfolio of dividend stocks.
Paychex is highly profitable and has enjoyed above-average growth. Operating margins have consistently hovered around 38% to 39% over the past five years.
Earnings and free cash flow have compounded at 8% and 7.4% per year, respectively, over the same period.
The dividend payout of $1.84 a share offers a 3.1% yield. The yield along with a strong dividend safety score of 86 make Paychex attractive for income-seeking investors.
Current payout ratios amount to 80% of earnings and 68% of free cash flow. These are healthy levels, considering Paychex's stable business model.
Continued earnings growth will likely keep payout ratios steady. Earnings growth is projected to average about 10% per year, and the achievement of this benchmark will set the pace for growth of dividends.
8. Seagate Technology  (STX) - Get Report
Extra Space Storage may be the go to place for material-world storage needs, but when it comes to all things digital, Seagate Technology has been in the game since 1979. By technology standards, this is a very long time.
Seagate Technology is a world leader in hard disk drives and storage solutions. In a recent survey by StorageSearch.com, Seagate Technology ranked number three in solid state drives.
Digital storage, like everything else in technology, has evolved enormously over time with SSD technology used in most new desktop and laptop computers these days.
With the smartphone taking over much of this role and with the demand for data sharing being filled by various cloud storage services, Seagate Technology is no longer the leading-edge company it once was.
As a corporate strategy, it must eventually choose to grow by merger or acquisition or continue to gradually shrink.
Of course, there is the third possibility that growth will resume in the SSD market. However, the probabilities of that happening are small, indeed. 
One logical merger partner would be rival Western Digital, though such thoughts have been around for years without any action.
Recently, the company indicated its intent on eliminating 6,500 positions in the coming year. This gives a signal that cost reduction and cash flow is foremost in the minds of management.
The annual dividend payout of $2.52 a share offers investors a well above-average 7.7% yield. This is enough to temp even many income-starved investors.
However, is this a great investment opportunity or simply a dividend trap?
The company's dividend safety score is 10, suggesting that the company's dividend is much riskier than most dividend stocks and at legitimate risk of being cut. Seagate Technology's payout ratio is 229% of earnings and 73% of free cash flow, which signals little flexibility to continue paying dividends without raising debt or issuing equity.
Earnings are uncertain. A modest loss was reported in the most recent quarter, and analysts are none too optimistic, forecasting a 10% profit decline in the years ahead. So, unless an investor is able and willing to assume above-average risk, other dividend stocks may be a better choice.
Although Seagate Technology's stock compounded by more than 24% a year from 2011 to 2015, its future might not be as bright. Investors should consider looking at some of these top blue-chip dividend stocks instead.
9. Six Flags Entertainment  (SIX) - Get Report
There is a child in every adult. This may not be a universal truth, but for those to which it applies there is a solution: Take the kids to Six Flags Entertainment.
There are 18 locations altogether, 16 in the U.S., 1 in Mexico City and 1 in Montreal.
Revenue is earned from park admission (55%) and food and merchandise (45%). The final 5% comes from licensing, sponsorship and other categories.
In recent years park admission revenue has grown about 7% and food/merchandise is up 5%.
Nearly everyone respects and marvels at Walt Disney. Many have tried to duplicate its business model, but few have succeeded at garnering the necessary capital and match this with a steadily growing flow of park visitors.
Although Six Flags Entertainment isn't a serious threat to Disney, it has succeeded in developing a strong and growing brand. Moreover, its brand of thrill-seeking entertainment is readily exportable into many different countries worldwide.
Thus far, Six Flags Entertainment has only scratched the surface.
Six Flags Entertainment started paying regular dividends again in 2011. The $2.32 a share dividend payout offers a 4.1% yield and has grown by 16.6% year over the past three years.
The company's free cash flow payout ratio sits near 60% and provides it with some cushion to continue making dividend payments.
Six Flags Entertainment is also quite profitable. Operating margins are more than 28%.
Rising earnings and stable capital expenditures provide steady growth in cash flow. On an 8% to 10% projected growth in income, the payout ratio could be increased without jeopardizing the company's financial flexibility.
10. Valero Energy  (VLO) - Get Report
This company refines and markets motor fuels and other petrochemicals. Based in San Antonio, Texas, Valero Energy owns and operates 16 refineries in Canada, the Caribbean, the U.K. and the U.S.
The combined throughput capacity of these facilities amounts to about 3 million barrels per day. The company owns 10 ethanol plants rated at 1.2 billion gallons per year as well as a 50-megawatt wind farm.
In 2013, the company spun off all of its retail business.
The business of petrochemical refining has considerable barriers to entry, due to stringent environmental, political and regulatory hurdles.
There hasn't been a refinery with significant downstream capacity opened since 1977, according to the U.S. Energy Information Administration.
Capacity utilization at the existing 141 operating refineries in the U.S. is consistently high.
Valero Energy's annual dividend is $2.40 a share and offers a superior yield of 4.6%. Records show that the company has continuously issued a quarterly payout since 1993.
With the exception of 2010, Valero Energy has produced exceptionally fast dividend growth averaging 24.5% annual growth over the past 10 years and 53.4% over the past five years. This combination of superior yield and dividend growth makes Valero Energy a stock we would consider for our Long-Term Dividend Growth portfolio.
The company's dividend payout ratio is a remarkably low 28% of earnings and 31% of free cash flow. The balance sheet is healthy with $3.8 billion in cash and just $7.3 billion in total book debt.
Valero Energy's management has plenty of flexibility as it plans for the future.
This article is commentary by an independent contributor. At the time of publication, the author was long Paychex.