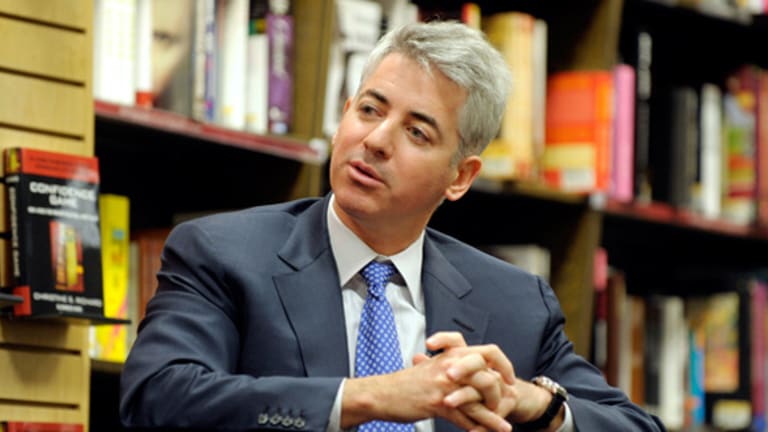 Herbalife Controversy Overshadows Ackman's Other Investments
With the notable exception of Herbalife, activist investor Bill Ackman doesn't talk much about what else is in his $20 billion hedge fund.
With the notable exception of Herbalife, activist investor Bill Ackman doesn't talk much about what else is in his $20 billion hedge fund.
NEW YORK (TheStreet) -- With the notable exception of Herbalife (HLF) - Get Report, activist investor Bill Ackman doesn't talk much about what else is in his $20 billion hedge fund.
Since he began broadcasting his short position in the nutrition supplement maker two years ago, he has publicly attacked Herbalife at every opportunity, calling it a Ponzi scheme. Now, that campaign has come back to haunt him. Federal investigators are looking into whether consultants hired by Ackman to lobby against Herbalife in Washington provided false information to regulators to manipulate the stock. The news sent Herbalife soaring in Friday's trading.
Beyond the very public battle over Herbalife, however, Ackman's hedge fund discloses just seven equity positions.
His top holdings include Allergan (AGN) - Get Report, the Botox maker to which he dedicated much of his time last year. He also has large, long-standing stakes in Air Products and Chemicals (APD) - Get Report, Canadian Pacific Railway (CP) - Get Report, Howard Hughes Corp. (HHC) - Get Report, Platform Specialty Products (PAH) - Get Report. Animal health company Zoetis (ZTS) - Get Report, in which Ackman disclosed a large position in November, is also in the mix, as is Restaurant Brands International (QSR) - Get Report, the child of the Burger King-Tim Hortons merger that closed last year.
He says his short position in Herbalife is about $1 billion. The thing about Bill Ackman's investment portfolio is that its most intriguing -- and notorious -- components aren't always the easiest to find. Why? Because he doesn't have to disclose them. Money managers aren't legally required to disclose short positions in their 13F filings to the Securities and Exchange Commission, meaning that Ackman could have kept his Herbalife move under wraps. He hasn't. 
What we know about some of Ackman's positions -- long and short -- is largely based on what he and others say rather than document.
On Monday, Reuters reported that the billionaire had purchased a 5% stake in Valeant Pharmaceuticals (VRX) . The move hasn't been confirmed in any official documentation yet and may not appear until the next round of quarterly filings in May, if it does at all.
You also won't find Fannie Mae (FNMA) or Freddie Mac (FMCC)  in any official disclosures, but Ackman is known to hold them. In December, the billionaire confirmed that he had "meaningfully" added to his bets on the lenders, and in January, he called them the "most interesting risk-reward" in the capital markets. 
The Mechanics of Ackman and Herbalife
Ackman announced his Herbalife short in late 2012. He has called his campaign his most "philanthropic" investment and vowed to "take it to the end of the earth."
The exact mechanics of his Herbalife position aren't entirely clear, but ValueWalk estimates that Ackman's hedge fund Pershing Square, in aggregate, is short about 26 million shares of the stock across the entire fund. Ackman himself has put a dollar amount on the campaign: upwards of $1 billion.
Although the position won't be found in his 13F, it does pop up in reports from Pershing Square Holdings, Ackman's closed-end investment fund that went public in October.
According to its February performance report, the Pershing Square Holdings portfolio is 16% short overall, though just 5% of that corresponds to Herbalife.
The other 11% pertains to a large-cap short on which Ackman has kept mum. In January, he told CNBC he "may be done with public shorts," and given the hot water he seems to in with Herbalife, it is no wonder he may be feeling a bit gun shy.
On the Other Side of Herbalife
Ackman's Herbalife short has pitted him against a number of big names in investing, including Kyle Bass and Dan Loeb. And, of course, he is no friend of Herbalife Chief Executive Michael Johnson either.
The Herbalife short also made an enemy of Carl Icahn, who is enjoying the perks of the stock's mini-rally. George Soros is seeing gains as well.
As of their latest 13Fs, Icahn and Soros held 17 million and 3.45 million Herbalife shares, respectively, more than 20% of all outstanding shares, combined.
Lesson (Probably) Not Learned
So will Ackman be quieting down soon? It isn't likely. The billionaire appeared on CNBC Friday morning to say all he knows is what he has read in the news.
"I'm puzzled by the story. We have not heard from the FBI or Department of Justice," Ackman said. "If they have any questions for me I'm happy to answer them. I stand by every statement I've made about Herbalife. The company has never identified anything we've said that is false."
Ackman may not want to tell us what his other shorts are, but when it comes to Herbalife, he is going to keep talking.
This article is commentary by an independent contributor. At the time of publication, the author held no positions in the stocks mentioned.
iBillionaire provides access to the investment data and strategies of the world's most successful, self-made billionaires. It is available for
iOS
and
Android
.