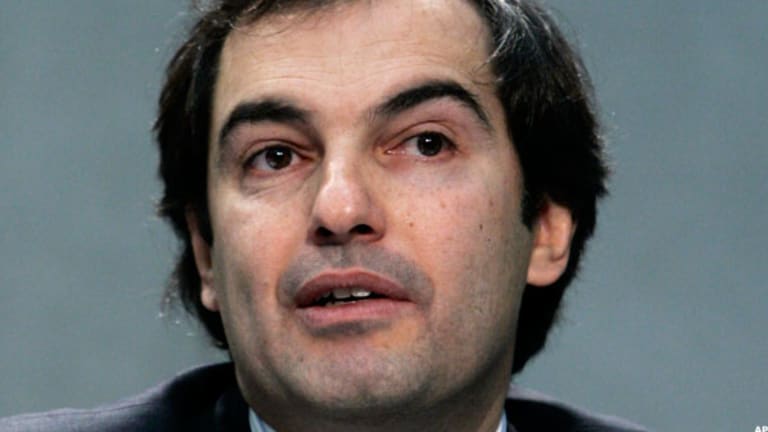 Henrique De Castro Is Officially on the Hot Seat at Yahoo!
De Castro didn't start Yahoo!'s display ad problems, but he was hired to fix them and he's almost a year into the job.
NEW YORK (TheStreet) -- Henrique De Castro was the first big hire of Yahoo! (YHOO) CEO Marissa Mayer, coming over to join her from Google (GOOG) - Get Report.
He was appointed COO last October with an employment contract that
All Things D
writer Kara Swisher pegged as being worth $56 million.
He came to Yahoo! with his pedigree of Google, McKinsey and DoubleClick. Many Yahoo! investors immediately had visions of display ads dancing in their heads upon hearing the news.
However, this first full year on the job for De Castro has yet to show the signs of a turnaround in Yahoo!'s core business for which many were hoping. The number of display ads sold per quarter has dropped eight quarters in a row. In the most recent quarter, the price per ad dropped 12% versus a year ago.
De Castro didn't start Yahoo!'s display ad problems, but he was hired to fix them and he's almost a year into the job. So, for the first time since his hiring, there's now real pressure on De Castro to stand and deliver.
To date, there's still no head of North American sales under De Castro. There have been rumors that he wants to hire Ned Brody out of
AOL
(AOL)
but to date, no dice. So, in the meantime, he's in charge of sales. The results have been underwhelming.
I was critical of De Castro last March when he decided to become an outside director at
Target
(TGT) - Get Report
. I couldn't quite fathom how he had the time to fly across country to Minneapolis for board meetings and also participate in the numerous meetings as part of the Nominating and Governance Committee as well as the Corporate Responsibility Committee for Target.
With flaccid sales results, surely De Castro needs to be spending every waking hour thinking of and driving Yahoo! solutions rather than concerning himself with what's best for Target and its shareholders.
By all accounts, De Castro is whip-smart. He can dazzle you -- in ways only a McKinseyite can -- with his brilliance. He certainly is capable of turning things around at Yahoo! and the pressure he's now under will likely further press him to more quickly demonstrate results to show he's worth every penny of last year's compensation contract.
The knocks I've heard against De Castro are twofold.
One is that despite his intellect, his judgment sometimes strikes people as off. A good example is perhaps when he rose at the All Things D conference a couple of years ago to ask
Apple's
(AAPL) - Get Report
Tim Cook why he was in the ad business.
Why do you try to embarrass the CEO of your biggest competitor in front of all your tech peers? What's the upside to you of doing that?
The second knock, relayed to me from a former co-worker of De Castro's, is: "When I heard Henrique was going to become Yahoo!'s COO, I thought, I can see him being 'chief' and I can see him being 'officer' but what I can't see him doing is 'operating.' That's just not Henrique."
I'm long Yahoo! and a big reason why is I believe that the core can return to greatness. Turning the ship on sales will be a big part of that, and that falls under De Castro's purview. I want him to succeed.
But, 10 months into the job, I think he needs to take responsibility for the state that sales is in now and a good look in the mirror. He has a number of strengths. I truly hope he also sees his weaknesses as well and is prepared to embrace them and ensure he's got people around him to help cover them off.
If the sales don't turn around -- and if Tumblr doesn't deliver a meaningful bump in sales and Ebitda next year -- it will be De Castro's head on the line - not David Karp's or Marissa Mayer's.
As of now, De Castro is officially on the hot seat at Yahoo!.
At the time of publication the author was long YHOO and AOL.
This article was written by an independent contributor, separate from TheStreet's regular news coverage.
Eric Jackson is founder and Managing Member of Ironfire Capital and the general partner and investment manager of Ironfire Capital US Fund LP and Ironfire Capital International Fund, Ltd. In January 2007, Jackson started the world's first Internet-based campaign to increase shareholder value at Yahoo!, leading to a change in CEOs in 2007. He also spoke out in favor of Yahoo!'s accepting Microsoft's buyout offer in 2008. Global Proxy Watch named Jackson as one of its 10 "Stars" who positively influenced international corporate governance and shareowner value in 2007.
Prior to founding Ironfire Capital, Jackson was President and CEO of Jackson Leadership Systems, Inc., a leadership, strategy, and governance consulting firm. He completed his Ph.D. in the Management Department at the Columbia University Graduate School of Business in New York, with a specialization in Strategic Management and Corporate Governance, and holds a B.A. from McGill University.
He was previously Vice President of Strategy and Business Development at VoiceGenie Technologies, a software firm now owned by Alcatel-Lucent. In 2004, Jackson founded the Young Patrons' Circle at the Royal Ontario Museum in Toronto, which is now the second-largest social and philanthropic group of its kind in North America, raising $500,000 annually for the museum. You can follow Jackson on Twitter at www.twitter.com/ericjackson or @ericjackson.
You can contact Eric by emailing him at eric.jackson@thestreet.com.