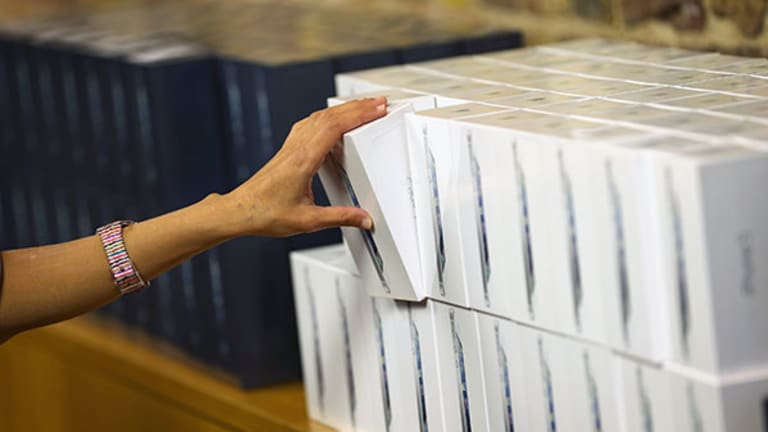 Helping Apple Haters Understand Why Android Is Doomed
Modern-day Apple has never claimed it invented anything other than better experiences. It's that approach that produces competition-crushing effects.
NEW YORK (TheStreet) -- I should have checked to see if Vegas would have given me odds. Pursuant to Tuesday's Apple's 'Smart Home' Levels Android All Over Again and other reports of Apple's forthcoming game changer, gaggles of tortured Google (GOOG) - Get Alphabet Inc. Class C Report/Android fans responded reliably, predictably and, in trademark form, irrationally.
Here's a representative specimen from the comments section of the aforementioned article:
Apple is about 5 years too late getting into this market to demolish anyone. Most smart home appliances, smart security systems, and automation vendors are already Android compatible...or at least running some form of linux....and have been for a while. The market has just been getting organized, and if Apple truly wants a piece of the pie they would be best served to make their iHome systems compatible with what the linux/Android/open source crowd has been building for many years now.
Of course, it would be more like Apple to ignore history and just claim they invented the entire thing. That would take Rocco level of ignorance, which they are certainly capable of.
There's so much cluelessness in that comment it might not be possible to address all of it in a single article, but I'll try. Be sure to read both pages.
Apple's too late getting into this market to demolish anyone. Ask the artist formerly known as RIM about that. Recall the days when BlackBerryundefined was CrackBerry. And Jim Balsillie argued you don't need an app to surf to the Web.
Apple took the concept of the messaging mobile phone and turned it into not only a technology game changer, but a life changer within the consumer and enterprise spaces. Now it's taking that piece of hardware -- the iPhone, popularly categorized as a smartphone -- and it's about to do something major with it. iPod spawned iPhone and iPhone birthed iPad. Consider that trajectory alongside Apple's renowned halo effect before you decide to run your mouth about Apple's potential in "this market."
Yes there's the forthcoming iPhone 6, most likely with a larger screen. In and of itself, that could be an Android Killer (FTR, since I wrote the article at the link, AAPL's up 17.7%). And, yes, we have a report of what this SmartHome platform might entail. However, it's just a report. We have no idea exactly what Apple plans to introduce. But make no mistake, it has disruption and making a barely talked about market sexy and relevant written all over it. That's something Google and it's lame Android partners can't accomplish; everything these guys do is vanilla relative to an Apple product announcement, launch, sales flight and concurrent update cycle.
Related to point one, we're going to require some Jim Cramer FOCUS for the next set of points on Page Two ...
Android already does this so what are you so excited about? That's the one where I would've made out like a filthy rich tech executive if I convinced Vegas to give me odds.
It didn't take long before we heard "Rocco, you're an idiot, Android already does this" and here's a whole bunch of meaningless tech babble about integration to make the feeble case as to why Apple can't succeed. The logic here showcases the wholesale misunderstanding that keeps people, particularly Apple haters who counter as Android or Windows Mobile fans, from being able to wrap their heads around why Apple's great. It's not all that different from the illogic that says Why would Apple enter a shrinking television set market?. Illogic I shot down in March.
Apple doesn't commit to and execute an initiative on the basis of what everybody else is doing or even how a particular space is performing. Apple acts when it knows it has something that will be better than what's already out there. It acts when it knows it has something that will further enhance its own ecosystem and help it maintain a monstrous level of hardware sales via the halo effect, regular upgrades and new customers. Often, action by Apple ends up disrupting the competition and breathing fresh life into a space. But that's not the premise Apple operates from when the chalk first hits the blackboard. Apple takes care of Apple first; when it does this well the hurt it historically has put on its competition flows naturally. 
So -- even though it doesn't (!) -- let's say Android has the smart appliance market locked up with some excellent, rapidly emerging wall-to-wall in-home solution. That has about zero to do with Apple and its plans. As Cramer says FOCUS! ... Because while this isn't too difficult a concept to understand, it obviously requires some focus.
Apple's iPhone sells just north or south of 40 million units a quarter. It's about to experience an absolute flood of its current customers upgrading from older devicesand welcome new customers to the iOS family. What better way to turn a flood into a tidal wave than to make the device -- and the entire Apple ecosystem -- more useful and stickier than ever. To introduce a SmartHome platform that Apple can not only market as attractive out of the gate to secure upgrades and sell more iPhones, but pitch as a platform that will continuously expand over the coming months and years.
... it would be more like Apple to ignore history and just claim they invented the entire thing. It's perfect to close with this because it nicely reinforces the cluelessness Android's first responders (these are the people who sit by their computers, on alert, to defend Android against any and all encroachment) come with. Modern-day Apple has never claimed it invented anything other than better experiences.
And, like pretty much every initiative in the Steve Jobs era, that's what it appears we'll see under a Tim Cook-led Apple. iPod replaced your Sony Walkman or generic MP3 player. iPhone replaced your CrackBerry. iPad opened up an entirely new way to compute, create and entertain yourself and others. MacBook set a standard the failed ultrabook and all-in-one movements haven't even come close to sniffing. Apple didn't invent these categories or present the initial offering in any of them. It (not so) simply redefined them.
I assume Google, Samsung and others get this. If not, the tech scene is in more trouble than I originally thought. Clearly, a considerable number of Apple haters don't understand what Apple does and how the process plays itself out when Apple iterates existing and introduces new products. It's past high time for them to figure it out. Because, if they don't, they're going to be even more confused as Apple unleashes a 2014-15 furry that renders Android's domestic marketshare collateral damage.
--Written by Rocco Pendola in Santa Monica, Calif.
>>Read More:
How Apple Will Use the iPhone to Crush Google, Samsung
Verizon Wireless Deal Among Top Five M&A Deals in Last Few Years
Hemp in Kentucky Creates Latest Drug War Battleground
Rocco Pendola is a full-time columnist for
TheStreet
. He lives in Santa Monica. Disclosure: TheStreet's editorial policy prohibits staff editors, reporters and analysts from holding positions in any individual stocks.