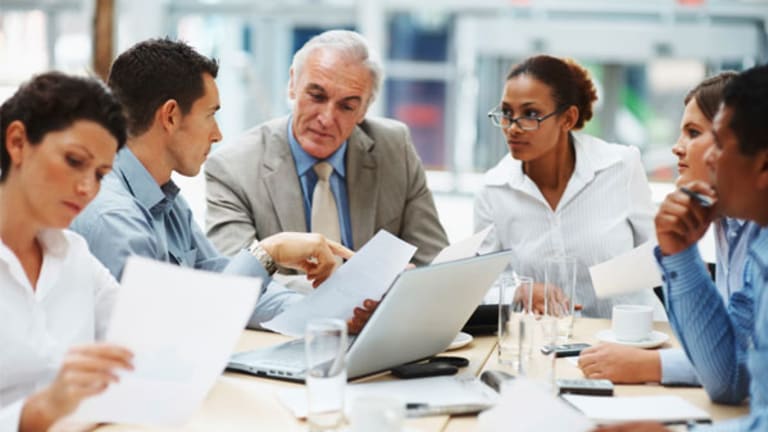 Help Wanted: Research in Motion Bulls, Apply Within
With M&A hopes all but dashed, no sane and logical reason exists to be long RIMM.
NEW YORK (TheStreet) -- Last week, I received an abundance of nasty comments in response to an article where I suggested it was time to prepare RIM's grave.
Research in Motion
(RIMM)
bulls continue to trot out the same tired vitriol. Every time RIMM takes another leg down, I expect the tortured few to come to their senses. For whatever reason, they never do.
If RIMM bulls still exist, I have to think they'll have difficulty signing new recruits.
TheStreet's
Chris Ciaccia nicely
the company's Tuesday afternoon "business update."
In a nutshell, RIM reiterated it will no longer provide quantitative financial guidance. It revealed it has hired
JPMorgan
(JPM) - Get JPMorgan Chase & Co. Report
and
Royal Bank of Canada
(RY) - Get Royal Bank of Canada Report
for a strategic and operational review. The company also alerted investors to an anticipated Q1 operating loss. As Ciaccia reported, analysts had expected a profit of 49 cents a share.
I tend to think that the most vocal RIM supporters have not owned shares for very long, if ever. Unless you're independently wealthy, it would have been incredibly difficult to maintain a long position of any meaningful size in the stock over the last year or two, even when hedged with options. For some half-demented reason, RIMM super bulls made it their mission to defend the company regardless of this reality.
For the last year or so, there has been just one reason to open up a fresh long position in this stock. Buyout rumors have fueled practically every bit of upside since last spring. By now, you would think M&A speculators would have given up. When this dog was in the 20s, it was destined for the teens. Now that it has broken through the teens, it's on a clear path to the single digits. Next up: the Mounties will accompany RIM's casket to the plot it hopefully reserved next to fellow Canadian corporate failure,
Nortel Networks
.
While I reserve the right to be wrong, I highly doubt anybody (in their right mind) is about to step in and save RIM. Any board of directors that approves a buyout of the company would be sent to Bellevue for emergency evaluation.
Put yourself in the shoes of any potential acquirer you can think of. Why in the world would you buy RIM? Why would you do that to your staff and shareholders?
With M&A hopes effectively dashed, RIMM bulls have historically hung their hats on the forthcoming BB10 operating system. While we wait around for that presumably underwhelming release, we're told that RIMM looks good "at these levels" because (insert useless MBA quantitative jargon here).
Here's one of my favorites from a commenter to last week's "Bury RIM" article:
But at this point, not far from liquidation value, the lower RIM goes the better the proposition it becomes. If they start burning cash -- then all bets are off. But unless that happens, you have a nice margin of safety at these levels.
The idea that RIM sports a comfortable cash position is nothing short of misleading.
Consider the company's inventory writedown history.
In December, RIM took a $485 million charge to account for PlayBook inventory. Then, in March, it penciled in a $267 million ding for unsold BlackBerries. And, as
Bloomberg Businessweek
first
, RIM's inventories continue to surge, making yet another writedown a very real possibility.
I doubled-checked
Bloomberg's
work. It's true. Inventories swelled to $1.3 billion, as of the end of March 2012, up from $618 million the year prior. Once unwanted PlayBooks and BlackBerries not in RIM warehouses but collecting dust on retail shelves across the globe get factored in, expect that number to rise.
It would be fantastic if the $2 billion or so RIM
reports
in cash, cash equivalents and short- and long-term investments signaled a healthy business. That might warrant a modicum of bullish excitement. However, a slightly deeper look reveals that RIM might as well be bleeding cash.
What good is a business flush with cash when it sits on hundreds of millions of dollars, if not billions, worth of inventory it probably will not be able to unload? There's no turnaround in progress. Not even close. And, as I argue while making the bull case for
Nokia
, RIM's long period of denial -- under Jim Balsillie and Mike Lazaridis's watch -- prevented it from forging key partnerships when there might have been companies actually willing to talk.
Instead of posturing, Balsillie and Lazaridis should have been on the phone to everybody from
Microsoft
(MSFT) - Get Microsoft Corporation Report
to
Amazon.com
(AMZN) - Get Amazon.com, Inc. Report
begging for mercy and a helping hand.
RIM should have abandoned the BlackBerry OS like Nokia did Symbian. It should have taken a page out of the epic turnaround at
Domino's Pizza
(DPZ) - Get Domino's Pizza, Inc. Report
and said, "We stink. We're sorry. We'll change. We'll try harder."
Instead of owning up to failure, Balsillie went the opposite direction. I'm not sure he had it in him to concede one bit. And that's why he's gone. There was no other choice.
Now, Thorsten Heins takes on the impossible task of picking up the pieces. He has a better chance of remedying Balsillie's other national failure by bringing an NHL franchise to Southern Ontario. RIM is a lost cause.
BGC Partners analyst Colin Gillis
telling
The Wall Street Journal
: "This isn't really a transition yet. This is really just a downward slide."
A tip of the tuque also goes to
TheStreet's
Richard Saintvilus who
hours before RIM even released its sour update:
Touching RIM at this point requires not only the use of surgical gloves, but appreciating the old adage that says "stupid is as stupid does."
Here's hoping you listened.
At the time of publication, the author was long MSFT and NOK.