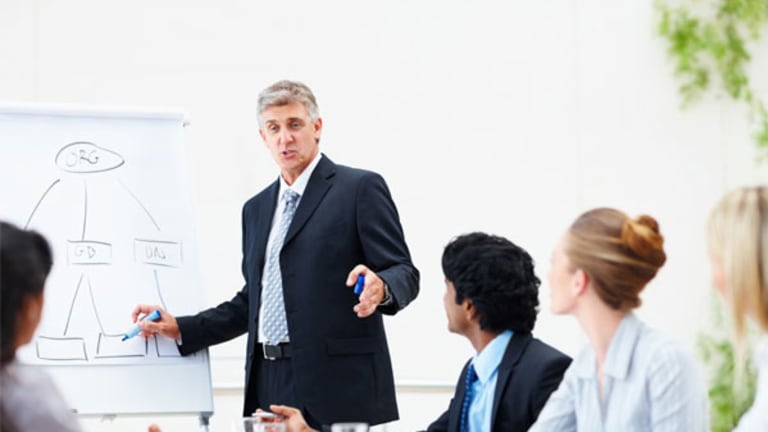 Help Wanted: Blueprint for Job Creation
President Obama is unveiling his jobs plan in tonight. Kathleen Brush explains why export opportunities must be included in that plan.
President Obama is unveiling his jobs plan in tonight. Kathleen Brush explains why export opportunities must be included in that plan.
The following commentary comes from an independent investor or market observer as part of TheStreet's guest contributor program, which is separate from the company's news coverage.
NEW YORK (
) -- President Obama is unveiling his jobs plan tonight. He's been bouncing ideas around for weeks. Things like making capital more accessible to small businesses, encouraging alternative energy sources, simplifying foreign direct investment, promoting energy conservation, infrastructure improvements, retraining the hard to employ, and extending both the payroll tax cut and unemployment benefits.
The devil will be in the details. If plan details show a laser focus on supporting the maximization of wealth through private sector job creation, the approval ratings of the President and Congress should soar. If instead the plan is spraying Hail Mary or electioneering bullets, approvals could fall further because this is a time for job-creating surgical strikes that address the varying needs, opportunities and requirements to create and fill jobs across the nation's communities.
Too few ideas have been mentioned for tapping into global opportunities, or reversing dangerous trends in manufacturing and educational attainment that threaten job growth. Addressing them is essential.
It's a given that growth in the U.S. and Europe will be lackluster for a while. The IMF estimates that of the $27.3 trillion in expected economic growth through 2016, 87% will occur outside the US. The division of expected growth contributions are: US $3.6 trillion, other developed countries $4.5 trillion and developing countries $18.9 trillion.
In 2009 11% of U.S. GDP was accounted for by product and service exports. Only DR Congo and Eritrea reported lower percentages. In Switzerland it's 60%, Germany 41% and China 27%. Increasing trade, in particular with the developing world, has to figure prominently in the jobs plan.
What are the best opportunities for trade? Globally, merchandise exports are triple service exports. In the U.S. they are double. The U.S. though is the leading exporter of services and this does validate their marketability abroad. American successes here, however, have mostly been a prize for larger companies.
The sweet spot for job creation is in exporting products that fill growing needs. Supercharging product exports carries the added prospect of reversing the diminishing role of manufacturing in the U.S. economy. To succeed, high-value products must be manufactured. These products leverage America's skilled workforce, superior management skills and innovative processes and technology.
Expanding opportunities for America's leading medical technologies is one area that could fit the bill. Many developing nations are expanding access to health care, but they lack the products to do so. However, U.S.-geared products will rarely meet developing-world needs. Generally and minimally products must cater to lower incomes, and operate in hostile environments, like those with unreliable power sources.
Igniting the private sector's job creating machines will be tied to delivering a timeline for eliminating uncertainty with respect to taxes, expenditures and regulations. The private sector is not filled with gamblers of shareholder money. Eliminating uncertainty will be the most powerful initiative in the jobs plan, although certainty with respect to regulations can't mean the certain crippling of some industries, especially those that are responsible for lending. Twice in recent history, with Sarbanes Oxley and Dodd Frank, Congress has chosen to punish the nation's economic growth in order to redress the guilty few. Government officials need to bust out of their bullet spraying mentality when surgical strikes are needed.
With uncertainty removed, the plan needs to include measures to drive developing-country demand for American products and services in the short and long term and for having the right skills available.
Some short-term demand drivers include stoking exports and reducing demand for imports, like those from offshore manufacturing.
To date, U.S. multinationals investing in developing countries have benefited from their higher growth. The average American worker and small and mid-sized businesses (SMBs) have not. The jobs plan needs to encourage SMBs to export. With an average per capita trade IQ competing with DR Congo, education and training that answers specifically where, what and how a particular SMB can profit through exports is needed. SMBs also need the advantages of more free trade agreements (FTAs), like the ones with Panama, Colombia and South Korea that are stalled on Congress' plate.
Special attention should be given to exporting to Latin America. Proven product receptivity is one reason. Proximity another. A large Spanish-speaking population, who are disproportionately unemployed, still another.
Businesses should also be encouraged to review the cost effectiveness of offshore manufacturing and services. Dollar depreciation and wage stability have made the U.S. more attractive than it has been.
Longer term, one very powerful demand driver will be the creation and execution of an FTA strategy. Right now China, the European Union, and Mexico have been particularly aggressive in the pursuit of FTAs that allow them to cover 30% to 50% of the world. U.S. FTAs cover 4.2% of the world with another 1.4% in Congress. Every U.S. FTA signed in the last 10 years has resulted in U.S. surpluses. Still agreements are stalled. Congresspeople seem more interested in protecting 100 low-skilled jobs within their constituency than creating 200 high-skilled jobs, possibly elsewhere. Worse, American FTA reticence will result in job losses to countries who are gaining advantages with more aggressive position on FTAs.
America's economic strengths are grounded in productivity and innovation. There are times, however, like downturns when innovation is sacrificed. When innovation goes, so goes the economy. Innovation is America's strongest competitive advantage. A centerpiece of the plan must encourage and re-encourage process and technology innovations that will allow the U.S. to rebuild and keep (emphasis on keep) its manufacturing base. Too often American innovations end up fueling someone else's economy because they have production efficiencies from lower wages or superior processes that Americans should be able to counter with more innovation. Encouraging innovations to meet the low cost, hostile environment needs of the developing world should be given special encouragement in the plan
The number of low-skilled jobs is declining at a time when the number of low-skilled workers is rising. This is a national tragedy. Today 85% of those unemployed have a high school education or less. According to McKinsey, it is likely that 6 million people without high school diplomas will be unemployable in 2020. Meanwhile, some companies can't fill open positions due to skill shortages. The management skill shortage is particularly worrying because management is a source of American competitive advantage.
The plan should include five initiatives to ensure the workforce skill mix meets organizational demands. (1) Increasing high school, vocational school and college graduation rates. (2) Encouraging students to acquire degrees or certificates in areas where they can find jobs. (3) Revising curricula so American students can participate in global opportunities. (4) Encouraging colleges and local businesses to develop programs that inspire entrepreneurship. Instead of ambitious and creative college graduates finding employment in a cubicle put them on a fast track to being a future local employer. (5) Make it simpler for hard-to-employ workers collecting unemployment to learn employable skills.
What types of encouragement should the government provide? Programs that deliver quantifiable and positive ROIs for the private sector and the government. This would eliminate programs that spray bullets and populist measures that sacrifice national wealth creation for personal re-election. But that should be in the plan, too.
Readers Also Like:
Soros Makes Wholesale Changes to Fund